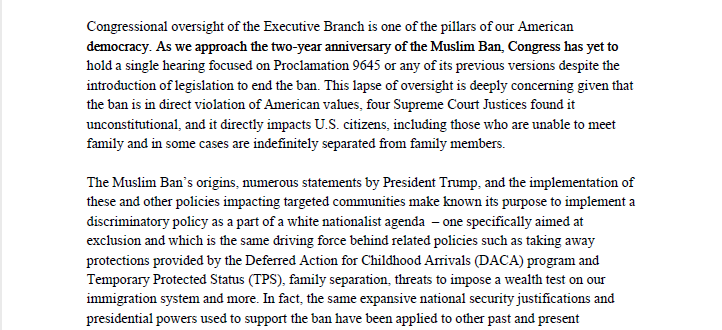 PAAIA Joins Coalition Requesting Congressional Hearings on Travel Ban
For Immediate Release
Contact: Morad Ghorban
Morad@PAAIA.org
(202) 828-8370
Washington, DC- Today, PAAIA joined a coalition of 116 civil rights, interfaith, and advocacy organizations to send a letter to incoming chairs of the House Judiciary and Oversight & Government Reform committees, requesting congressional hearings on Presidential Proclamation 9645 – also known as the Travel Ban or "Muslim Ban."
The letter builds on efforts initiated by PAAIA and our coalition partners to increase transparency and oversight on the "waiver provisions" outlined in the Travel Ban. Our work with Senator Chris Van Hollen (D-MD) earlier this year helped clarify the Travel Ban's waiver provisions which were completely disregarded up until that point.
In response to the disturbing numbers (only 2% of people have been cleared for waivers and the number of people who have actually received visas remains unclear), Senator Van Hollen (D-MD) introduced an amendment, as part of the omnibus spending bill, requiring public reporting on the implementation of the Travel Ban and waiver program. These statistics were also a major source of concern for Justices Sotomayor and Breyer who cited the waiver portion of our amicus brief in their dissent when the Supreme Court upheld the ban.
Despite the fact that legislation to repeal the ban has been introduced, Congress has yet to hold a hearing on the controversial travel order. The coalition's letter highlights this and emphasizes the importance of Congressional oversight, one of the pillars of our constitutional democracy.
"This lapse of oversight is deeply concerning given that the ban is in direct violation of American values, four Supreme Court Justices found it unconstitutional, and it directly impacts U.S.citizens, including those who are unable to meet family and in some cases are indefinitely separated from family members," the letter reads.
Signatories of the letter include, but are not limited to, the American Civil Liberties Union (ACLU), Asian Americans Advancing Justice (AAJC), American Immigration Lawyers Association (AILA), Arab American Institute (AAI), Japanese American Citizens League (JACL), National Iranian American Council (NIAC), National Immigration Law Center (NILC), and National Council of Asian Pacific Americans (NCAPA).
PAAIA is continuing to combat the Travel Ban and inform members of Congress and the administration about the impact it has on American citizens and their families.