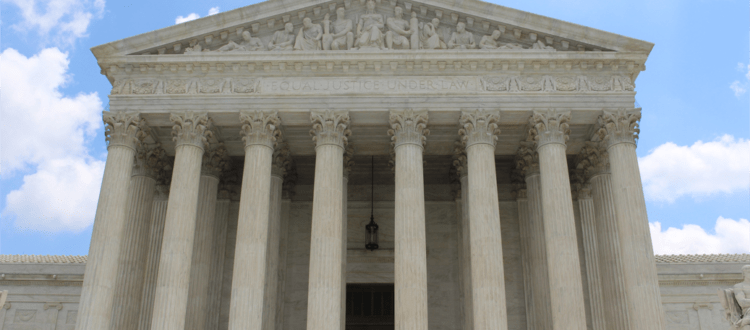 PAAIA and Coalition of Iranian American Organizations File an Amicus Brief with the US Supreme Court
For Immediate Release:
Contact: Morad Ghorban
Email: Morad@PAAIA.org
Phone: (202) 828-8370
Washington, DC – The Public Affairs Alliance of Iranian Americans (PAAIA), the Iranian American Bar Association (IABA), and Pars Equality Center have filed an amicus brief, through our legal counsel, with the United States Supreme Court in support of the challenge to the Trump Administration's third Travel Ban (Proclamation 9645).
Using statistical, anecdotal, and legal analysis, the brief demonstrates that the waiver system provided for in the third iteration of the Travel Ban has been illusory.  Out of the 8,406 visa applications that consular officers received, only two waivers had been approved as of February 15, 2018—effectively barring thousands of individuals who would have otherwise qualified for visas.
"The rejection rate of more than 99.9% of applicants—even after they have demonstrated their eligibility and suitability for admission under the visa system and additional criteria established in the Proclamation—highlights the ongoing hardship that Proclamation 9645 inflicts on countless individuals, including many U.S. citizens and individuals with bona fide relationships to the United States," reads the document.
The Travel Ban has irrefutably shaken the Iranian American community: countless families have been traumatically split, life plans have been disrupted, and many individuals have had to abandon educational and professional plans.  The amicus brief contains multiple examples of such individuals starting on page 13, but their stories represent just a small portion of the thousands impacted by the ban.
Our three organizations, along with over 25 individual plaintiffs, are challenging President Trump's latest iteration of the travel and refugee bans in federal court in Washington, D.C.  We remain committed to protecting the civil liberties of Iranian Americans and are hopeful that the Supreme Court will ultimately block this unjust and discriminatory policy.  Find out more about the amicus brief and our federal lawsuit at www.endthetravelban.com.
---
ABOUT PAAIA: The Public Affairs Alliance of Iranian Americans, PAAIA, Inc., is a nonprofit, nonpartisan, nonreligious 501(c)(4) organization that serves the interests of Iranian Americans and represents the community before U.S. policymakers and the American public at large