Since members of Congress will be in their home districts from now until the beginning of September, you can meet with them to discuss important issues without having to travel all the way to DC.  Use the button to the right to easily contact your elected officials to set up meetings.  Make sure to insert the dates and times that are most convenient for you and follow up with a phone call to their local offices!  If you are unable to schedule a meeting with your members of Congress or their staff on August 28th, please find another date that works.  We've also provided a leave-behind document that you can take with you to your meetings.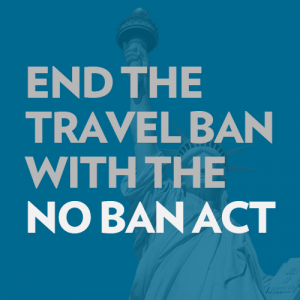 What the NO BAN Act would do:
repeal President Trump's Travel Ban, Refugee ban, and Asylum ban
prevent the enactment of similar future discriminatory bans
reaffirm congressional authority and oversight of the presidency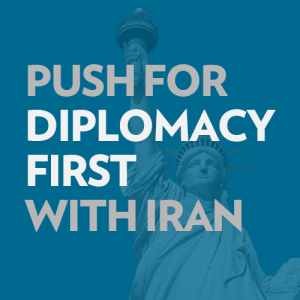 What urging diplomacy would do:
highlight the gravity of your concerns over the escalation of tensions and the potential for an unnecessary war between Iran and the United States
prevent the loss of life, of both American soldiers and innocent civilians in the region
prevent further instability and conflict in the region and hopefully lead to critically important negotiations
TALKING POINTS FOR YOUR MEETINGS:
NO BAN Act
The Travel Ban goes against U.S. interests

Unfairly targeting the Iranian people (the largest group of visitors among the banned countries) undermines America's solidarity with their democratic aspirations
The Travel Ban overlooks the countless contributions Iranian Americans and other immigrants and visitors have made to the security, economic prosperity, and cultural fabric of the United States
The stated reason for the ban – that it would reduce terrorism and protect our national security – has been refuted by multiple authorities, including the U.S. Department of Homeland Security
American families are hurting and being torn apart by this discriminatory policy

Massive denials to Travel Ban waivers block Iranians from accessing lifesaving medical treatments, prevent parents from being there for their children's important milestones, and separate spouses.
Share how the ban has impacted you or people you know.
Iranian Americans do not support the Travel Ban

Annual polling by the Public Affairs Alliance of Iranian Americans (PAAIA) shows that 77% of respondents oppose the Travel Ban.
77% of Iranian Americans are also concerned about increased discrimination as a result of policies like the Travel Ban
Waivers are not being issued
Iranians like the United States

The vast majority of Iran's 80 million people are young (under 35), educated, digitally connected, and hold a very favorable disposition towards America—more so than any country in the Middle East with the possible exception of Israel.
Young Iranians have traditionally viewed the U.S. as a country that's the embodiment of openness, meritocracy, and rule of law—but now they can't partake in the American Dream, even as visitors.
The greatest threat to the Iranian regime is more engagement with the United States—not less.  Increasing the flow of people between the U.S. and Iran is best way to increase the likelihood of democracy in Iran.
Visit our Travel Ban Page for more statistics and information about the ban
Diplomacy First
Our community is deeply concerned about the escalation of tensions and the potential for an accidental and unnecessary war between the U.S. and Iran
U.S. national interests are best served by prioritizing diplomacy and supporting the democratic aspirations of the Iranian people.

A war with Iran will be long, costly and catastrophic for the United States and the global economy.
It will require more boots on the ground U.S. troops than in Iraq and Afghanistan
A war with Iran would be catastrophic for an already unstable region and for the stability of our regional allies
Most Americans want a peaceful resolution to conflict with Iran

Less than a quarter of registered voters (only 19%) say they want the U.S. to take military action against Tehran according to a Hill-HarrisX survey taken in June 22-23, 2019
Iranian Americans prefer to resolve differences with Iran through diplomacy.

Since 2008, polling conducted by the Public Affairs Alliance of Iranian Americans (PAAIA) has consistently shown that while Iranian Americans want to see the promotion of human rights and democracy in Iran, they prefer to resolve differences with the government of Iran through diplomacy.
Iranian Americans believe true democratic change in Iran can only come from within—not by force

Polling by PAAIA in 2018 shows that 50% of Iranian Americans believe that a grassroots democratic movement is the approach most likely to move Iran toward a more democratic society
only 5% support military action
Before we send our American sons and daughters into another war, we should exhaust all possible diplomatic options
Support bipartisan amendment to prevent unauthorized war with Iran

The Khanna-Gaetz amendment to the 2020 National Defense Authorization Act (NDAA) would prevent federal funds from being used for war with Iran without explicit congressional authorization
The measure already passed the House with bipartisan support, please support the inclusion of the amendment in the final version of the bill.
WHAT TO DO AND NOT TO DO IN YOUR MEETINGS:
Be prepared. You want to establish–and then strengthen–a relationship with your legislator and his/her staff. You should prepare thoroughly, be polite, be as specific as possible, and never threaten. Always be respectful.
Accept meetings with staff. Don't be concerned if you end up meeting with staff rather than your member of Congress. In many cases, this can prove to be equally or more productive.
Budget your time. Be concise, but cover all the points you wish to make. In general, it is best to address a limited number of issues (three maximum). Most meetings last less than 30 minutes, so budget your time wisely and leave time for discussion.
Be personal. Explain why the issue is important to you and to people in your district/state. Speak from your personal experience and illustrate your points with real people and examples, if possible. Explain the consequences that adverse action or failure to act will have on individuals in your state, city, or town.
Be specific. If possible, cite sources of independent support for your position (opinion polls, studies, etc.).
Request action. After you make your points, request specific action (such as supporting the NO BAN Act), and don't be afraid to ask the legislator's position. If they are currently undecided, ask them to inform you by mail or email when they make a decision, and to tell you why they took the position. If you are asking the legislator to provide leadership in moving something forward (such as diplomacy with Iran), ask him/her to provide you with a response or report on what happens.
Leave contact information. Leave your name, address, email address, affiliation, and telephone number with the member of Congress or staff. Thank them for taking time to meet with you.
Stay in touch. Follow-up the visit with an email thanking the member of Congress or staffer for their time and briefly summarizing the major issues discussed. Be sure to follow through on any commitments you made and provide any additional information requested.
Share what happened. Share your experiences and what you learned with PAAIA staff so that we can follow up with these legislators.  Post about your meetings on social media to encourage friends and families to get involved as well.  Use the hashtag #IADayofAction in your posts on Facebook, Twitter, and Instagram!