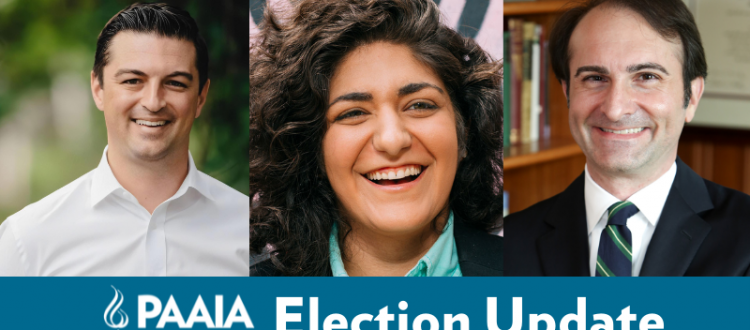 Election Update: PAAIA Celebrates Victorious Iranian American Candidates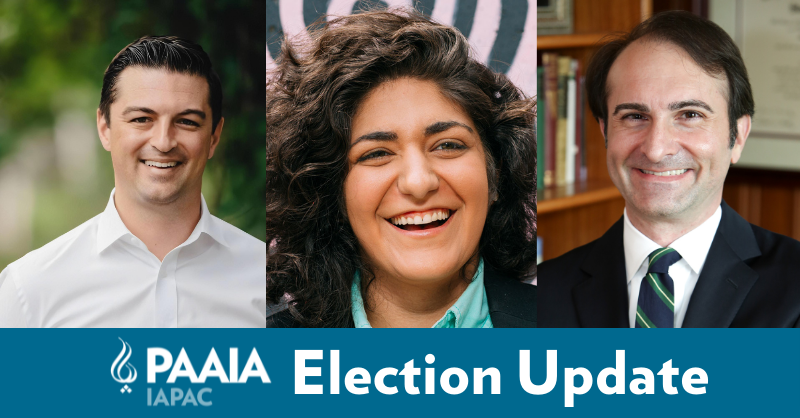 FOR IMMEDIATE RELEASE:
Contact: Aman Ardalan
Email: aman@paaia.org
Phone: (202) 828-8370
Washington, DC – Today, the Public Affairs Alliance of Iranian Americans (PAAIA), a nonpartisan organization serving the interests of the Iranian American community, congratulates Liliana Bakhtiari, Amir Farokhi, and Ramin Fatehi on a victorious Election Day! All three are supported by Iranian American Political Action Committee (IAPAC), the connected PAC of PAAIA.
According to preliminary results, Liliana Bakhtiari earned just under 50% of the vote, so she will run as a heavy favorite in the runoff on November 30th. Liliana would become the second Iranian American – and the first Iranian American woman – to win a seat on the Atlanta City Council, following her colleague Amir Farokhi. Amir was unopposed and won re-election to a second term. Ramin Fatehi, a first-time candidate and veteran prosecutor, has become the first Iranian American elected to the office of Norfolk, VA Commonwealth's Attorney.  
"The Iranian American community's political capital is surging," said Leila Austin, PAAIA's Executive Director. She added: "Following the successes of the 2020 elections, the victories of these candidates show an exciting rise in interest among Iranian Americans to run for public office. Local elections are one of the strongest opportunities for the Iranian American community to build political power and increase the impact of our voice."
We are so proud of Liliana Bakhtiari, Amir Farokhi, and Ramin Fatehi, and cannot wait to follow their work!
For information about the candidates and their races, read below.
———
Atlanta City Council, District 5
Liliana Bakhtiari, the daughter of Iranian and Azeri immigrants, was born and raised in Atlanta. She has been a community activist, and is on the boards of Georgia-based advocacy organizations Georgia Equality, gloATL, and PEDS. Bakhtiari also serves as the curator of Atlanta-based art organization Black Futures Matter. She also tackles local issues such as increasing voter turnout, assisting unsheltered populations, organizing blood drives, developing programs for seniors, putting together public art initiatives, and more.
Liliana first decided to run for office in 2017, in part as a response to the Travel Ban. After years of serving as a community advocate, she believes the next best step is to run for City Council. In November 2017, she came within 247 votes of winning her primary over the incumbent. She is running again for the same District 5 seat, which is now an open seat.
Read more in our interview with Liliana Bakhtiari.
Atlanta City Council, District 2
Amir Farokhi is a lifelong Atlantan who has spent his career solving problems. From leading local and national social enterprises to helping companies make an impact beyond profits, Farokhi has built a reputation as a thoughtful and pragmatic leader. Farokhi's campaign is rooted in plans to reform what he sees as an inefficient city government that lacks the resources to effectively respond to the concerns of Atlanta's residents and businesses. He is especially an advocate of affordable housing and protecting and empowering Atlanta's neighborhoods.
A graduate of The Galloway School, Duke University, and Duke University School of Law, Farokhi is the director of Corporate Council at CARE, a humanitarian organization. A proponent of public service, Farokhi also serves on the Board of Directors for GeorgiaForward. In 2013, he was named as one of the "40 outstanding Georgians under the age of 40" by Georgia Trend Magazine.
Farokhi has retained close ties to the Iranian American community. He is the host of an annual Nowruz reception in Atlanta's City Hall. In October 2019, Farokhi welcomed PAAIA at the Atlanta Civic Engagement Forum, where he presented a proclamation officially deeming October 19th as Iranian American Civic Engagement Day in Atlanta. Farokhi's father was among the first wave of Iranian immigrants in the 1970s and has long been active in building a cohesive and supportive Iranian American community in Atlanta.
Read more in our interview with Amir Farokhi.
Norfolk, Virginia Commonwealth's Attorney
Ramin Fatehi is running for Commonwealth's Attorney to support a justice system that reflects equity and fairness. Born in Virginia in 1978, Ramin and his family lived in Tehran until 1985. Following their return to the United States, Ramin graduated from Norfolk Academy, earned a B.A. in History from Yale University in 2000, and graduated from Columbia Law School in 2003. After graduation, Ramin clerked for then-Virginia Supreme Court Justice Elizabeth B. Lacy, later was an associate with law office Kirkland & Ellis LLP, and was also a public defender.
Currently the Deputy Commonwealth's Attorney in Norfolk, Ramin previously served as Assistant Commonwealth's Attorney in Chesapeake, VA, and as Special Assistant United States Attorney in the United States Attorney's Office in Charlottesville. Ramin is also the Chair of the Norfolk Commonwealth Attorney's Criminal Justice Reform Working Group, where he helps the current Commonwealth's Attorney make policies for the whole office. Ramin is a member of the Iranian American Bar Association.
Read more in our interview with Ramin Fatehi.
———
About PAAIA
The Public Affairs Alliance of Iranian Americans (PAAIA) is a nonprofit, nonpartisan, nonsectarian organization that serves the interests of Iranian Americans and represents the community before U.S. policymakers and the American public at large.