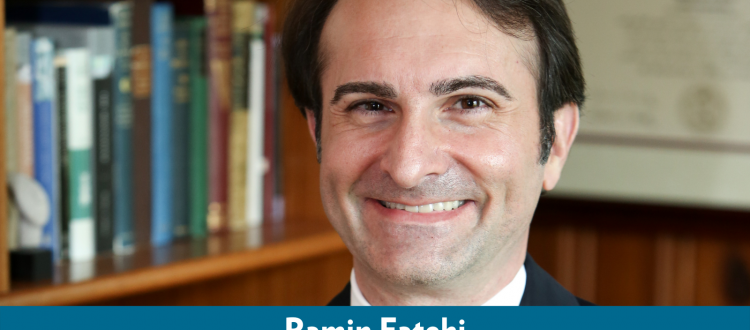 IAPAC Proudly Endorses Ramin Fatehi for Norfolk Commonwealth's Attorney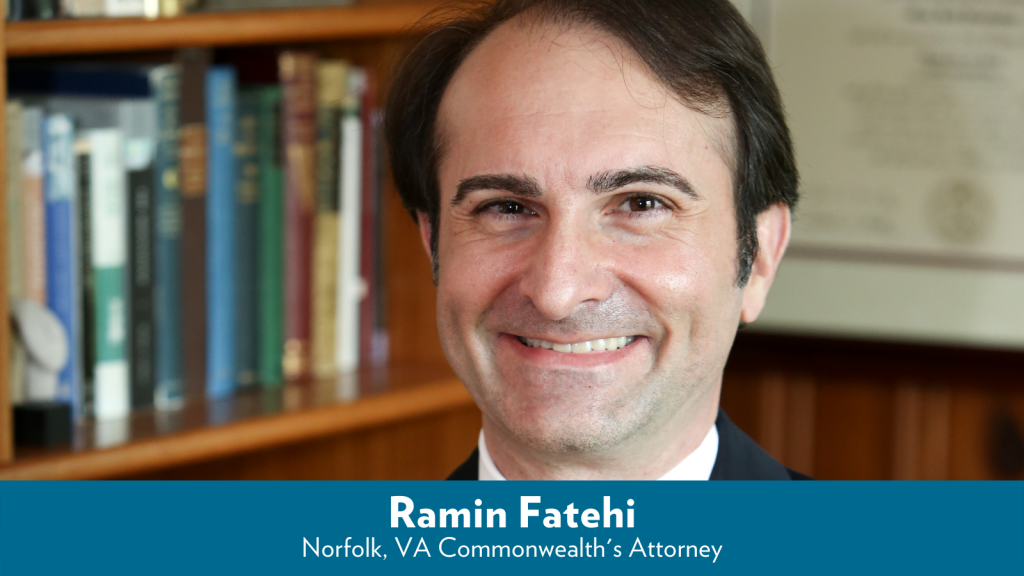 Washington, DC – The Iranian American Political Action Committee (IAPAC), the connected PAC of the Public Affairs Alliance of Iranian Americans (PAAIA), today proudly announces its endorsement of Ramin Fatehi for Norfolk, VA Commonwealth's Attorney. On June 8th, 2021, Ramin won the Democratic nomination. He is unopposed in the general election. When elected, he will join Arlington, VA Commonwealth's Attorney Parisa Dehghani-Tafti as the second Iranian American elected to this position nationwide.
Ramin Fatehi is running for Commonwealth's Attorney to support a justice system that reflects equity and fairness. Born in Virginia in 1978, Ramin and his family lived in Tehran until 1985. Following their return to the United States, Ramin graduated from Norfolk Academy, earned a B.A. in History from Yale University in 2000, and graduated from Columbia Law School in 2003. After graduation, Ramin clerked for then-Virginia Supreme Court Justice Elizabeth B. Lacy, later was an associate with law office Kirkland & Ellis LLP, and was also a public defender.
Currently the Deputy Commonwealth's Attorney in Norfolk, Ramin previously served as Assistant Commonwealth's Attorney in Chesapeake, VA, and as Special Assistant United States Attorney in the United States Attorney's Office in Charlottesville. Ramin is also the Chair of the Norfolk Commonwealth Attorney's Criminal Justice Reform Working Group, where he helps the current Commonwealth's Attorney make policies for the whole office. Ramin is a member of the Iranian American Bar Association.
PAAIA had the opportunity to interview Ramin Fatehi about his campaign. Read our interview below.
———
PAAIA: What inspired you to run for public office?
Ramin Fatehi: I consider it my calling to serve others, and I would like to continue to serve the people of the City of Norfolk by promoting safety through data-driven policies that ensure that the criminal justice system is both equitable and fair. By running for Commonwealth's Attorney, I will be able to set the policies that will honor these values.
The current Commonwealth's Attorney, my employer and friend Gregory D. Underwood, is retiring, and over two years ago he urged me to run to succeed him. I have spent the last two years preparing to run a very large, complex office under his tutelage. I will be ready to serve highly effectively on the day I take the oath of office. I am also philosophically the correct candidate. As we have seen in the last year, the Movement for Black Lives and the long shadow of Trumpism and white nationalism require changes to the criminal justice system, not a return to the failed "tough on crime" policies of the 1990s.
I intend to lobby in Richmond to change Virginia's criminal justice laws. I am the only non-elected member of Virginia Progressive Prosecutors for Justice, the first statewide progressive prosecutor lobbying organization in the nation, and, in Summer 2020, I was a key lobbyist for a bill ending mandatory sentencing by Virginia juries, a momentous change in favor of the fair treatment of accused persons.
My goal in this campaign is to inform voters that I believe that the criminal justice system is only fair when it makes equity and non-disparate treatment its stated goals alongside the reduction of violence, which will help reduce violence more effectively in turn.
PAAIA: Tell us a little about the office you are seeking and/or the district that you are running in?
Ramin Fatehi: The Norfolk Commonwealth's Attorney's Office is responsible for prosecuting criminal felony cases and selected misdemeanors in the City of Norfolk, the eighth largest locality in the Commonwealth of Virginia with over 240,000 residents.
Our office is made up of 40 lawyers and 50 staff, making it one of the largest and busiest prosecutor's offices in Virginia. The City of Norfolk is roughly 47% white and 43% African American. Norfolk is home to Norfolk Naval Station, the largest naval installation in the world and the base for the Atlantic aircraft carrier fleet. Norfolk's economic activity is highly reliant on the military. Norfolk is home to legacy infrastructure and significant concentrated poverty, with an average number of homicides in the middle to high 30s per year. Following the social dislocations of the COVID crisis, Norfolk saw 49 homicides in 2020.
PAAIA: What are the most critical issues facing your district today, and how do you plan on addressing these issues?
Ramin Fatehi: The City of Norfolk is a large city with large-city problems, including concentrated poverty and racial segregation that has led to a persistent problem with violence and a deficit of community trust.
Persistent violence and a deficit of community trust feed off of one another, and the solution to both is to increase community trust—and therefore cooperation with the criminal justice system— through reforms to the system that make the system more fair to all people and that demonstrate that the nature of the justice an accused person faces in court is based on the facts of the case and not on impermissible factors such as race, wealth, or connections. The ongoing COVID crisis has led to a nationwide increase in shootings and homicides, and Norfolk has not been immune to that increase. Prosecutors cannot address the root causes the COVID crisis, but we will be tasked with using the tools we have to try to address violence.
As Deputy Commonwealth's Attorney in charge of Norfolk's drug prosecutions, I have already worked meaningfully to reduce mass incarceration by combatting charge stacking and directing my supervisees to pursue sentences that are fair, based on an individualized assessment of the case rather than from adherence to mandatory minimum sentences. As Chair of our office's Criminal Justice Reform Working Group, I am the author of our 2019 policies to dismiss all marijuana-possession cases – which, following opposition from our judges, led to my serving as counsel of record in our Writ of Mandamus in the Virginia Supreme Court – and our policy to cease the use of cash bail, among other things. We have earned the appreciation of the citizens of Norfolk for these efforts, and we have contributed to the legalization of marijuana in Virginia.
PAAIA: What role does your Iranian American heritage play in your campaign?
Ramin Fatehi: As a longtime member of the local Iranian American community, I have been fortunate that the community has offered me its strong moral and financial support.
More personally, I lived in Tehran with my Iranian-American father and American mother from infancy through the end of my first year of primary school. I remember sitting in hallways as Scud missiles fell on Tehran during the Iran-Iraq war, and I experienced the ubiquitous anti-American rhetoric and, even as a child, felt the oppression of an undemocratic regime. Then, when we moved to the United States and shared a home with my parents and grandparents, I experienced anti-Iranianism, the mirror-image unfairness of the Anti-American rhetoric of my childhood, followed by the injustices of the "war on terror" and the overt bigotry of the "Muslim ban" of the Trump era. My experiences are not uncommon in the Iranian-American community, and because of my experiences I reject bigotry, believe in judging people on their own merits, and support justice.
Beyond my personal experience, my campaign is a landmark in Iranian American history, because I would be only the second Iranian American elected prosecutor in the United States, following my friend Parisa Dehghani-Tafti in 2019. If we are serious as a community about advancing Iranian-American values in America and preventing further abuses of our community, we must vote, and we must serve in public office. Iranian Americans all over the United States have reason to be proud to see a second Iranian American elected to this important office.
———
Click here to learn more about Ramin Fatehi's campaign. PAAIA thanks Ramin for taking the time to speak with us!