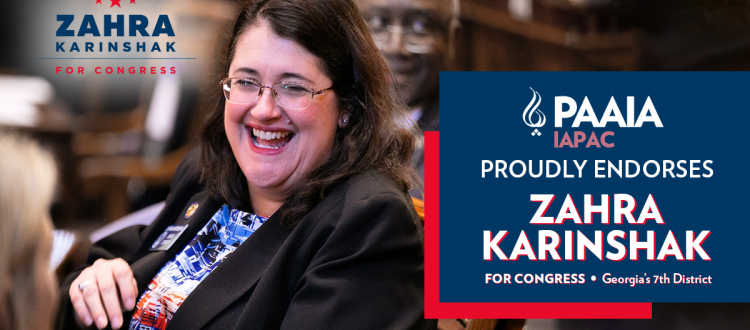 PAAIA Proud to Endorse Zahra Karinshak for Congress
Washington, DC — The Iranian American Political Action Committee (IAPAC), the connected PAC of the Public Affairs Alliance of Iranian Americans, proudly announces its support for Georgia State Senator Zahra Karinshak for U.S. Congress.
Zahra Karinshak announced her candidacy last Thursday for Georgia's 7th Congressional District, a seat currently held by Rep. Rob Woodall, who narrowly won the seat by 412 votes in 2018. The congressional race is one of the most competitive U.S. House seats in the country and is expected to receive nationwide attention from both parties. Karinshak currently faces five other Democrats in the primary, but has the advantage of name recognition and having lived in the area for more than two decades, unlike several of her opponents.  Her campaign will focus on affordable healthcare for all of us, a world-class education for our children, reproductive health services for women, and quality healthcare for veterans.
While in office, Karinshak has demonstrated exceptional leadership in the Georgia State Senate. Although only newly elected to public office, Karinshak was named chairwoman of Gwinnett's Senate delegation. Karinshak has served on a diverse range of committees including Agriculture and Consumer Affairs, Natural Resources and the Environment, Special Judiciary, and Veterans, Military, and Homeland Security.
In addition to her accomplishments in the Georgia State Senate, Karinshak also claims the historic title of being the first Iranian American legislator elected to the Georgia legislature. If successful in her congressional bid, she will be the first Iranian American to serve in the United States Congress and the highest-ranking Iranian American elected to public office.
Prior to elected office, Karinshak devoted her energy and career to serving our country. Karinshak graduated from the United States Air Force Academy in 1989, placing her in the 9th class to accept women.  Zahra was the top graduate from intelligence school with the highest academic average in the course's history. Upon graduation, she served as an intelligence officer during the first Gulf War and then returned home to attend Emory University School of Law.  During her military service, Zahra received many awards, including the Meritorious Service Medal and the Air Force Commendation Medal.  Later on, Karinshak served as a federal prosecutor, gaining experience in conducting grand jury investigations, trial, and prosecuting cases involving fraud, public corruption, money laundering, violent crimes, child exploitation, and immigration.