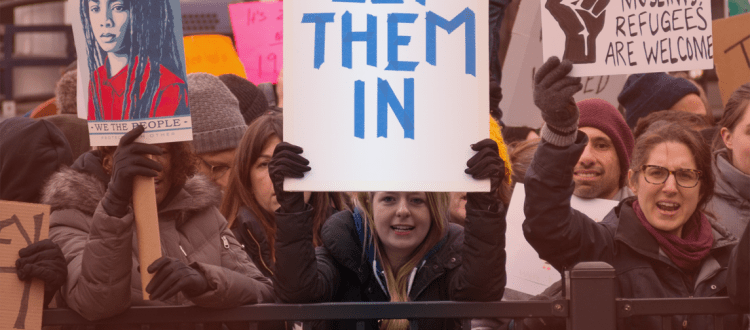 PAAIA Marks Third Anniversary of the Travel Ban with Commitment to Action
FOR IMMEDIATE RELEASE:
Contact: Shannon Kuehn
Email: shannon@paaia.org
Phone: (202) 828-8370
Washington, DC – On the third anniversary of the implementation of the Travel Ban, Leila Austin, executive director of the Public Affairs Alliance of Iranian Americans (PAAIA), today issued the following statement:
Despite a consistent outpouring of public and congressional opposition to the Travel Ban, the third anniversary of this discriminatory policy is marked by alarming reports of the ban's expansion. For over three years, PAAIA has been at the frontlines against this ban and we have seen firsthand its devastating impact on families and loved ones. PAAIA remains steadfast in its commitment to fighting this ban through our legislative and advocacy efforts. As long as the Travel Ban remains in effect, PAAIA will work alongside our advocacy partners to demonstrate a united front against this unfair and unjust policy."
PAAIA has been at the forefront of the fight against the discriminatory Travel Ban, which for three years has banned individuals from Iran and other countries. In addition to challenging all three iterations of the ban in federal court and filing and submitting an amicus brief to the Supreme Court, PAAIA and its coalition have also worked with Senator Chris Van Hollen's (D-MD) office to obtain clarification on the ban's waiver provisions. These efforts revealed that very few waivers are being granted, even when applicants meet the ban's criteria. In response, Senator Van Hollen introduced an amendment that would require public reporting on the Travel Ban and waiver statistics, which was subsequently passed by the Senate Appropriations Committee.  Justice Breyer referenced the waiver part of the amicus brief in his dissent, calling the ban's waiver provisions 'window dressings.'
PAAIA has also been working with the ACLU and other coalition partners on the NO BAN Act – legislation that would amend the Immigration and Nationality Act to repeal President Trump's Travel Ban and block any future iterations based on national origin or religion. The legislation currently has over 200 cosponsors in the House and Speaker Nancy Pelosi (D-CA) has confirmed that it will move to a committee mark-up and vote on the House floor.
For more information about PAAIA's efforts to combat the Travel Ban and for details on how the waiver process works, visit PAAIA's website at www.paaia.org/travel-ban.
---
About PAAIA: The Public Affairs Alliance of Iranian Americans (PAAIA) is a nonprofit, nonpartisan, nonsectarian organization that serves the interests of Iranian Americans and represents the community before U.S. policymakers and the American public at large.