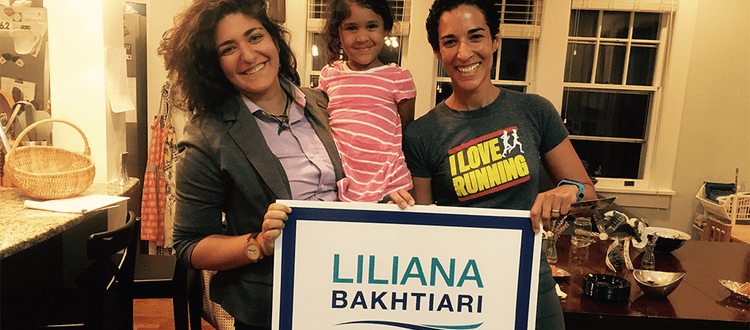 PAAIA Interviews Iranian American Candidate for Atlanta City Council, Liliana Bakhtiari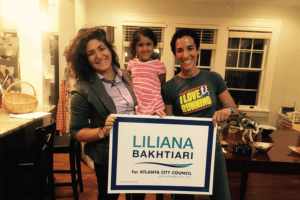 ATLANTA – Two Iranian Americans are campaigning for seats on the Atlanta City Council – Amir Farokhi is running in District Two, and Liliana Bakhtiari is running in District Five. Recently, the Public Affairs Alliance of Iranian Americans (PAAIA) had the opportunity to interview Liliana Bakhtiari about her campaign. The election, which will be held on November 7th, marks the first time Bakhtiari has ran for public office.
PAAIA: Please tell us about your background.
Bakhtiari: My name is Liliana Bakhtiari. I am the daughter of a refugee, born and raised in Atlanta.
My father owns a pharmacy on Edgewood Avenue where I grew up working on the weekends. I attended Georgia State University, where I invested my time in student led coalitions and causes such as the Georgia Dreamers program and affordable education. I have spent time working and volunteering in 22 countries around the world, and have brought that work to Atlanta where I continue to work in housing justice, affordability, historic preservation, city design, and homeless outreach. I have pushed for continued conversation on the intersectionality of the arts and politics through platforms like 9to5, Elevate, and Tanz Farm, and served on the boards of Lost-N-Found Youth and gloATL. I am proud to be a candidate for Atlanta City Council, and look forward to serving her district and the citizens of Atlanta.
PAAIA: Why are you running for public office?
Bakhtiari: I am running for public office because I was tired of feeling voiceless in my own city. I was tired of advocacy work that never seemed to push anything forward. I was tired of fighting for a family to stay in their home, only to have them lose it due to skyrocketing property taxes. I was tired of only being able to offer a homeless person clothing, a hot meal, and some money, and not having the ability to prevent them from being on the street. I wanted to step up and start to affect the causes of these issues, rather than constantly treating the symptoms. Under the first travel ban, 5 members of my family came under threat of deportation. It was an abrupt wake-up call, proving just how easily legislation can dictate the lives of my loved ones. For our democracy to function, every level government needs to be functioning efficiently and adequately representing its constituents. That starts locally. I am passionate about representing those who feel voiceless and shifting the paradigm around what politics can look like.
PAAIA: What are some of the challenges you believe your campaign must overcome to be successful?
Bakhtiari: My biggest challenge is running against a well-entrenched politician. Natalyn Archibong has sat in this seat for 16 years and has lined her campaign war chest with campaign donations from a long list of City of Atlanta contracted vendors. Our steepest hill is what is wrong with all politics – money corrupts.
PAAIA: What differentiates you from your opponent?
Bakhtiari: My opponent has unfortunately become a victim of her own political success. Sixteen years on council normally creates a complacent politician whose main objective is holding on to power, not best serving the people, and this is unfortunately also true of Natalyn Archibong. As a product of this community, I have my finger on the pulse of what my neighbors actually want to see out of their local representation. I work hard, and make listening a priority. At the end of the day, I will always put community first, and always make myself available and reachable.
PAAIA: Has your campaign received any endorsements from former or current public officials, organizations, or community and business leaders?
Bakhtiari: We are proud to be endorsed by the Professional Association of City Employees, the National Association of Government Employees, the Professional Association of Firefighters, AFSCME, Teamsters, The Retail, Wholesale and Department Store Union, Rep. Park Cannon, Rep. David Dreyer, and a long list of others. For more on Bakhtiari's endorsements, please click here.
PAAIA: What are the most critical issues facing your district today?
Bakhtiari: There are unfortunately several – our district has been largely neglected for many years, but decreasing crime, increasing affordable housing, and expanding public transit all rate highly when talking directly to voters.
PAAIA: What role do you think Iranian Americans can play in your campaign and what do you expect from the community?
Bakhtiari: Iranian Americans have given me my identity, my passion to serve, my strong moral compass, and my determination to make a difference in my community. Growing up in an Iranian American household instilled me with my tireless work ethic, a passion to help those who need it most, and my unrelenting commitment to social Justice. My Iranian American family has unconditionally supported me throughout this campaign by being my biggest cheerleaders, my most generous donors, and my most tireless volunteers. I simply would not be here without Atlanta's Iranian community.
---
For more on Liliana Bakhtiari's campaign, please visit: https://www.lilianaforatlanta.com/