PAAIA Interviews Amir Farokhi on his Campaign for Atlanta City Council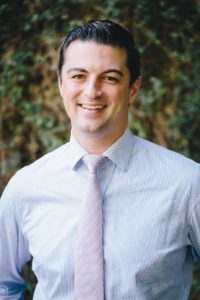 Atlanta, GA – The Public Affairs Alliance of Iranian Americans (PAAIA) recently had the opportunity to interview former NexGen board member Amir Farokhi about his campaign for Atlanta City Council. The election, which will be held in November of 2017, marks the second time Farokhi is running for public office.
Having been born and raised in Atlanta, Farokhi takes pride in understanding the needs and concerns of the Atlanta's diverse population. After graduating from Duke University, Farokhi lived abroad in Taiwan and traveled extensively, gathering important lessons that he believes will help turn Atlanta into a livable world-class city that embraces its diversity, history, and Southern roots.
PAAIA: What inspired you to run for public office again?
Farokhi: I learned so much through my first campaign for office, and always expected to put those lessons to use in another race. Yet, my desire to serve in public office has long been driven by policy and personal interests. On the personal side, my father grew up in a mud-brick house in Kerman. He came to the United States in the 1960s for university and, afterwards, dedicated himself to promoting equity, public interest, and action through teaching political science at a historically black college in Atlanta. Seeing how much he has given to others and how much belief he has in the power of the political process to do good, shaped me, inspires me, and motivates me.
Second, Atlanta is a special city, built on action, optimism, inclusion, and openness. It influences the world in a myriad of ways. Yet, much of our policy-making at the city level needs to be bolder and pay greater attention to the details that make cities as livable and vibrant as possible. This ranges from the quality of sidewalks to the tone and efficiency in delivery of city services to how we close education gaps. In short, less mediocrity and more commitment to excellence.
PAAIA: Tell us about the office you are seeking. How is it different than the previous seat you campaigned for?
Farokhi: I'm running to represent District 2 on the Atlanta City Council. It is the geographic, economic, and spiritual heart of the city. The District is the most dynamic in Atlanta and, because it includes the urban core, established neighborhoods, and mixed-density, mixed-income transitioning ones, it is a microcosm of the entire city. Every issue to be solved here can be a model for the rest of the city and shapes Atlanta's future.
In 2009, I ran for a citywide council seat; a big task on a small budget! The eventual winner and I were separated by fewer than 2000 votes (out of 50,000) in the general election but my opponent eventually prevailed in the runoff. Although I wasn't victorious, it was a great experience and one that left me even more committed to Atlanta.
PAAIA: Since your last election, what are some of professional and civic activities that you have been working on?
Farokhi: After the 2009 election, with the help and guidance of a terrific civic leader, I founded a non-partisan, statewide non-profit that worked to bring together business, government, and civil society leaders to propose long-term solutions to pressing policy challenges, including economic development, education, innovation, and transportation. I ran the organization for almost four years before helping lead a national education non-profit focused on increasing college access for low-income students. Today, I work for a business consulting firm, helping clients deliver impact beyond profits.
Civically, I've served, and in some cases I continue to serve, on the boards of a wide range of organizations including a charter school, a pro-transit group, the Atlanta Bicycle Coalition, and the Atlanta Fire Foundation, among others.
PAAIA: What are the most critical issues facing your district today? How does your campaign plan on addressing some of those issues?
Farokhi: I think of the issues through two lenses:
–  How do we make the district a great place to live? Here there are countless issues that are important but among the most critical are:
Affordable Housing: In parts of the district, housing prices have surged, displacing some long-time residents and making it expensive to buy or rent for many. While cities are constantly changing and market forces should be leveraged for good, we have an obligation to ensure that Atlanta remains diverse in the ways that make it special. We can shape cities to be what we want them to be, and preserving and building affordable housing is part of that for Atlanta. This is also a practical issue. It takes longer and longer to commute across the city. Line cooks, teachers, and city workers should be able, if they choose, to live in relative proximity to where they work. The tools for affordable housing include inclusionary zoning that creates or funds housing for those who make 30-80% of area median income, density bonuses for developers, and land trusts where appropriate. Moreover, there are creative approaches to leveraging city and developer interests for the benefit of everyone.
City Services: We need to pay more attention to the details. A street sign that is askew needs to be righted. A crosswalk that is faded needs to be repainted. A phone call to the city needs to be answered with a smile and problem-solving mindset. The permit process needs to be efficient, transparent, and easy. Vehicles that park in bike lines need to be ticketed. Streets need to be fixed and traffic lights synchronized. Technology needs to be leveraged to make trash routes more efficient, the city more accessible and responsive, and customer service even better. My campaign will focus on these details and how best to improve delivery of services.
Education: Although the city does not control the school system, there is much the city can and should be doing on education including working with the philanthropic and non-profit community to provide access to top-flight early childhood and promoting housing policy that reflects economic integration.
Better design and development: How residents want to experience Atlanta is shifting, especially in my district. Streets that work for pedestrians and bicyclists. Development that is of quality and promotes a vibrant street life. Access to transit and quality, inspiring public spaces. These are all things I will push to prioritize in the district through zoning changes and collaborative work with developers, the city, and residents.
– How do we make the district an economic engine for the city?
The district contains the urban core and thousands of jobs that make the city run. To continue and expand upon that, we need to support funding, incentives, and a supportive culture for startup growth; we need to ensure that kids that grow up in Atlanta can build a career here; and we need to leverage our assets, including our film, creative, and music industry, higher education density, and position as the capital of the South to attract and launch businesses.
To find out more information about Amir Farokhi's campaign, please visit: http://www.amirforatlanta.com/about-amir/.