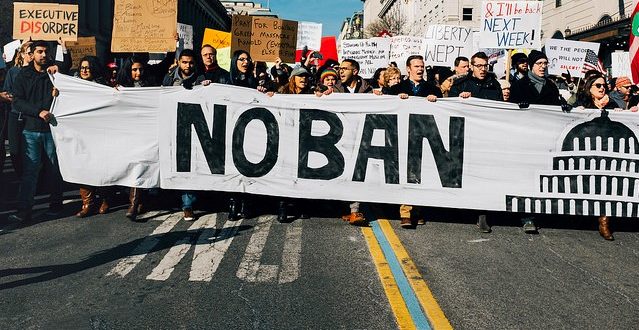 PAAIA Commends Movement on NO BAN Act and Pushes for Prompt House Vote
Washington, DC – Today, the House Judiciary Committee held its markup session of the NO BAN Act (H.R.1333) which was reintroduced in the 117th Congress by Representative Judy Chu (D-CA/27th). First introduced in the 116th Congress and previously passed in the U.S. House of Representatives by a bipartisan vote of 233– 183, the NO BAN Act creates accountability mechanisms and safeguards for any administration to undergo before enacting discriminatory policies like the Travel Ban.
"While the Travel Ban was rescinded under President Biden on his first day in office, the toll of this discriminatory policy has been devastating and the possibility of another similar ban being enacted in a future administration remains troubling. The ban undercut a core American value – strong families – and punished millions of people without any clear U.S. national security rationale," explains Executive Director Leila Austin. "In order for our country to move forward, we must take immediate steps to pass the NO BAN Act. I thank Chairman Nadler, Ranking Member Jordan, and members of the Judiciary Committee for moving the bill forward and encourage House leadership to schedule the legislation for a floor vote as soon as possible."
PAAIA commends Rep. Chu for her leadership in introducing the NO BAN Act and the members of the House Judiciary Committee for their work pushing this bill to the House floor. The legislation is a meaningful and practical step forward for the Iranian American community and others that were targeted under the Travel Ban. The NO BAN Act will amend the Immigration and Nationality Act to make it more difficult for future administrations to enact similar policies and prevent religious-based discrimination of anyone seeking entry into the United States. The legislation would also require that Congress, through its appropriate committees, be routinely notified and briefed on the status, implementation and authority of the executive branch's actions pertaining to immigration and travel bans issued on the basis of national security and human rights.
PAAIA, having worked on the legislation in the 116th Congress, continues to work with the ACLU and other coalition partners on the NO BAN Act, engaging members of Congress to ensure the legislation receives the support it needs to become law. In advance of the committee hearing, PAAIA submitted a statement for the record in support of the NO BAN Act. The legislation currently has over 150 cosponsors in the House but needs more support to become law. Tell your House Representative to support the NO BAN Act and ensure no community faces a ban like the Travel Ban ever again!
For more information about PAAIA's efforts against the Travel Ban and for details on what comes next after the Travel Ban, visit PAAIA's website at www.paaia.org/travel-ban.
---
April 14th, 2021