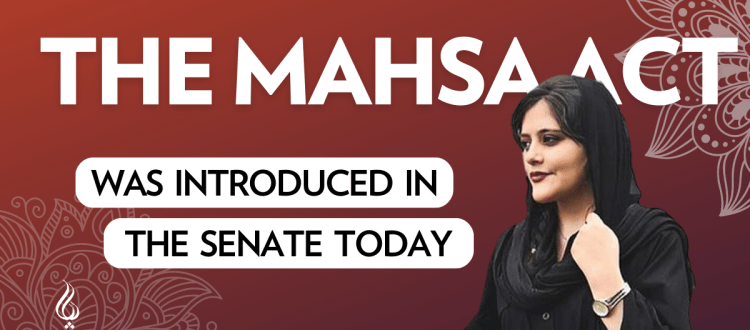 PAAIA Celebrates MAHSA Act Introduction in the Senate 
Washington, D.C. — Today, Senators Marco Rubio (R-FL) and Alex Padilla (D-CA) introduced the Mahsa Amini Human rights and Security Accountability Act or "MAHSA Act" in the Senate! The Public Affairs Alliance of Iranian Americans has been working hard to get this bill passed in the House of Representatives and is excited to see its companion introduced in the Senate.
If passed, the legislation will codify sanctions on the Supreme Leader of Iran, the President of Iran, and the offices they oversee due to their horrific track record of human rights abuses and support for terrorism. Specifically, the legislation requires the Executive Branch to determine sanctions on these offices under existing executive orders (E.O. 13876, 13553, 13818, and 13224).
The MAHSA Act was previously introduced in the House of Representatives by Congressmen Jim Banks (R-IN) and Eric Swalwell (D-CA) following the death of Mahsa Amini in September 2022. The Islamic Republic's security forces brutalized the 22-year-old woman for allegedly wearing her hijab improperly. She died in state custody a few days later, sparking massive demonstrations across Iran and the world in support of what became known as the Woman, Life, Freedom movement.
The Iranian diaspora has come together to push for action regarding the regime's harsh tactics and its suppression of freedom of expression. As Iranian Americans continue to garner support for the bill in the House (H.R.589), which currently has 128 bipartisan cosponsors, let us also come together to build support in the Senate.
July 27, 2023
---
About PAAIA:
PAAIA is a nonprofit, nonpartisan, nonreligious organization that serves the interests of Iranian Americans and represents the community before U.S. policymakers and the American public at large.