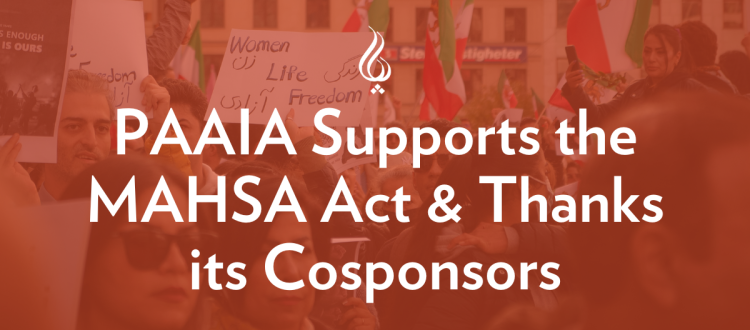 PAAIA Supports the MAHSA Act & Thanks its Cosponsors! 
Washington, DC — Since the death of 22-year-old Iranian woman Mahsa Amini in September 2022, PAAIA has been working tirelessly to help secure support for the Mahsa Amini Human rights and Security Accountability Act (MAHSA Act).
Mahsa Amini died in police custody in Iran after being arrested for allegedly wearing her hijab incorrectly. This brutal response by the Islamic Republic sparked protests across the country and the world. PAAIA has since encouraged Congress and the Biden Administration to stand with the people of Iran and the Woman, Life, Freedom Movement by supporting beneficial policies like the MAHSA Act.
The bipartisan MAHSA Act codifies sanctions on the Supreme Leader of Iran, the President of Iran, and the offices they oversee for their horrific track record of human rights abuses and support for terrorism. Specifically, the legislation requires the Executive Branch to determine sanctions under existing executive orders (E.O.). This includes E.O.13876 which sanctions the Iranian Supreme Leader's Office and his inner circle, E.O. 13553 and E.O. 13818 which pertain to human rights abuses, and E.O. 13224 which pertains to counterterrorism.
The Iranian regime's crackdown has resulted in a several major human rights violations. These include repressing free speech, engaging in the use of cruel, inhuman, or degrading treatment, and executing peaceful demonstrators including a number of children. Passing the MAHSA Act is a crucial step in holding the regime accountable for their actions.
PAAIA has met with many* members of Congress and their staffs to help secure both Republican and Democrat cosponsors for the MAHSA Act. Additionally, PAAIA members have sent over 3,300 messages to their elected officials encouraging them to sign on to the MAHSA Act in support of the Iranian people. As of today, the legislation has 74 cosponsors, and our latest conversation with the Speaker of the House ended with a strong willingness to bring the bill to the House floor.
PAAIA extends a big thank you to the members of Congress who have cosponsored the MAHSA Act, and we ask the remaining members to consider the importance of this legislation to their Iranian American constituents and to the people in Iran who continue to fight for their freedom. We must show them that we support their aspirations for democracy and human rights.
Please take a moment to send a message to your representative and ask them to cosponsor the MAHSA Act.
*As of the writing of this article, PAAIA has helped secure Reps. Colin Allred (D-TX), Virginia Foxx (R-NC), Jim Himes (D-CT), Darrell Issa (R-CA), Ro  Khanna (D-CA), Young Kim (R-CA), Mike Levin (D-CA), Lisa McClain (R-MI), Ted Lieu (D-CA), Zoe Lofgren (D-CA), Scott Peters (D-CA), Adam Schiff (D-CA), Abigail Spanberger (D-VA), Michelle Steel (R-CA), Greg Steube (R-FL), Brian Mast (R-FL), Michael Lawler (R-NY), and David Trone (D-MD) as cosponsors.
---
About PAAIA:
PAAIA is a nonprofit, nonpartisan, nonreligious organization that serves the interests of Iranian Americans and represents the community before U.S. policymakers and the American public at large.