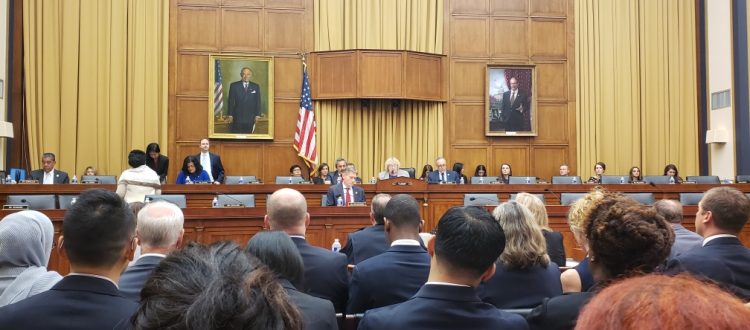 PAAIA Attends First Ever Travel Ban Hearing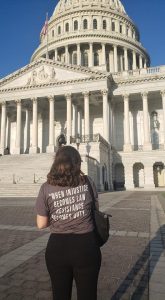 On Tuesday, PAAIA attended the very first congressional hearing on the Travel Ban.  The hearing highlighted the various ways in which the ban harms U.S. citizens and discriminates against individuals based solely on their place of birth, in Muslim-majority countries.  The national security justifications for the discriminatory policy were called into question by various members of Congress and the waiver process that supposedly allows for case-by-base exemptions was labeled a 'sham.'  This historic hearing moves us one step closer to ending the ban and holding the Trump administration accountable. PAAIA thanks all of our coalition partners, especially Muslim Advocates, who worked so hard to make this hearing successful.
The hearing was jointly chaired by Representative Zoe Lofgren (D-CA/19) of the House Judiciary Subcommittee on Immigration and Citizenship and Representative Ami Bera (D-CA/7) on the House Foreign Affairs Subcommittee on Oversight and Investigations. This was an opportunity to not only underscore the problems with the Travel Ban, but also to push Congress to pass the National Origin-Based Antidiscrimination for Nonimmigrants Act, or the NO BAN Act (H.R. 2214/S. 1123). The legislation, which currently has 180 cosponsors in the House and 35 in the Senate, would repeal the current ban and prevent any similar bans from being enacted in the future.
The Iranian American and other affected communities showed tremendous support during Tuesday's events.  The hearing room was so packed with people in opposition to the discriminatory ban that even after staffers opened two overflow rooms, people were still waiting in the hall.  The hearing featured two panels, the first containing three government witnesses that belonged to the Department of State, the Department of Homeland Security, and U.S. Customs and Border Protection, and the second containing two individuals personally impacted by the ban, the Executive Director of our coalition partner Muslim Advocates, and a resident fellow at the Center for Immigration Studies.
Members of Congress started off the hearing by highlighting the low waiver issuance (about 5% of all applicants and only 1.3% of Iranian applicants received a waiver), lengthy wait times, and flawed reasoning behind which countries were included in the ban. In response, government witnesses claimed to have implemented a new automated system that has significantly reduced processing time, promising to provide new figures showing an increase in waiver issuance during the past two months.  After a short recess, the committee members listened to individuals impacted by the Travel Ban.
"I am one of thousands that have been affected by the Muslim Ban and I represent the most heavily impacted community—Iranians. [I'm] one of the sad stories of separation and heartbreak," said Dr. Abdollah Dehzangi, a witness and Maryland permanent resident who has been separated from his Iranian wife, Hoda, for two years. "We have been banned for no reason other than the place we were born."
Dr. Abdollah Dehzangi's testimony was followed by testimony from Mr. Ismail Alghazali, a U.S. citizen who has been separated from his wife and children due to the ban.  His wife has a heart condition that requires medical attention, but she is stuck in war-torn Yemen with their young son and months-old daughter, who Ismail has never even met.
Many members of Congress shared similar stories from their own constituents, and the third witness, Executive Director of Muslim Advocates Farhana Khera, confirmed that heartbreaking situations like these are the norm for people with connections to the banned countries.  That's why PAAIA is continuing to fight against this discriminatory policy and will not stop until it is repealed.
PAAIA is extremely grateful to Representatives Zoe Lofgren (D-CA/19) and Ami Bera (D-CA/7) for their work in organizing this historic hearing as well as to Representative Judy Chu (D-CA/27) and Senator Chris Coons (D-DE) for introducing the NO BAN Act.
Additional Resources: