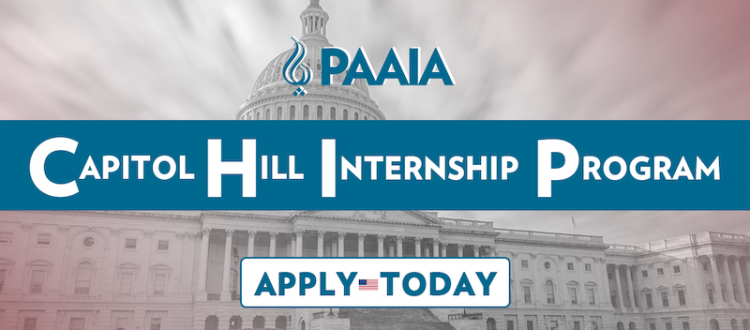 PAAIA Accepting Applications for Spring 2022 Capitol Hill Internship Program
Washington, DC – Today, the Public Affairs Alliance of Iranian Americans (PAAIA), a nonpartisan organization serving the interests of the Iranian American community, announced that applications are now being accepted for the Spring 2022 term of the Capitol Hill Internship Program.
The Capitol Hill Internship Program (CHIP) offers Iranian American students and recent graduates an opportunity to learn about the legislative process by interning in Washington, DC with a Member of Congress. During the internship, PAAIA provides CHIP recipients a stipend as well as mentorship opportunities with Iranian American congressional staff and federal officials.
CHIP promotes increased civic participation among young Iranian Americans by offering college students or recent graduates of Iranian descent the opportunity to get a firsthand look at our nation's legislative and political process. Up to two applicants are selected each term, and those selected receive a stipend of $1000.
PAAIA is committed to expanding opportunities for the active participation of Iranian Americans in the democratic process at all levels of government and in the public debate, as well as providing opportunities for advancement for our next generation. Alumni of CHIP have used their internship experience to kickstart their careers. Darius Stenstedt, for example, continues to work on the Hill. Another former CHIP intern now works for a high-profile senator.
Here's what Darius wrote about his CHIP experience: "This experience helped me to connect my political passions to my goals and I have learned so much. Being an intern in the House, I got to read, hear, and see exactly what the Representative's constituents were requesting of him. The most important job of an intern is to manage and track constituent communications. The way in which the public interacts with their representatives has rapidly changed and it is the priority of the representing office to evolve alongside these changes."
Applications for CHIP are being accepted through the end of December. If you have any questions about CHIP, reach out to Aman Ardalan at aman@paaia.org.