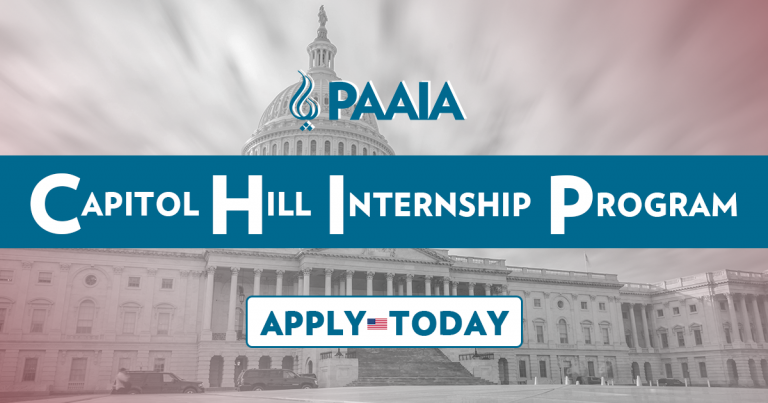 Applications Closed for Fall 2021
(Application remains available online for future terms)
The purpose of the Capitol Hill Internship Program (CHIP) is to promote increased civic participation among young Iranian Americans. CHIP is beneficial to young Iranian Americans interested in a future in public service as well as those seeking to work in NGOs and non-profits that may have public policy ties. Ultimately, however, the CHIP Fellowship seeks to simply create a more civically engaged community by providing a rewarding experience that helps participants learn about the importance of being active in the American civic process.
CHIP helps place qualified Iranian American college students or recent graduates as interns in congressional offices, where they will learn more about the legislative process. The program is unique in that the selected applicants will have their experience on Capitol Hill complemented with PAAIA D.C. events as well as opportunities to network with and be mentored by Iranian American staff on Capitol Hill, the Administration, and non-governmental organizations throughout Washington, D.C.
Internships are available during the academic fall and winter/spring semesters as well as the summer, offering college students/recent graduates of Iranian descent the opportunity to get a first-hand look at our nation's legislative and political process.
BENEFITS:
Provides the skills and experience necessary for those who seek a career in government or a career in NGOs
Serves as a bridge for those who seek a full-time position in government once they have completed the duration of their internship in Washington, D.C.
Provides opportunities to network and be mentored by Iranian Americans who work in Congress, the Administration, and various NGOs in Washington, D.C.
The recipients who are successfully placed on Capitol Hill will receive a stipend of $1,000 each.
APPLICATION PROCESS:
CHIP is focused on serving young Iranian American college students/recent graduates who seek to increase their professional experiences in the legislative and political arena. As such, individuals who apply for the internship will be first evaluated on both the merit of their educational and professional experiences by PAAIA. Applicants who proceed past the evaluation stage are matched with Congressional offices that best represent their interests and/or geographic region.
The application process is highly selective and only a select few will be chosen for these internship opportunities. The best-suited individuals will be students pursuing political science, public policy, history, and/or economics and journalism majors. However, students in other majors who have an interest in government and policy-related work are also encouraged to apply. Final approval for acceptance into the internship lies solely in the hands of mentioned Congressional Offices, not PAAIA.
All applicants must complete and submit the PAAIA Capitol Hill Internship Program Application Form, along with a resumé, transcript, and contact information for two references to aman@paaia.org.
WHEN TO APPLY:
Fall / Winter 2021 Application Deadline: July 15th, 2021
Spring 2022 Application Deadline: December 15th, 2021
Summer 2022 Application Deadline: March 15th, 2022
Due to varying deadlines with congressional offices to apply for an internship, priority is given to those who apply early.
HOUSING:
Interns are responsible for finding their own housing. However, PAAIA is happy to discuss with CHIP recipients about general housing options available within the Washington, DC area.
STIPEND:
Recipients of the CHIP fellowship who are successfully placed in a Capitol Hill internship will receive a stipend of $1,000 from PAAIA.
QUALIFICATIONS:
Be U.S. citizens, permanent residents, or legal visa holders
Be a college student, graduate student, or recent graduate. Students of political science, public policy, government, history, economics and journalism will be best suited to these internship opportunities.
Have completed and submitted the PAAIA CHIP Application Form online via email to aman@paaia.org along with a resume, academic transcript, and references.
FOLLOW-UP AND FEEDBACK:
Interns will be asked to participate in the follow-up process, including drafting a blog post highlighting their Capitol Hill experience. PAAIA will recognize these individuals and their experiences in both the PAAIA e-newsletter and on our website. CHIP Fellows are welcomed to all PAAIA gatherings such as the annual Nowruz reception and our Civic Engagement Forum series.
Have additional questions? Contact Aman Ardalan via email at aman@paaia.org.