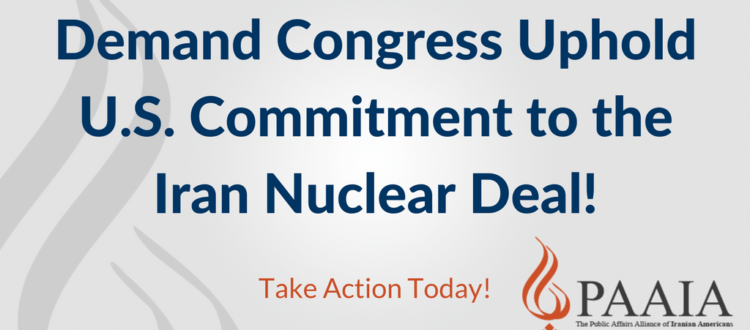 Join Our Fight – Protect the Iran Nuclear Deal!
Washington, D.C. – President Trump's disturbing decision to decertify the Joint Comprehensive Plan of Action (JCPOA) – also known as the Iran Nuclear Deal – brings us one step closer to war. The Public Affairs Alliance of Iranian Americans (PAAIA) is fighting to protect the deal and the Iranian community every way that we can!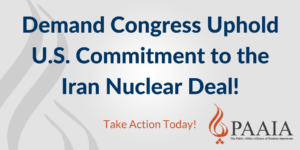 Over the past few months, PAAIA has met with numerous congressional offices on both sides of the aisle to voice our community's support for the JCPOA and encourage them to avoid passing measures that could derail the agreement. Recently, our congressional briefing helped facilitate the introduction of bipartisan legislation to ensure full-implementation of the deal.
Congress has less than 60 days to decide whether to implement new sanctions against Iran and dismantle the agreement altogether. Failure to uphold the deal could have disastrous long-term political, diplomatic, and national security consequences for the United States.
During the coming weeks, in addition to the promotion of our action alert urging Iranian Americans to contact their representatives and voice their support for the JCPOA, PAAIA plans to execute a digital media campaign in support of the agreement, targeting members of Congress and their staff through social media.
It has never been more important to harness our collective resources for the betterment of our community. Please consider donating to PAAIA as we continue to advocate in support of the JCPOA and for resolving our differences with Iran through diplomacy.