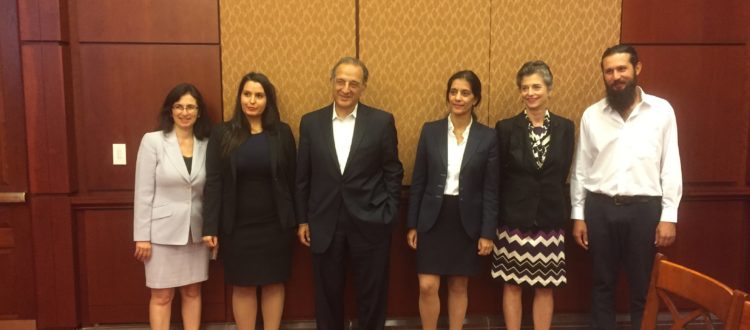 PAAIA Holds a Congressional Briefing and Panel Discussion on the People of Iran
Washington, DC – On September 26, 2017, the Public Affairs Alliance of Iranian Americans (PAAIA) held a congressional briefing and panel discussion on the people of Iran. The bipartisan event was attended by congressional staffers, members of the public, and representatives from non-governmental organizations, and was co-sponsored by Congressmen Gerald Connolly (D-VA) and Francis Rooney (R-FL).
During her introductory remarks, PAAIA's Executive Director, Leila Golestaneh Austin, affirmed that "PAAIA advocates for distinguishing the Iranian people from the current Iranian regime. In our discussions with congressional offices, we noticed increasing interest on the part of staffers to learn more about the people of Iran, and several approached us with the idea for this briefing."
Jasmin Ramsey, Deputy Communications Manager of the Center for Human Rights in Iran, moderated the panel discussion that included Iran experts and pollster Jim Zogby, whose Zogby Research Services carried out both PAAIA's 2017 National Public Opinion Survey of Iranian Americans and polls of Iranian attitudes inside Iran. Ramsey set the tone by underscoring the fact that Iranian society is young and interested in connecting with the world in a positive manner.
Mr. Zogby started the discussion with his analysis of poll results showing that the Iranian people's priorities include investing and improving the economy, advancing democracy and protecting personal rights, and improving relations with the U.S. Likewise, Iranian American priorities on US-Iran relations run parallel to the domestic aspirations of the people of Iran.
On the topic of women in Iran, Sanam Naraghi-Anderlini, Co-founder and Executive Director of the International Civil Society Action Network, remarked that despite all the challenges women in Iran currently face, "they are highly involved in Iranian society and politics" and are proactive in advancing their own rights, often in creative and productive ways.
Barbara Slavin, the Director of the Future of Iran Initiative at the Atlantic Council, focused on the importance of public diplomacy through cultural, sports, and academic exchanges to help promote U.S. national interests by supporting people-to-people exchanges between the United States and Iran. Slavin mentioned the fact that since President Trump has come into office, zero exchanges between the U.S. and Iran have taken place.
And finally, Reza Ghazinouri, Director of United for Iran, discussed why it is critically important for younger generations of Iranians to have continued access to technology, citing the widespread use of an application he developed to educate Iranian women about obtaining divorce and child custody rights before marriage. The application has approximately 200,000 users.
This briefing reinforced the importance of understanding the people of Iran in order to create policies that serve U.S. national interest. PAAIA will continue to advocate that the U.S. seek to engage the Iranian people and support their democratic and economic aspirations. We would like to thank our distinguished panelists and moderator, our congressional co-sponsors, and all those who participated or watched the briefing.
---
Please click here to watch the panel discussion, and check out our briefing slides.