Alex Soltany, PAAIA's Fall CHIP Fellow, Reflects on his Internship on Capitol Hill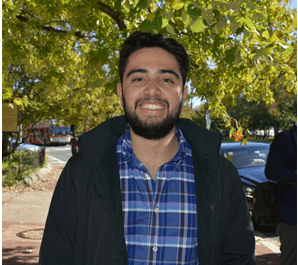 Washington, DC – This past fall term, I was lucky to serve as a Health Policy Intern with the United States Senate Committee on Health, Education, Labor & Pensions (HELP). This experience not only afforded me the opportunity to delve more deeply into our country's present healthcare challenges but also provided me with a window into the American legislative process. As PAAIA's Akbar Ghahary Congressional Hill Internship Program Fellowship recipient, I had the privilege of representing the Iranian American community on Capitol Hill. At a time when U.S.-Iran relations continue to deteriorate, I felt it was especially important for me to highlight my profound pride in my Iranian heritage and culture to those with whom I met and worked.
As a HELP intern, I was assigned a variety of daily administrative tasks, from answering constituent phone calls to coordinating meetings between key healthcare stakeholders and our office staff. Sometimes, I was able to sit in on those meetings and meet prominent hospital executives and patient advocates as they offered input on proposed health policy legislation. These administrative tasks could get exciting—on one occasion, I was tasked with running a bill on pandemic disease preparedness from our Senate office to the Cloakroom in the Capitol Building to meet the deadline for consideration on the Senate floor. At the end of each week, I also helped put together a "Health News Digest," briefing constituents on current health issues, introduced bills, and press releases by government health agencies.
On the whole, however, my duties varied unpredictably week-to-week. I'd immediately arrive at the office and be asked to redline a piece of proposed legislation, write a research memorandum on surprise medical billing, or run over to the House side and cover an Energy & Commerce Committee hearing on expanding value-based care models in healthcare. My two largest projects included offering changes to the Public Health Service Act and writing a research memorandum for Sen. Lamar Alexander, the HELP Committee Chairman, on China's role in the illicit trade of fentanyl. Briefings held by various advocacy organizations were wonderful educational tools to help staff and myself understand the basics of relevant health care topics, such as CAR T-cell therapy and Medicare reimbursement rates.
At markups, I would watch Senators comb through draft language of proposed legislation and suggest alternatives. Throughout the internship, I also attended health-related events and conferences around DC, including USAID's Global Health Mini-University, a Kaiser Health News discussion on medical overtreatment, and the Future of Health Summit held by the Milken Institute. While there, I would hear from our nation's most powerful health influencers, like NIH Director Francis Collins, HHS Secretary Alex Azar, and FDA Commissioner Scott Gottlieb.
PAAIA played an invaluable role in ensuring my internship experience was a success. In addition to financial sponsorship, the PAAIA team advised me on strategies that would allow me to make the most of my time on the Hill. I am especially grateful for the lunches they organized with prominent Iranian Americans in public service that also shared my love of health: Ali Nouri (President at the Federation for American Scientists and former Legislative Director with Sen. Al Franken) and Samira Jali (Senior Advisor at HHS). Their guidance and willingness to help a young Iranian American navigate the complexities of the professional world have proven invaluable as I think more critically about my career aspirations.
From the media's passionate portrayals of Congressional partisanship and Ranking Member Patty Murray's unwavering attacks on Donald Trump in committee hearings, it seems unimaginable for Congress to willingly cooperate and accomplish much of anything. However, Sen. Alexander often asks us to view politics as a "split screen TV": on one screen, there is extreme political dysfunction across partisan lines, but on the other, you have a group of committed senators working across the aisle each day to reach compromises and move our country forward.
During the past five months, the HELP Committee authorized the most funding in history for biomedical research and led the creation and passage of bipartisan, bicameral legislation to address our nation's severe opioid crisis. My time on HELP imbued me with a much deeper understanding of our country's healthcare system. Thanks to PAAIA, I have developed a strong sense of confidence in our legislative process, and I am motivated to continue discovering impactful ways to combine my passions for health and public service.
Read more about Alex here.  
Click here to learn more about PAAIA's Capitol Hill Internship Program or to apply to be our next CHIP Fellow! Click here to sponsor a future CHIP Fellow with a tax-deductible donation.
---
December 13, 2018