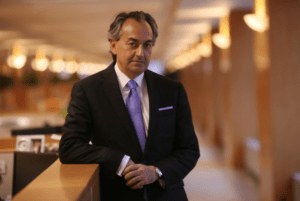 Hamid Biglari:
Hamid Biglari is an internationally-recognized finance executive and entrepreneur. He recently joined Point72 Asset Management, one of the world's most important hedge funds, where his focus is on the novel applications of advanced data analytics to financial markets. Between 2000 and 2013, Dr. Biglari held several senior executive positions within Citigroup, including Head of Emerging Markets and Vice Chairman of Citicorp. Prior to Citi, he acted as Co-Head of McKinsey & Company's Global Investment Banking Consulting Practice. Before that he was a theoretical nuclear physicist at Princeton University.
He is a member of the Council on Foreign Relations as well as a Trustee of the Asia Society and sits on the Advisory Board of the Bendheim Center for Finance at Princeton University. Dr. Biglari is a recipient of the Ellis Island Medal of Honor, given for outstanding contributions by immigrants to the United States. He holds a Ph.D. in Astrophysical Sciences from Princeton University.
He lives with his wife, Laya Khadjavi, and two daughters in New York City.