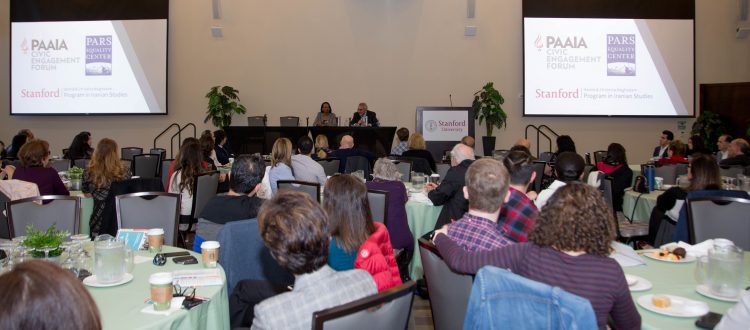 PAAIA Hosts Civic Engagement Forum in Collaboration with PARS Equality Center and Stanford Iranian Studies Program
Washington, DC – On Saturday, February 22nd, the Public Affairs Alliance of Iranian Americans (PAAIA), Pars Equality Center, and Stanford University's Hamid & Christina Moghadam Program in Iranian Studies came together to host PAAIA's second regional Civic Engagement Forum. The event was hosted at Stanford University's Paul Brest Hall and featured a range of distinguished and compelling speakers and panelists. Invited keynote speakers included former Secretary of State Condoleezza Rice and former Ambassador Michael McFaul with Dr. Abbas Milani as moderator of both discussions.
To kick off the forum, PAAIA Executive Director Leila Austin, discussed PAAIA's Civic Engagement Initiative, emphasizing that "now more than ever, our community needs to come together as one voice so we can properly advocate for our needs and concerns from a place of unified strength and power."  In her opening remarks, keynote speaker Secretary Condoleezza Rice, spoke eloquently about the adversity she faced growing up in Jim Crow-era Alabama and offered encouragement and advice to Iranian Americans facing adversity in today's challenging political climate. She also spoke about her experience as Secretary of State and National Security Advisor during the George W. Bush presidency, offering her thoughts on recent developments between Iran and the United States.
The first panel included a conversation on "Tech for Social Good: How Iranian Americans are Using Their Tech Expertise to Benefit the Common Good." The engaging discussion included moderator Avid Boustani, Senior Vice President of Software Motor Company, and technology experts and panelists Zohre Elahian of PolyUp, Pirooz Parvarandeh of Iranian Americans' Contributions Project, and Roya Soleimani Winner of Facebook. Panelists delved into the power of technology and debated whether or not technology serves us well, how technologists can actively hold themselves accountable, and how Iranian Americans can do good with the development of technology.
After the first panel, Dr. Pooya Azadi of Stanford University discussed Stanford's Iran 2040 Project, which brings together innovative academic research from the Iranian diaspora to address Iran's public policy challenges.
Paris Etemadi Scott, Legal Director of PARS Equality Center, introduced PAAIA and PARS Equality Center's #WriteInIranian campaign to the audience. The campaign encourages Iranian Americans to take advantage of an improved process in the upcoming 2020 Census that allows our community to write in Iranian as our origin alongside a self-chosen decision of racial identity.
Dr. Milani sat down with Michael McFaul, former U.S. Ambassador to Russia. McFaul, now Director of the Freeman Spogli Institute for International Studies at Stanford University, had a wide-ranging public career and is renowned for his knowledge on issues related to American foreign policy. The discussion was centered on how Iranian Americans can participate civically, the recent protests in Iran against the Islamic regime, and how Russia is continuing to present an interest in Iran.
The second panel featured the topic "Identity and Representation: The Dynamic Ways in Which Iranian Americans Take Part in American Society." Included on the panel were speakers from a diverse array of career backgrounds who exchanged stories of how their Iranian American identity has contributed to the person they are today. Panelists included moderator and candidate for Phoenix City Council Yassamin Ansari, alongside Los Angeles Times journalist Sarah Parvini, San Francisco County Supervisor Ahsha Safaí, and actor and producer Navid Negahban. To frequent laughter and applause, each speaker described moments from their upbringing and career beginnings that highlighted how their Iranian American heritage has been a central point of their life in America and their contributions to society.
Leila Austin closed out the forum by thanking attendees for coming to the event and encouraging all Iranian Americans to reflect on the lessons of the day and become civically engaged. The PAAIA Civic Engagement Forum series will continue to be hosted in various cities annually, with the next event anticipated to take place before the end of 2020.
PAAIA thanks event and initiative sponsors for their generous support, including Stanford University's event staff, the Stanford Iranian Studies Program staff, and PARS Equality Center. To learn more about the PAAIA's Civic Engagement Forum at Stanford and the larger PAAIA Civic Engagement Initiative, please visit ceforum.paaia.org.
---
March 2, 2020
ABOUT PAAIA: The Public Affairs Alliance of Iranian Americans, PAAIA, Inc., is a nonprofit, nonpartisan, nonreligious 501(c)(4) organization that serves the interests of Iranian Americans and represents the community before U.S. policymakers and the American public at large