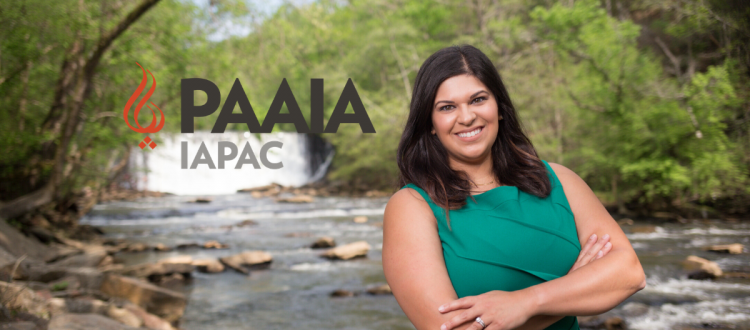 IAPAC Proud to Endorse Sarah Beeson for Georgia State Senate

The Iranian American Political Action Committee (IAPAC), the connected PAC of the Public Affairs Alliance of Iranian Americans (PAAIA), today proudly announces its endorsement of Sarah Beeson for Georgia State Senate District 56.
Sarah Zibanejadrad Beeson is a businesswoman who runs her family's company that has been based in Georgia State Senate District 56 for more than two decades. She also serves on the Board of Directors for a nonprofit dedicated to expanding transit in Atlanta called Advance Atlanta and previously worked for the Human Rights Campaign — America's largest LGBTQ advocacy group. She received her Bachelor's in Journalism and Political Science from Georgia State, her MBA from the University of Georgia, and will complete her Master's in Environmental Management from the University of Maryland Global Commons in December. She has been active in Georgia's Democratic Party for years, having served on the board for Red Clay Democrats and at various levels of leadership for Young Democrats of Georgia.
Recently, PAAIA had the opportunity to interview Sarah about her campaign. The election, which will be held on November 3rd, 2020, marks the first time she has run for public office. If successful, she will be the second Iranian American elected to the Georgia State Senate. Read the interview below:
PAAIA: Tell us a little about the office you are seeking and the district that you are running in?
Sarah:  I am running for Georgia Senate District 56, which covers Roswell, Alpharetta, Mountain Park, Sandy Springs, Milton, Woodstock, and Johns Creek in North Metro Atlanta. This is easily the most flip-able seat in the Georgia Senate: in 2018, four state house seats within my district flipped and the prior candidate came within 5% of victory.
PAAIA: What are the most critical issues facing your district today?
Sarah: Critical issues facing my district include horrendous traffic, climate change and protecting environmentally-sensitive areas, access to healthcare, prioritizing education and keeping our schools safe.
PAAIA: Can you break down how you plan on addressing some of the most critical issues facing your district today?
Sarah:
Transit
In 2019, the Georgia Section of the American Society of Civil Engineers rated the state's infrastructure C+ — and our transit a D+. Expanding transit is the key to mobility for residents: both physical and economic. I support expanding transit and funding infrastructure investments to alleviate traffic, increase accessibility, sharpen our competitive edge, and provide more environmentally-friendly transportation options for residents.
Environment
Climate change is one of the most pressing issues of our generation. I believe the Georgia Legislature needs to act now to protect future generations. On a local scale, State Senate District 56 is home to the Chattahoochee River, Big Creek, Vickery Creek, and other environmentally-sensitive areas that need to remain protected. With a formal and working education in environmental management, my focus is to enact effective policies that protect Georgia's environment, preserve our natural resources, and reduce pollution in the district and beyond.
Healthcare
Every Georgian deserves access to high-quality, affordable healthcare, which is why I support expanding Medicaid so we can better support pregnant women, children, retirees age 65 and older, and people who are legally blind or disabled. I also support keeping a woman's healthcare decisions between her and her doctor — not her and the government, improving the quality of maternal healthcare especially for women of color, and increasing access to mental health treatment options. Additionally, if elected, I would explore more state-funded options, based on the advice of medical professionals, to overcome the opioid epidemic that is currently plaguing Georgia's 56th Senate District.
Education
Although Georgia's pre-K program is lottery-funded, it shouldn't be a lottery to determine who can enroll. Every child in Georgia should be guaranteed the option for placement in the state's preschool and early education program. I believe in local control of school systems and fully funding our public education programs — including paying our teachers fairly. But access to education shouldn't stop at high school graduation: Georgia's students deserve options for post-secondary education, including access to debt-free higher education, technical colleges, or skilled apprenticeship programs to prepare them to enter the workforce.
PAAIA: What role do you think Iranian Americans can play in your campaign and what do you expect from the community?
Sarah: As an Iranian American myself, I believe positive representation is key to uplifting our community. I came of age in a post-9/11 society where Middle Eastern Americans face negative stereotypes, racial slurs, and a blatant lack of power in most legislatures across the country. Iranian Americans can play a critical role in my campaign by not only volunteering or giving, but simply spreading the message that we are capable, fair, and deserve fair representation. In my race specifically, if I were to win my campaign for State Senate that would mean two Iranian American women (Sen. Zahra Karinshak) would have served in the Georgia Senate which would be groundbreaking in the South.
Click here to learn more about Sarah Beeson's campaign and how to get involved.