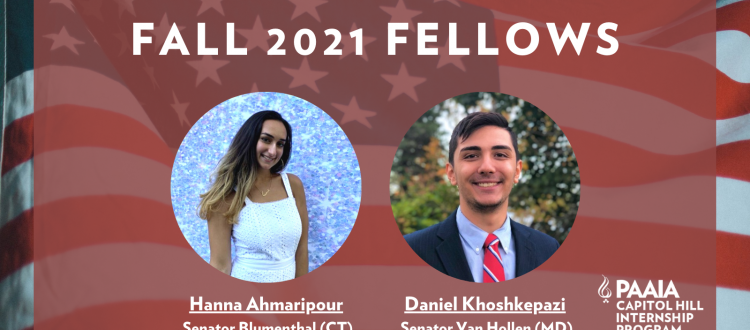 PAAIA Announces Fall 2021 Capitol Hill Internship Program Recipients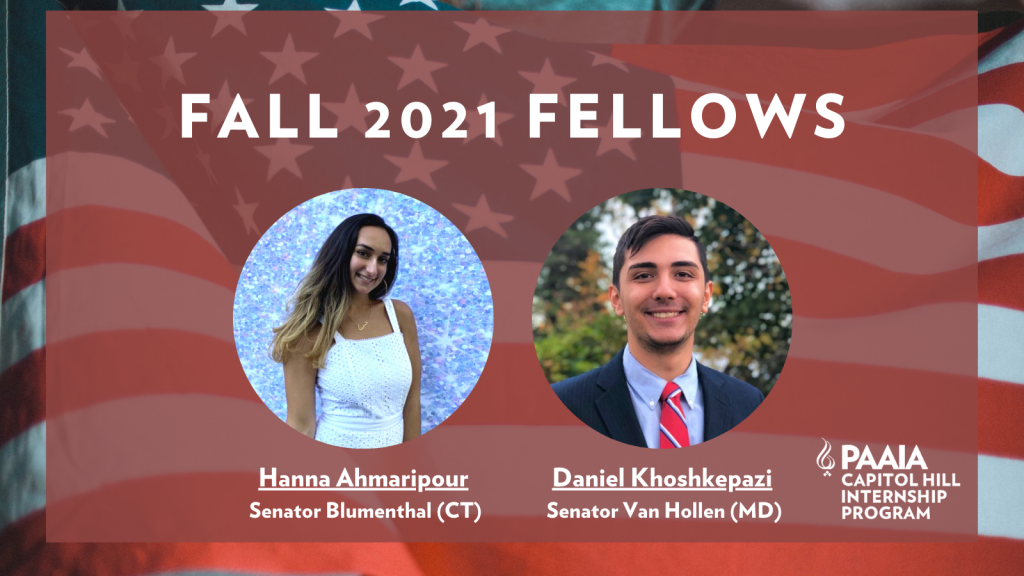 Washington, DC – PAAIA congratulates our newest Akbar Ghahary Capitol Hill Internship Program (CHIP) interns, Hanna Ahmaripour and Daniel Khoshkepazi!
The Capitol Hill Internship Program offers Iranian American students and recent graduates an opportunity to learn about the legislative process by interning with a Member of Congress. During the internship, PAAIA provides CHIP recipients a stipend as well as mentorship lunches with Iranian American congressional staff and federal officials.
Since launching CHIP, PAAIA has helped around 20 young Iranian Americans to intern on Capitol Hill. For many, the Capitol Hill Internship Program is what gets their foot in the door in Washington, DC. Several of our past CHIP interns have continued to work on the Hill, including one who currently works full-time for a high-profile Senator.
Hanna Ahmaripour, originally from Newtown, Connecticut, is a student at American University pursuing a Master's in Public Administration & Policy. She is passionate about community advocacy and making tangible positive change happen. Hanna's prior experience includes an internship with the CT Democratic Party, Social Media Coordinator at Iranian Association of UConn, and Head Counselor at Camp Ayandeh. This Fall, Hanna is interning with Senator Blumenthal of Connecticut.
Daniel Khoshkepazi moved to the United States when he was a child. Raised in New York, he now lives in Baltimore where he pursues a Master's in Global Affairs & Human Security at the University of Baltimore. At UBalt, Daniel also has served as the President of Student Government since May 2020. He is passionate about leadership, social justice, and community development. This Fall, Daniel is interning with Senator Van Hollen of Maryland.
Are you, or do you know someone, interested in working on Capitol Hill? If so, check out the Capitol Hill Internship Program. We will be announcing the application process for Spring 2022 in the coming months, so stay tuned! If you have any questions about CHIP, reach out to Aman Ardalan at aman@paaia.org.
If you'd like to support the CHIP program so that we can continue to help young Iranian Americans gain critical leadership experience in the American political process, please consider donating to PAAIA.
—