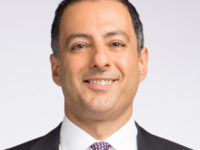 Nader A. Mousavi:
Nader A. Mousavi is a partner and co-head of the Intellectual Property Group at Sullivan & Cromwell LLP.  Mr. Mousavi has been widely recognized as a leading deal-maker and strategist for high-stakes transactions where intellectual property and technology are critical.  His recognitions include being named as one of the:
Top 100 Lawyers in California by the Daily Journal,
Leading lawyers in America in IT and IT outsourcing by Chambers USA,
World's leading patent licensing lawyers by IAM Licensing 250, and
Top "40 under 40" business professionals by Silicon Valley/San Jose Business Journal (2007) and Boston Business Journal(2004).
Mr. Mousavi's practice includes advising clients in a wide range of intellectual property and technology-related matters, including licensing, mergers and acquisitions, joint ventures, collaborations, financings, outsourcing, monetization, research, development, manufacturing, distribution, supply and settlement arrangements.  His clients have included Anheuser-Busch Inbev, ASML, Broadcom, Cablevision, Cisco, Intel, Kodak, Silver Lake, Skype, Softbank and the Massachusetts Institute of Technology.  For example, Mr. Mousavi served as the lead intellectual property and technology counsel to:
Anheuser-Busch Inbev, in its divestiture to Constellation Beers of U.S. rights in Grupo Modelo brands such as "Corona",
Intel, in its worldwide patent licenses and settlements with AMD and Nvidia,
ING, in its divestiture of ING Direct USA to Capital One for $9 billion,
Kodak, in its sale of 1,100 digital imaging patents to Intellectual Ventures and licensing to Apple, Facebook, Google, and Samsung, among others, and
Silver Lake and Skype in the settlement of its intellectual property disputes with Skype's founders and later in the sale of Skype to Microsoft for $8.5 billion.
Prior to Sullivan & Cromwell LLP, Mr. Mousavi was a partner at Wilmer Cutler Pickering Hale and Dorr (WilmerHale), where co-founded the firm's Palo Alto office.  Prior to WilmerHale, Mr. Mousavi led strategy and legal affairs at a telecommunications software company that pioneered the "softswitch" and was ultimately acquired by a broadband infrastructure company.
Mr. Mousavi is the National Chair for alumni reunions at Stanford Law School.  He is also a member of the Advisory Board for Stanford Law School's Program in Law, Science & Technology, and of the Silicon Valley Chapter of the Licensing Executive Society.
Mr. Mousavi is a graduate of U.C.L.A. (B.A., summa cum laude, 1993) and Stanford Law School (J.D., 1997).