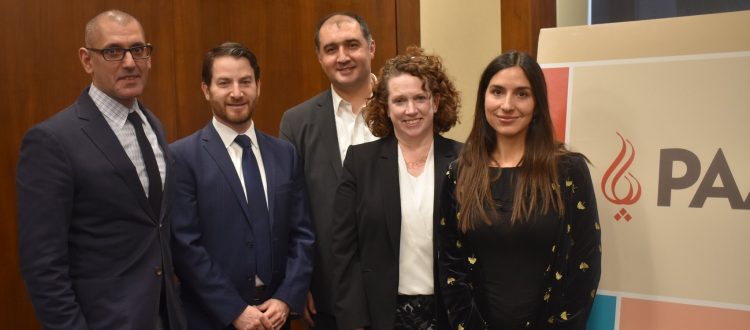 Poll Briefing on Capitol Hill Highlights Concerns of Iranian American Community
Washington, DC – On Monday, January 13th, PAAIA held its annual Capitol Hill poll briefing and panel discussion which aims to educate congressional staffers about our community and the community's views on important issues like discrimination, US-Iran relations, and more.
We began the event by reviewing our poll results from this past year, highlighting the Iranian American community's desires for U.S. policy that engages the Iranian people and supports their democratic aspirations.  We also discussed the impact of U.S.-Iran escalations on discrimination against Iranian Americans with more than 70% of those surveyed voicing concerns of increased ethnicity-based discrimination.
Our poll briefing was followed by a panel discussion on how the U.S. can best support the democratic aspirations of the Iranian people, featuring distinguished panelists including Senior Fellow at the Brookings Institution Suzanne Maloney, Senior Fellow at the Middle East Institute Alex Vatanka, and human rights lawyer and Nonresident Fellow at the Atlantic Council Gissou Nia. The panel was moderated by the President of the Washington Group and former Deputy Assistant Secretary of State Joel Rubin.
The panelists emphasized the importance of expanding tech exemptions under current U.S. sanctions against Iran, an issue that PAAIA has continuously been working on. In the wake of the internet shutdown in response to protests last November, the issue of tech exemptions has become even more pertinent in connecting the Iranian people to the outside world. Maloney echoed these points by reminding the audience, a group of hill staffers, that Congress has reversed sanctions in the past and can do it in the case of tech sanctions against Iran.
Additionally, the panelists noted the harmful effects the Travel Ban has had on Iranian perceptions of American support for the Iranian people. While Vatanka says "the Iranian people are still very pro-America," the Travel Ban is interpreted as unwarranted punishment against the Iranian people for the actions of the Iranian government. In fact, Gissou Nia noted that Iranians inside Iran mention the Travel Ban most often in terms of U.S. policy towards Iran, demonstrating its extremely negative perception amongst Iranians and countering the stated U.S. policy of 'support' for the Iranian people.
PAAIA thanks our staff, invited panelists and moderator for participating in the event, as well as congressional staff for their attendance.
---
January 31, 2020