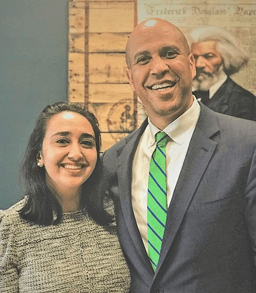 PAAIA Ansari Fellow Neeki Memarzadeh Reflects on Internship
This summer, with the generous support of the PAAIA Ansari Fellowship, I had the incredible opportunity to serve as a legislative intern in the office of Senator Cory A. Booker (NJ) in Washington DC. As a legislative intern, I have had the opportunity to perform research on a variety of policies: financial inclusion, judicial appointments, criminal justice reform, housing discrimination, and racial disparities in maternal and infant mortality. However, the primary issue I was engaged in working on is family separation along the southern border.
While the work was draining and oftentimes demoralizing, it was also incredibly gratifying to work on a team that was fighting against this egregious violation of human rights. Whether it was facilitating outreach with civil rights groups on the ground in Texas or investigating the exorbitant costs of separating children from their families, every day I felt that I was able to contribute in some small way to a cause that was of great importance to me.  
It is important that we take an active voice in the political process, instead of succumbing to cynicism and complacency. I encourage students to get involved with government – whether it be at the state, local, or national level because participating in the policymaking process is immensely gratifying and invaluable. My colleagues in Senator Booker's office were some of the most accomplished and generous people I have ever met, and I am grateful for their continued mentorship and friendship as I move forward with my studies and career. 
 As an Iranian-American, I felt a great responsibility to be involved in the political process, particularly in our current political climate. Policies such as the travel ban and withdrawal from the Iran deal target Iranians and Iranian-Americans. The representation of Iranian-Americans in public affairs and government is critical to ensuring that Iranian-Americans are treated with dignity and respect in the eyes of the law.  
Over the short course of this presidency, immigrants and the Iranian-American community have been under attack: through the termination of DACA, spike in ICE raids and deportations, efforts to add a citizenship question to the 2020 Census, travel bans, and attempts at disassembling the JCPOA. I believe that as a community, we need to link arms with those targeted by the Trump Administration. We cannot afford to consider the issues we face without bearing in mind the challenges Dreamers face, or without remembering the President's characterization of Haiti and various African countries. This Administration has launched an attack against all immigrants, and as such, we need to collaborate with immigrant communities across the United States. The greatest way to ensure a greater voice is to bring more communities to the table, as that will truly reflect what is beautiful about America: Iranian-Americans, Hispanic and Latino Americans, African-Americans, and Asian-Americans linking arms to defend not only themselves, but more importantly, each other.