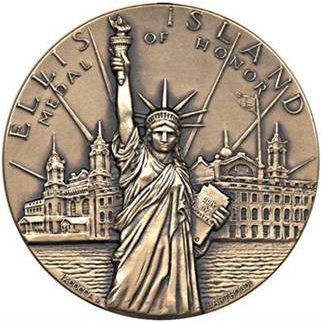 Six Iranian Americans Awarded 2019 Ellis Island Medal of Honor
Washington, DC – On May 10th, 2019, six highly accomplished Iranian Americans were awarded the 2019 Ellis Island Medal of Honor for outstanding achievement in their personal and professional lives, as well as their commitment to the preservation of Iranian culture and heritage.
Established in 1986 by the National Ethnic Coalition of Organizations (NECO), the Ellis Island Medal of Honor ranks among the nation's most prestigious awards, paying an annual tribute to the ancestry groups that comprise America's unique cultural mosaic. The medals are presented on Ellis Island to American citizens of diverse origins for their outstanding contributions to their communities, their nation, and the world.
The U.S. Congress sanctions the Ellis Island Medals of Honor and recipients' names are listed in the Congressional Record. Six Presidents of the United States, Nobel Prize winners, athletes, industry leaders, artists, and others are among the remarkable group of individuals to have received the award.
PAAIA congratulates this year's medal recipients and thanks them for their countless contributions to the richness and diversity of American life. Please click here to view a full list of 2019 Ellis Island Award recipients.
The 2019 Iranian American honorees include: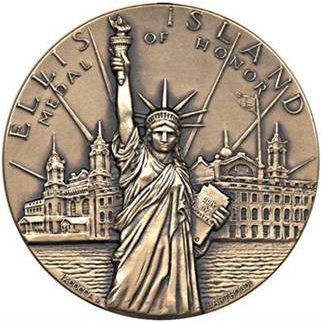 Dr. Nina Ansary
Dr. Nina Ansary is a bestselling author, historian, and leading authority on women's rights in Iran. Her book Jewels of Allah: The Untold Story of Women in Iran received international attention and has garnered multiple awards. In 2018, Dr. Ansary was appointed one of six UN Women Champions for Innovation, supporting the flagship programs of the Global Innovation Coalition for Change. She has also been recognized as one of "14 Privileged Women to Change the World." Dr. Ansary is a Visiting Fellow at the London School of Economics Centre for Women.
Nader Engheta
Nader Engheta is the H. Nedwill Ramsey Professor of Electrical and Systems Engineering at the University of Pennsylvania. He received his Ph.D. in electrical engineering and physics from the California Institute of Technology and has received numerous awards for his research including the 2015 Fellow of the U.S. National Academy of Inventors. His current research activities span a broad range of areas including nanophotonics, metamaterials, plasmonics, nano-scale optics, graphene optics, and more.
Mehran Kardar
Mehran Kardar is an Iranian American physicist, educator, and professor of physics at Massachusetts Institute of Technology (MIT). He is known for both his scholarly work and his unwavering support of his students, having cultivated the next generation of leaders in statistical physics over the past three decades. Born in Tehran, he obtained a B.A. in natural sciences from the University of Cambridge in 1979 and his Ph.D. in physics from MIT in 1983. Kardar has also made outstanding contributions to research in his field. His famous paper on the growth of interfaces has amassed over 3500 citations. He has inspired hundreds of graduate students through his classes, many of whom have gone on to pursue research in the areas he teaches.
Dr. Roxana Mehran
Dr. Roxana Mehran, M.D. is a professor of medicine, cardiology, and population health science and policy at the Icahn School of Medicine at Mount Sinai. Dr. Mehran is an internationally renowned interventional cardiologist and clinical research expert in the field of cardiovascular disease. As Director of the Center for Interventional Cardiovascular Research and Clinical Trials at Mount Sinai, she has built a globally-respected academic research center focused on developing randomized clinical trials, outcomes research projects and high impact academic publications. A prolific researcher, she has served as principal investigator for numerous global studies, developed risk scores for bleeding and acute kidney injury, participates regularly in developing clinical guidelines, and has authored >900 peer-reviewed articles. She is a founder and Chief Scientific Officer of the Cardiovascular Research Foundation (CRF) and recently founded Women as One, an independent nonprofit organization dedicated to advancing opportunities for women in medicine. Prior to Mount Sinai, Dr. Mehran held appointments at Columbia University Medical Center, Lenox Hill Hospital, and Washington Hospital Center. 
Yahya Rahmat-Samii
Yahya Rahmat-Samii, distinguished professor of Electrical and Computer Engineering at UCLA, was born in Tehran, Iran. Yahya graduated from Tehran University with a degree in Electrical Engineering. Following this, he attended the University of Illinois, Urbana-Champaign, obtaining an M.S. and Ph.D., before joining the Jet Propulsion Laboratory (JPL) of Caltech/NASA in 1978. He played a pivotal role in many JPL/NASA missions by providing innovative concepts for a variety of communications and space science missions. His well-recognized contributions led him to be appointed Senior Research Scientist in 1985 – one of the youngest in the history of JPL. In 1989, he was invited to join UCLA as a full-time professor and served as the department chair from 2000-2005. Professor Yahya Rahmat-Samii was elected to the U.S. National Academy of Engineering in 2008, the highest award reserved for America's most distinguished engineers.
Jason Rezaian
Jason Rezaian is one of the few Western journalists to have been based in Tehran in recent years. From 2009 until his arrest in 2014, he covered stories that tried to explain Iran to a general American audience, first as a freelancer for a variety of outlets and later as The Washington Post's Tehran bureau chief.
He reported on two presidential elections, Iran's nuclear negotiations with global powers, the effects of one of the most punitive sanctions regimes in modern times, and environmental issues. In between those momentous topics, he told the stories of Iran's small community of baseball players, the quest for the best high-end hamburger in Tehran, and a clinic for female drug addicts.
In July of 2014, Rezaian and his wife were detained in their home. He went on to spend 544 days in Tehran's Evin prison and was released on the same day the historic nuclear deal between Iran and world powers was implemented.
---
May 11th, 2019