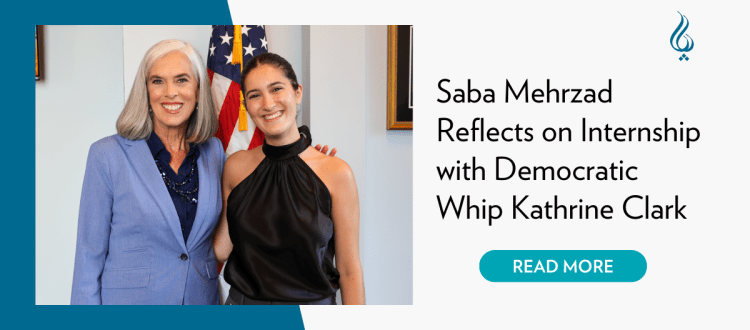 Saba Mehrzad Reflects on Internship with Democratic Whip Katherine Clark
Pezeshkan Family Capitol Hill Internship Program Fellow Saba Mehrzad is a rising junior at Harvard College pursuing a joint-degree in Computer Science and Government. This summer, she interned in the Office of the Democratic Whip in the U.S. House of Representatives, Katherine Clark.
"This summer, I had the wonderful opportunity to intern for the Democratic Whip in the U.S. House of Representatives, Katherine Clark. Whip Clark is the second highest ranking Democrat and highest-ranking woman in the House of Representatives. The Whip in the House of Representatives works to unify their party for important votes and provides the caucus members with support. This support can manifest itself in various forms: from answering questions about complicated House Floor procedures to helping members receive Floor time and share messages with their constituents.
My internship was extremely unique because I was able to switch between Whip Clark's two offices—her personal office and her leadership office (in the Capitol building!). In the Personal Office, I answered phone calls from Congresswoman Clark's constituents, wrote memos for policy staff members, and attended hearings covering a variety of issues—from tech policy to the opioid epidemic. Meanwhile, in the Leadership Office, I assisted staffers by answering phone calls from other congressional offices about floor procedures, staffed events —such as the weekly Whip Breakfasts with the House Democratic caucus and the Whip's Birthday Party— and helped with office operations.
At Harvard, I am completing a joint-degree in Computer Science and Government. In my studies, I am particularly interested in studying the regulation of emerging technologies and technology companies. This summer in Congress was the perfect time for me. I attended 8 hearings regarding Artificial Intelligence and Regulation and was able to hear from CEOs, Researchers, and Technologists alike. After each hearing, I wrote a memo for my office staff. Two of my memos assisted the Whip when she met with Melinda Gates regarding Artificial Intelligence and gender bias.
This internship was a formative experience for me and was all possible thanks to the support of PAAIA's Pezeshkan Capitol Hill Internship Program (CHIP) Fellowship. The community and mentorship that the CHIP Fellowship provided me was invaluable to my exploration of life on Capitol Hill. I am so grateful for this program because it enabled me to be connected to an extremely unique and important office in the House of Representatives. During my internship, I solidified many of my life and career goals, and I will take this experience with me for the rest of my life.
This fall, I will be entering my junior year at Harvard College, where I will continue to explore the intersections between technology, governance, and advocacy. I am excited to see where these interests will take me and am looking forward to connecting with more Iranian Americans in the process."
---
August 31, 2023