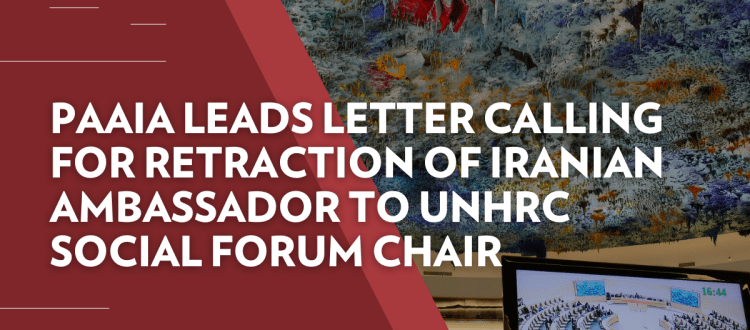 Retract Iranian Ambassador as UNHRC Social Chair 
Washington, DC — Today, PAAIA led a coalition letter calling on the Biden Administration to retract the appointment of the Islamic Republic of Iran's Ambassador as Chair-Rapporteur of the 2023 Social Forum for the United Nations Human Rights Council (UNHRC).  The Center for Human Rights in Iran (CHRI) and the Iranian American Bar Association (IABA) joined PAAIA in signing this letter.
The upcoming UNHRC Social Forum, which is set to take place in November, will focus on "the contribution of science, technology, and innovation to the promotion of human rights, including in the context of post-pandemic recovery." The appointment of Iran's Ambassador and Permanent Representative to the United Nations (UN), Ali Bahreini, to chair this event is an egregious affront to human rights and to the UN Charter's principles. 
The Islamic Republic of Iran has a horrific track record of human rights abuses and is currently being investigated by the UN for killing hundreds of peaceful protestors, arresting tens of thousands for the peaceful expression of dissent, and torturing, maiming, and sexually abusing protesters and detainees, including children. The Islamic Republic's leaders also politicized the COVID-19 pandemic, refused Western vaccines, and cost hundreds of thousands of lives.
The actions of the Iranian regime have been described as rising to the level of "crimes against humanity" by the UN Special Rapporteur on Human Rights in Iran and unequivocally disqualify its ambassador from holding such a prestigious position at a human rights-centered event.
In light of this incongruency, PAAIA collaborated with other Iranian American organizations to craft a letter reminding the Biden Administration of its commitment to defend human rights and support the Iranian people and requesting actions be taken to retract this abhorrent appointment and prevent such oversights in the future.