Rep. Hunter Makes Controversial Remarks about Iran
Serving as the credible voice of the Iranian American community.          

                             

We are PAAIA.
Congressman Hunter Makes Controversial Remarks about Iran and Middle Eastern People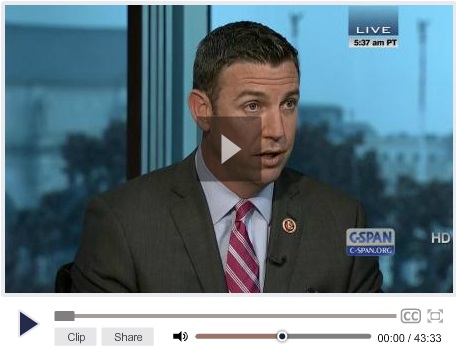 December 5, 2013, Washington, D.C.
 – Appearing on C-SPAN's Washington Journal yesterday, Congressman Duncan Hunter (R-CA) suggested the United States should use tactical nuclear weapons against Iran and made what may be viewed by many as derogatory comments about Middle Eastern people. PAAIA has sent a 
letter to Congressman Hunter
 to start a dialogue with his office and express our concerns about the ramifications of his statements. 

When asked if a war with Iran was inevitable, Hunter said that he hopes it is not, but "if you have to hit Iran, you don't put boots on the ground, you do it with tactical nuclear devices and you set them back a decade or two or three. I think that's the way to do it with a massive aerial bombardment campaign."
Discussing the interim nuclear deal between Iran and the P5+1, Hunter alluded that all Middle Easterners are untrustworthy due to their culture. "In the Middle Eastern culture, it is looked upon with very high regard to get the best deal possible no matter what it takes, and that includes lying," he said.
Skepticism of the Iranian government's intentions is understandable and necessary. However, suggestions about using nuclear weapons and making broad generalizations about an entire group of people are unnecessary and counterproductive to U.S. interests. The Iranian people are one of the most pro-American populations in the Middle East. Successive U.S. administrations have implemented policies to reach out directly to the Iranian people, aiming to hear their views and support their democratic aspirations. Hunter's remarks only serve to alienate the Iranian people and embolden hardliners within the Iranian government.
Hunter's comments are not only damaging to U.S. foreign policy, but they are also extremely offensive to the Iranian American community. The United States is host to the largest expatriate community of Iranians in the world. Iranian Americans have contributed to the strength and diversity of America. They serve as government officials, in the military and law enforcement, working to uphold the constitution and protect all Americans. Hunter should realize that his remarks have the potential to encourage xenophobia and hatred against a particular group of Americans.
Hunter is a distinguished member of the U.S. Congress, who has served his country with honor in Afghanistan and Iraq. He should make clear that his commentary on C-SPAN does not reflect his attitude toward the Iranian people.
As Karim Sadjadpour, senior associate at the Carnegie Endowment for International Peace's Middle East Program, has often noted, Iran is one of the few countries in the Middle East where America's strategic interests and its commitment to democratic values align. Hunter would be wise to keep this in mind when contemplating policy decisions towards the country.
Click here to view Congressman Hunter's comments on using nuclear devices on Iran.
Click here to watch his comments on Middle Eastern culture.
 
Public Affairs Alliance of Iranian Americans
1001 Connecticut Ave NW, Suite 745, Washington, DC 20036