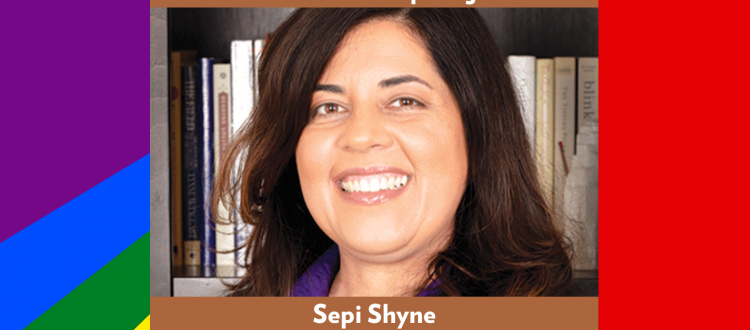 #PrideMonth Spotlight: Sepi Shyne, Mayor Pro Tempore of West Hollywood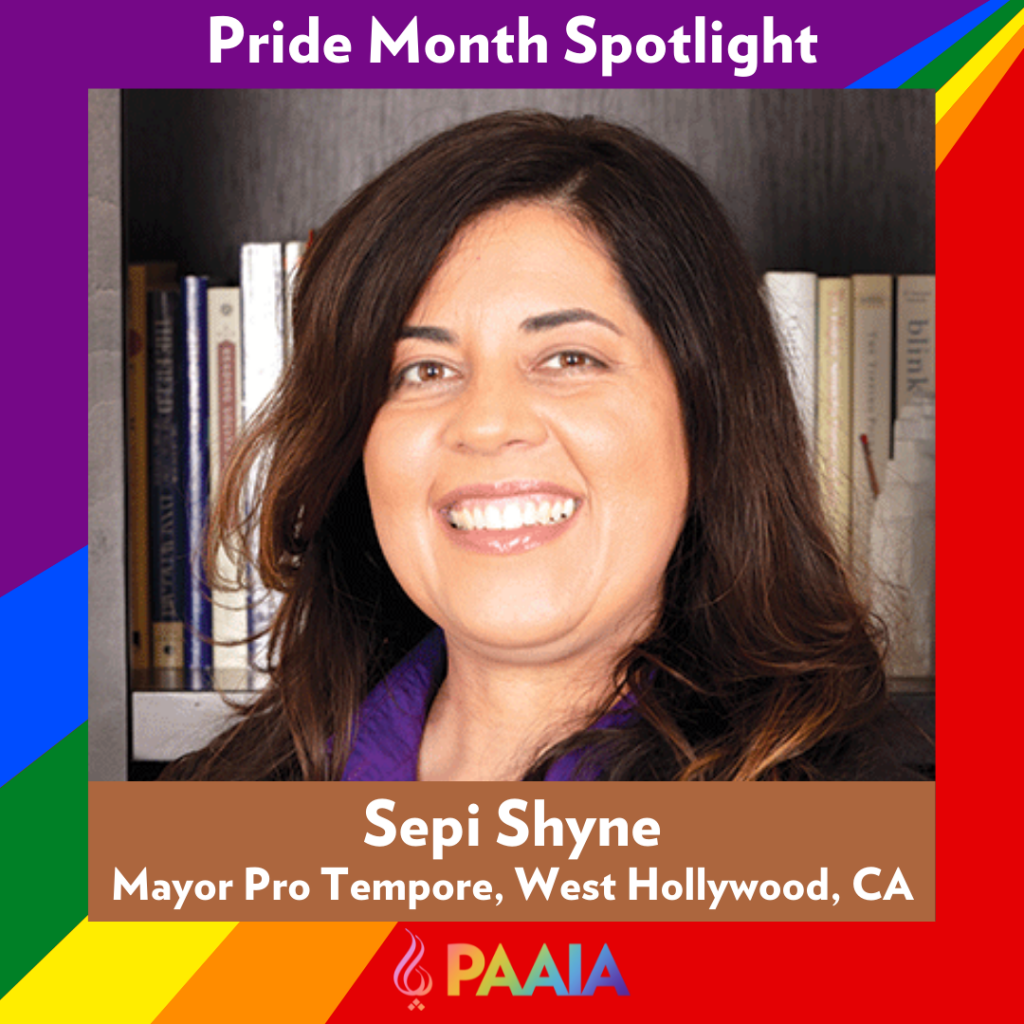 Happy #PrideMonth!
This June, PAAIA once again joins the LGBTQ+ community in celebrating Pride Month, a time of activism, celebration, hope, visibility, and solidarity. This year, we are proud to honor the incredible work of LGBTQ+ Iranian Americans who are serving their communities in elected office.
Today, PAAIA is highlighting Sepi Shyne, who serves as Mayor Pro Tempore of West Hollywood, California. Sepi Shyne made history in November 2020 when she was elected to the West Hollywood City Council. Upon election, she became the first out LGBTQ Iranian elected anywhere globally and locally became the first woman of color elected to West Hollywood's City Council. Her election also ushered in West Hollywood's first female-majority City Council. Shyne's priorities include advocating for affordable housing, protecting renters and social service programs, social justice, small business revival, and bringing the people's voices to City Hall.
PAAIA: What led you to decide to run for West Hollywood City Council?
Sepi Shyne: I ran to bring more diverse representation and the people's voices to city hall in order to create progressive change.
PAAIA: You're the first LGBTQ+ Iranian American to be elected to public office! How does it feel to have accomplished this, and what does it mean for our community to have that kind of representation among our elected officials?
Sepi: I am so grateful to be the first LGBTQ+ Iranian American elected to public office, and I take that responsibility very seriously. We have a large Iranian American community that contributes so much to the fabric of every city and state. Having more of us in elected office means that we can shift the narrative about who we are.
PAAIA: What initiatives have you worked on since elected to support the LGBTQ+ community?
Sepi: A number of initiatives I have worked on include:
I have served on the Pride Subcommittee on council and made sure that our first ever inaugural WeHo Pride provides a space for all members of our LGBTQ+ community, including our BIPOC community members.
I brought forward items that changed our Rainbow crosswalk to the Progressive Rainbow Flag Crosswalk, which is inclusive of our Trans and BIPOC community members, we now fly the Progress Flag alongside our Rainbow flag across the city.
I brought forward and passed the nation's first Multi-stall Gender Neutral Bathroom Ordinance in our City and have worked with our State Senator to successfully bring forward SB1194 which has passed the State Senate unanimously and is on its way to the State Assembly. SB 1194 changes the California Plumbing Code to allow other cities to bring forward ordinances like ours if they choose to.
I organized and moderated a Human Rights Speaker Series called Anti-LGBTQ Laws and Policies in Iran.
PAAIA: In addition to LGBTQ+ issues, you tackle a lot of issues with the City Council. Can you tell us about some of the major initiatives that you've helped come to fruition?
80% of our residents are renters. I expanded our Tenant Anti-Harassment Ordinance which is now the strongest in the County and includes noticing provisions and a tenant habitability plan for major remodels.
I helped move forward the development of 24/7 Behavioral Health Mobile Crisis Response Units which will reduce law enforcement response to homelessness and provide a third responder system in our city.
I created our Social Justice Task Force made of Black, Indigenous and other People of Color who are residents, workers and business owners to work together in order to bring forward policy recommendations to City Council to help dismantle systemic racism.
Passed comprehensive hotel worker protections and better wages as well as the highest minimum wage in the country.
Banned single use plastic containers in food service establishment.
PAAIA: Why is it important for Iranian Americans to be involved civically and politically?
Sepi: If we are not engaged or at the table, we will be on the menu. It is so important to get involved so that our stories and perspectives can be included.
PAAIA: As we celebrate Pride Month, what message do you have for LGTBQ+ Iranian Americans?
Sepi: You are loved, strong and perfect as you are. Have a fabulous pride!