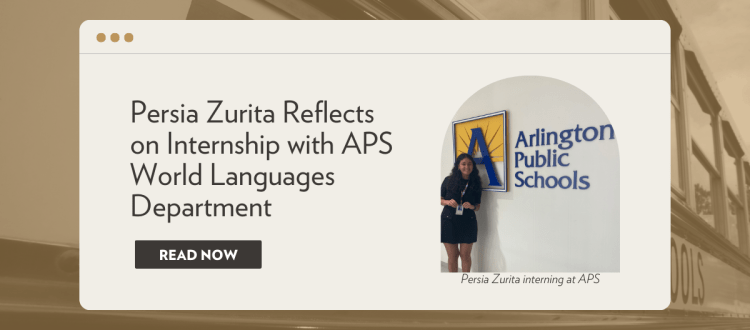 Persia Zurita Reflects on Internship with APS World Languages Department
PAAIA's 2023 Ansari Fellow, Persia Zurita, is a rising sophomore at George Washington University studying Political Science, Philosophy, and International Affairs with a concentration in Security Policy. Below, she reflects on her internship in the Dual Language Immersion Program at the Arlington Public Schools Office of English Learners.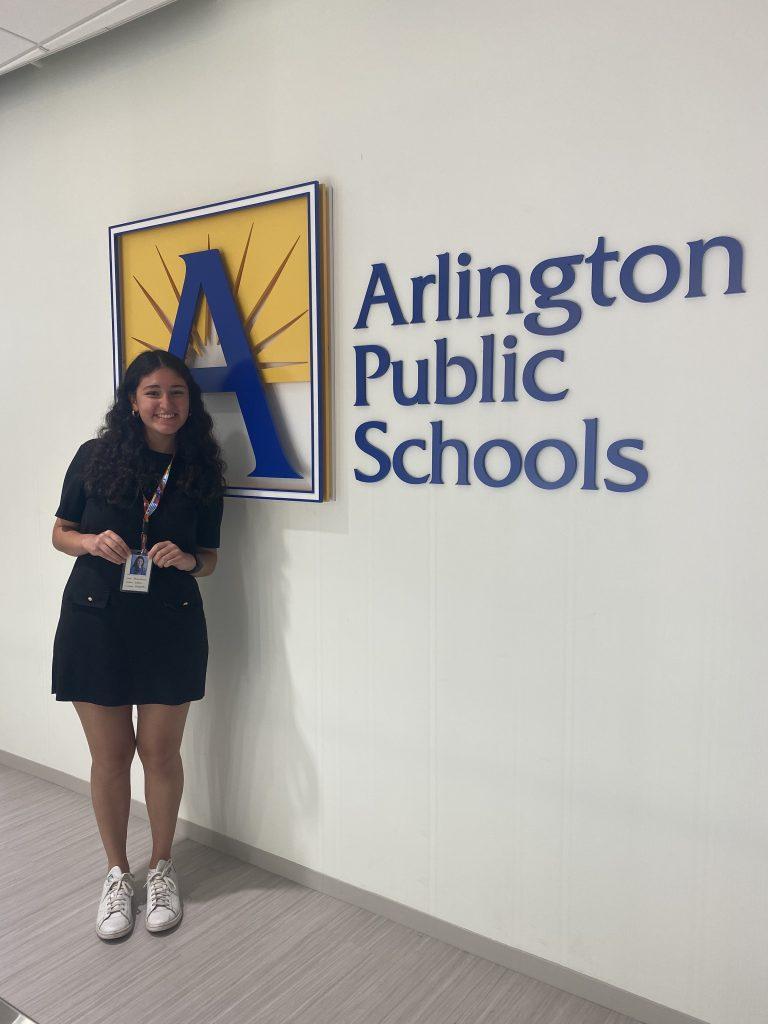 "This summer I was granted the opportunity to intern at the World Languages Department at the Arlington Public Schools district, my home district. I worked closely with Wendy Bermúdez, the Dual Language Coordinator who is responsible for K-12 Spanish Dual Language Immersion (DLI) programs in Arlington.
As a former DLI student, I reaped the academic and socio-cultural benefits of growing up fluent in more than one language at a very young age. Within this program, I was also able to foster a community of students with diverse backgrounds which turned into lifelong friendships!
My journey to this internship began my senior year of high school. I dedicated my senior research project to understanding the benefits of bilingual education which includes advanced brain/cognitive development, greater social competency, and better career opportunities and college readiness above monolingual students and those enrolled general language classes.
Wanting to give back to the program, I interviewed students and staff members across my district and reached out to the World Languages Department to shadow Ms. Bermúdez who was the World Languages Specialist at the time. My never-ending passion to elevate the DLI program and expand statewide led me to further apply to intern in the department.
Arlington Public Schools decided to transition to the 80-20 DLI model this school year which means eighty percent of the school day is spent in Spanish and twenty percent in English for K-2nd graders in order to increase Spanish comprehension and fluency. Initially, my workload as an intern consisted of adjusting and adding to the curriculum. I started out organizing files for third through fifth grade teachers including grammar presentations and practice sheets from the curriculum program that the district uses. I was also told to review and find material in Spanish for various core subjects that would support the lessons as well as organize the curriculum calendars for teachers to easily access lesson plans weeks before the start of school.
My biggest responsibility was making DLI resources more accessible to high school students as well as immersion staff members. Using the Canvas Instructure platform, I created a course for all DLI high school students to have access to recommended course pathways, graduation requirements, to communicate with all immersion admin, and learn more about the Spanish exam that which grants them their Seal of Biliteracy and DLI diploma from the Spanish Embassy. This was a necessary resource that my peers didn't have the privilege of using and so as an intern, having a hub of resources and contact links was vital to keeping the program connected. For this project, I learned to become highly proficient in graphic design on Canva and made the course simple and engaging for students. I also used Canva to design a Google Sites page for teachers to maintain access to all curriculum quick links for all levels of the program.
Lastly, as the DLI Coordinator was preparing materials and presentations for staff orientations and trainings, I assisted by reviewing the information within the presentations and designed them to correspond to the standards of learning. Furthermore, I read over all materials such as research papers and articles given to new teachers to better guide them through their journey of becoming DLI teachers and improve immersion education for upcoming generations.
Education remains a passion of mine, especially since I'm a firm advocate for reforming the current educational system and implementing more culture and history-conscious curriculums which prevent censorship and promote inclusion.
I'm incredibly thankful for the opportunity PAAIA granted me to acquire this public service internship as an Iranian American and not only receive Ms. Bermúdez as a mentor, but to learn how educational offices acquire and distribute resources for teachers and students. I plan on using my experience in DLI education for policy and humanitarian endeavors as a global ambassador for the future."
---
August 24, 2023