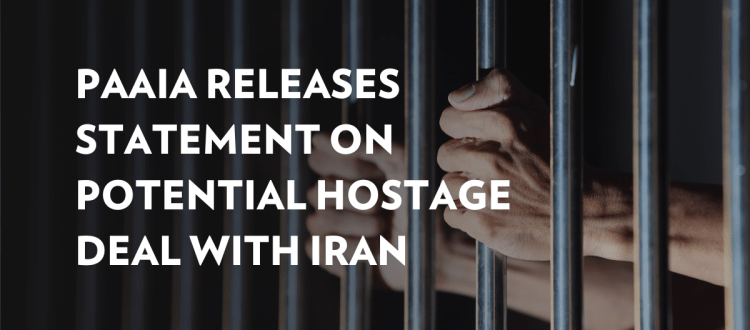 PAAIA Statement on Potential Hostage Deal 
Washington, D.C. — Today, the Biden Administration reportedly reached a deal with the Islamic Republic of Iran to release 5 Iranian American hostages in exchange for a number of jailed Iranians and eventual access to $6 billion in Iranian oil revenues to be used for non-sanctioned humanitarian use. The Public Affairs Alliance of Iranian Americans (PAAIA) feels for the hostages who have endured health difficulties, anxiety, isolation, and heartbreak while imprisoned in the IRI's notorious Evin Prison. We hope that they will be reunited with their families soon.
We're cognizant of the alleged exchange that will take place in order to secure the release of the hostages. Since the ascent of hostage-taking terrorism, democracies have pledged not to give in to terrorist demands. Successive American presidents and other world leaders have affirmed their refusal to negotiate. Nevertheless, they continue to make concessions to hostile regimes that have unjustly arrested their citizens, such as the Islamic Republic.
We recognize that the negotiation process is extremely difficult and that making these kinds of decisions is especially tough. However, the more than $6 billion dollars that is supposedly set to be released to the Islamic Republic in exchange for five U.S. citizens will likely result in Tehran continuing this hostage-taking behavior. This inevitably leads to further pain and suffering inflicted on other American families whose loved ones are taken by the regime, and it also provides an avenue to divert more of their funds to terroristic, inhumane activities that harm the Iranian people.
PAAIA will continue to protect the interests of the Iranian American community, advocate for a free Iran, and stand against the regime's brutal behavior.