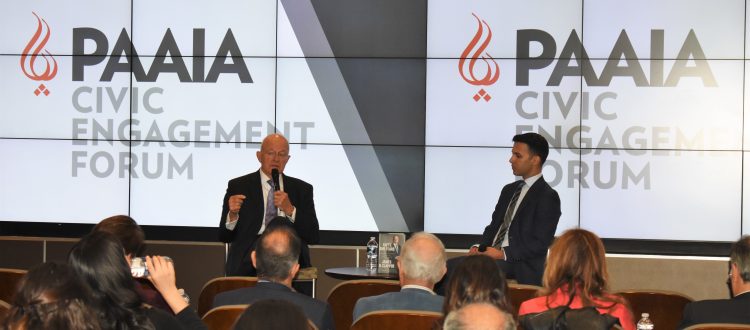 PAAIA Launches First Regional Civic Engagement Forum
Washington, DC – On October 19th, PAAIA hosted its first regional Civic Engagement Initiative event at the Georgia Institute of Technology in Atlanta. The event featured distinguished panelists and speakers from backgrounds in the public, private, and non-profit sectors, highlighting the to the importance of civic participation regardless of background or profession. Some of the distinguished speakers included Former Director of National Intelligence Lt. General James Clapper, former Director for Solar System Exploration at NASA Dr. Firouz Naderi, Global Chief Marketing Officer Maryam Banikarim and Georgia State Senator Zahra Karinshak.
Kicking off the event, Atlanta City Councilman Amir Farokhi presented PAAIA with a proclamation that October 19th officially be deemed "Iranian American Civic Engagement Day" in the city of Atlanta, honoring the successes of Iranian Americans nationwide and highlighting PAAIA's work in promoting community engagement and civic participation in the Iranian American community.
The conference included two impressive panels, one distinguished keynote, and the soft launch of #MyIAStory, a storytelling campaign created by PAAIA and IVOW.  The first panel, Our Strength is Our Story, delved into the power of storytelling to build a powerful unified voice for our community and to promote an accurate narrative of Iranian Americans at a time of heightened political challenges.  Through its innovative story sharing platform, #MyIAStory, PAAIA plans to build a storytelling campaign that will bring awareness to the Iranian American community by brining new and relevant facts and experiences into public light.
The first panel was followed by a riveting conversation with our distinguished keynote speaker Ret. Lt. General James Clapper, who spoke about his road to public service and drew on his experiences as former Director of National Intelligence to highlight the greatest threats our country currently faces.
The second panel, Breaking Glass Ceilings & Making History, provided unique insight into the inspiration behind five extraordinary Iranian American women's candidacies for elected office.  Panelists discussed how their identities have cultivated their path to public office and the challenges and opportunities they have encountered along the way.  PAAIA is proud to support Iranian American candidates for public office who will amplify our voice.
The regional event served as the follow-up to the inaugural Civic Engagement Forum that took place in Washington, DC earlier this year.  PAAIA's Civic Engagement Initiative is committed to encouraging and enabling Iranian Americans to get involved as concerned members of their communities, bringing together success stories of civically minded Iranian Americans to encourage others to participate in this space. Following our event in Atlanta, PAAIA looks forward to hosting additional regionally tailored events in the upcoming year as well as our annual Civic Engagement Forum in Washington, DC. Subscribe to our mailing list to receive information about the Civic Engagement Initiative and upcoming events near you.
PAAIA thanks the event and initiative sponsors for their generous support, including the following schools and organizations at Georgia Tech: Atlanta Global Studies Center, The Sam Nunn School of International Affairs, the Persian American Resource Society, the Iranian Studies Initiative, the Iranian Student Association, the School of History and Sociology, and the School of Modern Languages.
To learn more about this year's Civic Engagement Forum in Atlanta, read the biographies of our speakers, and check out photos from the conference, please visit ceforum.paaia.org.