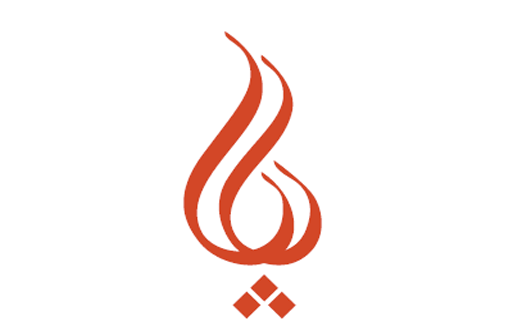 PAAIA Interviews Tony Award Nominee Arian Moayed, Star of the Provocative Dual-Language Adaptation of Hamlet
New York, NY – Waterwell Theatre Company is undertaking a professional stage production of Shakespeare's Hamlet set in 1917 Tehran, during the dawn of World War I. Performing Shakespeare's words in both English and Farsi, Waterwell's adaptation of Hamlet explores the shifting cultural identities that Persians were battling as the rest of the world was modernizing.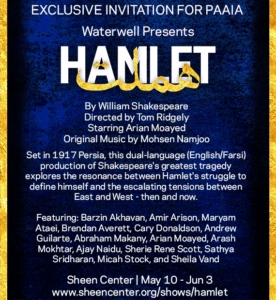 With passages spoken in Farsi, this version of Shakespeare's celebrated tragedy explores parallels between Hamlet's central existential dilemma and the compromises of a nation faced with the encroachment of Western influences, then and now.
The production features a cast of Iranian, Middle Eastern, and South Asian actors including Tony Award nominee Arian Moayed, the first Iranian actor to play the role of Hamlet in the United States.
PAAIA recently had the opportunity to discuss Waterwell's cultural adaptation of Hamlet with Arian Moayed who received a Tony Award nomination for Best Featured Actor in in 2011 for his performance as Musa in Bengal Tiger at the Baghdad Zoo.
PAAIA: Please tell us about your background, career in the performing arts, and your Iranian heritage.
Arian Moayed: I was born in Iran and moved here when I was five. We lived an immigrant life in Chicago. I went to Indiana University for theatre and drama where I met Tom Ridgley (director and co-founder of Waterwell). After graduating from college, Tom and I moved to New York City in 2002 and decided to start a theatre company.
Waterwell Productions started off small but many people are involved now. Waterwell's drama school serves about 250 students, has 14 faculty members, and performs 11 productions a year. We have been creating work here for a decade now and receive funding from the Department of Education (DOE).
PAAIA: What inspired Waterwell to adapt Hamlet to 1917 Tehran, and what are some of the cross-cutting themes that you explore in the play?
Arian Moayed: The timing of 1917 Tehran, alongside the British infiltration of the Middle East, is reminiscent of what's happening here today in the United States. At the time, there was a lot of push-back in the Middle East against the new ideas that were permeating the native culture
As a human being, I am an Iranian born immigrant living in New York City and dealing with my dual identity. What is it to be an American and an Iranian – an immigrant and a non-immigrant? As Hamlet, I am constantly delving into the question of identity in a highly personal way. This production tests the audience, asking them to contemplate what happens when during the scene when the ghosts visit Hamlet, the dialogue switches to Farsi and Hamlet throws himself back into the Eastern tradition.
PAAIA: Did you find it challenging to perform Hamlet in two languages (English and Farsi)?
Arian Moayed: It is challenging to play Hamlet period. If you add on top of that performing in Farsi, it has been one of the most challenging roles I have ever played.
PAAIA: Hamlet has been adapted to many cultures and settings, including recent productions in Iran. How is this different? And how does it reflect the struggles of Iranians everywhere?
Arian Moayed: Having two Iranian immigrants – one acting and one composing – involved in the play of Hamlet, performed in Manhattan set in 1917 Iran, bridges the gap between ideas and ideals. This is what we're all about at Waterwell productions. This play is an original.
We have a unique cast of Iranian Shakespearean actors here in New York City that are coming together for the first time. On top of all that, we have one of the greatest Iranian musicians ever, Mohsen Namjoo, composing music for the production.
We have also been careful not to politicize the dichotomies examined in the play – including East and West, Iranian and American – while trying to be as real as humanly possible. As we put the production together, many of us noticed how Persian the story of Hamlet and his character can be. We discovered that many of the interpersonal overtones were very Iranian in their quality.
PAAIA: In what ways can the Iranian American community support this production?
Arian Moayed: Please help us get the word out to friends and family! The production will run for a total of twenty-eight performances (Wednesday through Sunday, with weekend matinee shows) and will be presented in the newly renovated, state-of-the-art Sheen Center, from May 10 – Jun 3, 2017.
To view an advertisement for Waterwell's Hamlet, please click here, and click here to get tickets. Don't forget to use discount code: HAMPAAIA at checkout!