PAAIA Interviews Iranian American Filmmaker and Screenwriter Sara Zandieh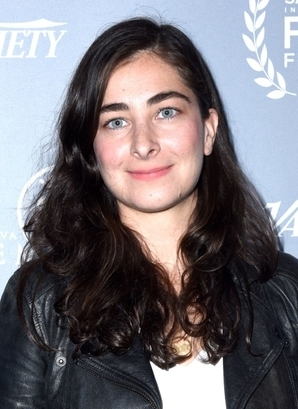 Washington, DC – Sara Zandieh, an Iranian American filmmaker and screenwriter based in LA, recently spoke with PAAIA about her latest feature film Simple Wedding, the challenges of filmmaking, her inspiration for her work, and the importance of media representation for the Iranian American community.
Simple Wedding is a romantic comedy set in Los Angeles about a young Iranian American woman who falls in love with a bohemian artist despite pressures from her family to find an Iranian American husband. The film explores the complexities of romantic relationships, familial dynamics and expectations, and cultural differences with comedic relief and wit. The film stars Iranian Canadian actress Tara Grammy and features renowned Iranian American actors Maz Jobrani, Shohreh Aghdashloo and Houshang Touzie. PAAIA had the honor of pre-screening the film at our most recent retreat in San Diego.
Read PAAIA's interview with Sara below.
PAAIA: Tell us about why you decided to get into the film industry. What are some challenges you have faced or currently face? What was the most important lesson you had to learn that has had a positive effect on your film?
Sara Zandieh: I grew up in a family of storytellers, so I always knew I wanted to tell stories, but I didn't know through which medium, at first. I started out in journalism, producing and editing news reports and eventually documentaries. After producing several cultural pieces about narrative film directors, I decided that I wanted to do that myself and was accepted to Columbia University's School of Arts on a merit scholarship. During my time there, I learned narrative filmmaking and made four award-winning short films. After I graduated, I went on to make my first feature film.
Jumping from short films to feature-length was a huge challenge. One of the biggest obstacles that I've recently faced was getting my first feature greenlit. Funding a short film is not easy, but it hardly prepares you for the challenge of finding funding for a feature. I made one short for $500 and another through crowd fundraising on Kickstarter. Funding a feature required far more work, luck, and guile. Finding independent producers and investors willing to take a chance on a first-time feature director is really challenging. What's more, I couldn't make this film within the Hollywood system, so I made it outside of it and even became a producer. That said, I also had this unreal belief that I could make it happen. The process was a strange brew of being nervous and confident at the same time.
I learned so many lessons on this journey. One of the most interesting was learning how to assemble a team. For instance, I'm glad I pushed to get a great cast and "dreamt big." I also searched for a long time to find my creative department heads. It was important to find creatives who spoke the same language and shared the same aesthetic. Each one of these talent searches really paid off. They were amazing and made a big difference in the final product. This lesson turned out to be far more important than I knew at the time.
PAAIA: What films or film directors have been the most inspiring or influential to you and why?
Sara Zandieh: There are too many to name but a few directors who have inspired me recently are Alexander Payne, Asghar Farhadi, and Mike Nichols. Alexander Payne creates humorous world and I love his complex, tragicomic characters. I love Asghar Farhadi's work and his ability to create intricate, family-driven tales about morality. Finally, I admire the late Mike Nichols for his ability to work across a broad range of genres and skillful ability to work with actors.
PAAIA: When will your movie be released to the general public and where can Iranian Americans see Simple Wedding?
Sara Zandieh: We are still working out our distribution. Hopefully it will be coming to theaters in the Spring or Summer of 2019. We will make updates on our social media platforms, so please join our pages to follow along!
PAAIA: What inspired you to make Simple Wedding? What are your hopes for the film?
Sara Zandieh: I was inspired by the characters in my world and wanted to see them represented in a popular genre. I come from an immigrant family, I have a diverse group of friends, and the love story is loosely based on a relationship that I lived through. It is a contemporary love story indicative of my culture's shift in America. I hope viewers walk away feeling delighted but also more open to our diversity and that the story connects to a broad, multigenerational, and multicultural audience.
PAAIA: What responses to Simple Wedding have you received so far?
Sara Zandieh: We've had amazing responses to the film. My favorite reactions are when viewers from all walks of life find a personal connection to the story. One viewer said that she's healing from a divorce and the movie really moved her with its faith in love. I love when audiences find it cathartic. I also love it when viewers who aren't necessarily interested in the romantic comedy genre are surprised by the film and find themselves charmed by the characters rarely seen in Rom Coms.
PAAIA: What was the most challenging aspect of making Simple Wedding? What was the most rewarding?
Sara Zandieh: I wish I could say something about the art of filmmaking, but ultimately finding producers and getting the production going was the greatest challenge. That said, it was really rewarding to get the movie across the finish line with very little resources. I did manage to pull together a great cast which was a big win and working with such incredible veteran actors like Shohreh Aghdashloo and Rita Wilson was a fantastic experience.
PAAIA: As a filmmaker, how does your Iranian American identity inform your craft?
Sara Zandieh: I think having two cultural perspectives and abiding by two value systems broadens my perspective. There is a tension there but ultimately, I think it helps me understand different kinds of people since I am apart of two different cultures.
PAAIA: Why is it important for there to be representation of Iranian Americans and their culture in all modes of media and art?
Sara Zandieh: We're often so demonized in the news and in politics that I think it's important to make art that humanizes us; different from the political view we see on the news. I feel like Western audiences only see the troubled political representation on the news. Part of my job as an Iranian American artist is to show our artistic, cultural, and human side.
PAAIA: How can the Iranian American community support you and other filmmakers?
Sara Zandieh: As I've mentioned before, finding funding is one of the biggest constraints. Creating a film fund would be helpful. Iranian American artists struggle particularly when making work that is not purely for entertainment but also for social and political impact.
You can follow Simple Wedding on twitter.
---
December 12, 2018