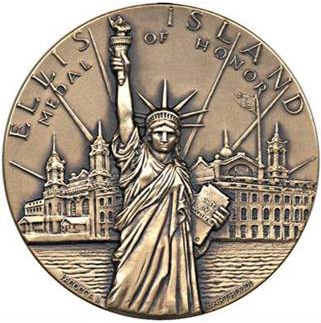 PAAIA Congratulates Nine Iranian American Recipients of the Ellis Island Medal of Honor
On May 13th, 2017 nine highly accomplished Iranian Americans, including IA-100 member Mohammed Farzaneh, were awarded the 2017 Ellis Island Medal of Honor for outstanding achievement in their personal and professional lives, as well as their commitment to the preservation of their Iranian culture and heritage and noteworthy citizenship to the United States.
Established in 1986 by the National Ethnic Coalition of Organizations (NECO), the Ellis Island Medal of Honor ranks among the nation's most prestigious awards, paying annual tribute to the ancestry groups that comprise America's unique cultural mosaic. The Medals are presented on Ellis Island to American citizens of diverse origins for their outstanding contributions to their communities, their nation, and the world.
The U.S. Congress sanctions the Ellis Island Medals of Honor and recipients' names are listed in the Congressional Record. Six Presidents of the United States, Nobel Prize winners, athletes, leaders of industry, artists, and others are among the remarkable group of individuals to have received the award.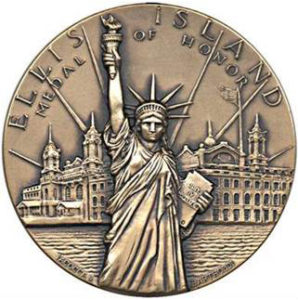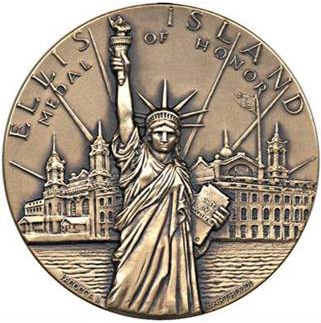 The 2017 Iranian American honorees are:
Hormoz Ameri: Hormoz Ameri heads the Naftex group of private companies engaged in the business of exploration and production of crude oil and natural gas in the United States.
Dr. Abbas Ardehali: Director of Heart and Lung transplant at UCLA for 15 years, Dr. Ardehali has led one of the largest and most successful Heart and Lung transplants in the United States and the world.
Dr. Hossein Eslambolchi: Dr. Hossein Eslambolchi is Chairman and CEO of 2020 Venture partners founded in 2006, with the goal of providing technology and operations consulting to Private Equity Firms and Venture Capitalists in the areas of Telecommunications infrastructure, Network intelligence and information and communications technology.
Mohammad Farzaneh: After his graduation from University of Oklahoma in 1981, Farzaneh followed his father's steps as a master builder and started his career as a homebuilder. In 1994 Mohammad and his brother Jalal found Home Creations, a company that has grown to be Oklahoma's largest homebuilder today.
Andy Madadian: Andy Madadian, is an international recording artist also known as "The Persian Bono." His albums have sold millions around the world and he is known as one of the best Armenian artists globally.
Azita Raji: Azita Raji is an American diplomat, banker and philanthropist. She was nominated by President Barack Obama to serve as the United States ambassador to the Kingdom of Sweden. She was the first female U.S. ambassador to Sweden and the first Iranian-born American to serve as a U.S. ambassador.
Maggie Soleimani: Maggie Soleimani is the first Iranian-American woman appointed to two high-profile Commissions in Los Angeles County and an advocate for children and young adults with special needs.
Dr. Shaheen Tedjarati: Dr. Tedjarati is the Associate Director of OB/GYN and Chief of Gynecologic Oncology & Robotic Surgery and an Associate Professor at New York Medical College and Westchester Medical Center Health Network.
Cumrun Vafa: Cumrun Vafa is the Donner Professor of Science at Harvard University. Vafa is a string theorist. His research is focused on the nature of quantum gravity and the relation between geometry and quantum field theories.
PAAIA congratulates this year's medal recipients and thanks them for their countless contributions to the richness and diversity of American life. Please click here to see a list of previous Iranian American Honorees, and please click here to view a full  list of 2017 Ellis Island Award recipients.