PAAIA Co-Sponsors Panel on U.S. Strategy in the Middle East at Carnegie Endowment
September 12, 2014, Washington, D.C. – On Friday September 12th, th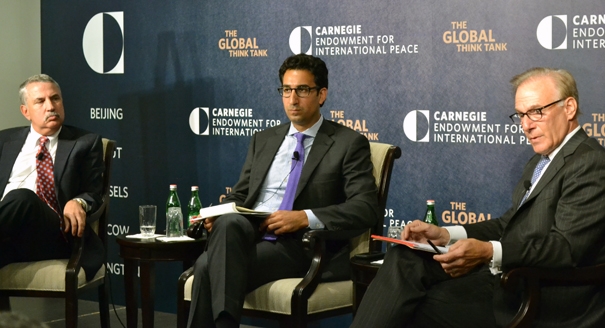 e Carnegie Endowment for International Peace, in co-sponsorship with PAAIA, held a successful, standing-room only panel entitled The Middle East in Turmoil: Can it Recover?, which included a discussion on viable strategies to overcome the current setbacks facing U.S. foreign policy in the Middle East.
The panelists consisted of acclaimed journalists Thomas Friedman of the New York Times andDavid Ignatius of the Washington Post, moderated by senior Carnegie Endowment associateKarim Sadjadpour.
The panel discussion focused on the role of American leadership in the Middle East. In addition, the panelists discussed the challenges journalists face covering the Middle East today as well as an analysis of U.S.-Iran relations with respect to the approaching November 24th  P5+1 deadline to strike a deal with Iran on their nuclear program.
Karim Sadjadpour, a renowned researcher on Iran, asked the panelists to comment on Washington's Middle East foreign policy debate – does the road to peace and stability in the Middle East go through Jerusalem or through Baghdad?
David Ignatius responded by acknowledging both Jerusalem and Baghdad as crucial to securing peace in the region; however, Ignatius added that the road to peace in the Middle East ultimately goes through Tehran. Although he is doubtful that the P5+1 and Iran can come to an agreement on Iran's nuclear program by the November 24th deadline, Ignatius remains optimistic that Iranians have experienced enough of the world again to reject slipping back into isolationism.
Friedman agreed with Ignatius stating that Iran's ancient history and strategic geography bears testament to the fact that Iran has always been connected with the world. According to Friedman, the current state of Iran's isolation is unnatural to its history and something from which it can recover from in the future.
Both panelists closed their remarks with great optimism for a return to U.S.-Iran relations. "No country that requires drivers to wear seat belts is an irreconcilable enemy of the United States," Ignatius remarked lightheartedly at the end of the panel discussion.
PAAIA co-sponsored the panel at the Carnegie Endowment as part of its annual IA-100 retreat, bringing together Iranian Americans of uncommon achievement and distinction from across the United States to discuss bridge-building opportunities with PAAIA.
Click here to view a recording of the PAAIA co-sponsored panel at the Carnegie Endowment.
Click here to learn more about PAAIA's Bridge-Building pillar.
Photo courtesy of Carnegie Endowment