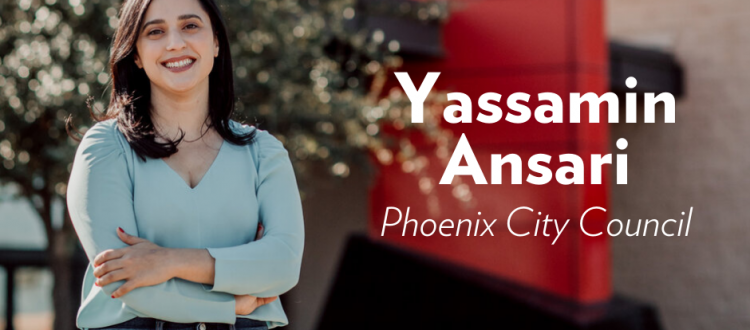 PAAIA Celebrates Yassamin Ansari's Phoenix City Council Electoral Win
For Immediate Release:
Contact: Emily Porter
Email: emily@paaia.org
Phone: (202) 828-8370
Washington, DC – The Public Affairs Alliance of Iranian Americans (PAAIA), a nonprofit, nonpartisan organization serving the interests of Iranian Americans, congratulates Yassamin Ansari for her historic win to Phoenix's City Council. Yassamin, ahead with 58% of the vote in her runoff election, is slated to be the first Iranian American elected to office in the state of Arizona. This victory is well-timed as PAAIA also celebrates Women's History Month.
"PAAIA congratulates Yassamin Ansari on making history as Arizona's first-ever Iranian American city councilwoman!" said PAAIA's Executive Director Leila Austin. "As an incredibly talented, experienced, and accomplished rising star with a passion for climate action and community organizing, Yassamin is a strong addition to the Phoenix City Council. We look forward to following her initiatives in the council and continuing our support for her."
Yassamin Ansari is a Phoenix native who began her career as a John Gardner Fellow in the Executive Office of former UN Secretary-General Ban Ki-moon in 2014, where she served as the youngest member of the climate team that advised the Secretary-General and helped to deliver the historic Paris Agreement. Later, she served as the Director of the Climate Action 2016 Summit in Washington D.C., and as the Deputy Director of Policy for Governor Jerry Brown's Global Climate Action Summit in San Francisco. For her extensive work on climate action, Ansari was recognized by Forbes as "30 Under 30" in the Law & Policy category in 2020, and as a Grist 50 "Fixer"— "the people cooking up the boldest, most innovative solutions to fix the biggest challenges that face our globe.
Her campaign for Phoenix City Council District 7 was endorsed by numerous elected officials, including Rep. Greg Stanton (D-AZ/9th), Rep. Ruben Gallego (D-AZ/7th), Phoenix Mayor Kate Gallego, former Mayor of Phoenix Phil Gordon, and many more. Yassamin Ansari was also one of the many Iranian American candidates the bipartisan Iranian American Political Action Committee (IAPAC), PAAIA's connected political action committee (PAC), supported in the 2020 election cycle. For more information on Yassamin and her campaign, click here.
---
March 10, 2021