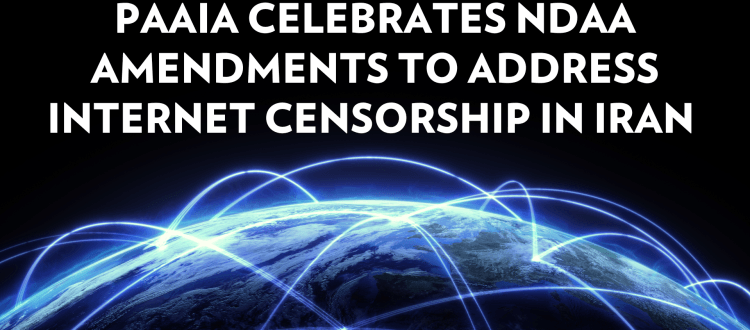 PAAIA Celebrates NDAA Amendments to Address Internet Censorship in Iran 
Washington, D.C. — On June 30th, in an important step toward addressing the oppressive crackdown on internet access by the Iranian regime, Representative Katie Porter introduced an Amendment to the National Defense Authorization Act (NDAA). The Public Affairs Alliance of Iranian Americans (PAAIA) has aided Porter's office in securing bipartisan support for this Amendment, which aims to shed light on Iranian internet censorship and its implications.
Original cosponsors to date include Reps. Stephanie Bice (R-OK), Gerald Connolly (D-VA), Brian Fitzpatrick (R-PA), Scott Franklin (R-FL), Virginia Foxx (R-NC), Jim Himes (D-CT), Ro Khanna (D-CA), Susie Lee (D-NV), Ted Lieu (D-CA), Zoe Lofgren (D-CA), Maria Elvira Salazar (R-FL), Brad Schneider (D-IL), and Claudia Tenney (R-NY).
The Amendment's Objectives
The Amendment calls for a comprehensive report on Iranian internet censorship, applicable U.S. licensing requirements, and strategies to prevent the Islamic Republic from obtaining tools that could be used against activists. The Amendment's provisions include:
Providing Information on Encryption Tools: The report will include a comprehensive description of the encryption tools required to assist pro-democratic Iranian protesters in circumventing digital surveillance by the Iranian government.

Assessing Impact on Internet Censorship: The report will evaluate the impact of U.S. licensing requirements on the regime's ability to engage in internet censorship.

Updating Licenses as Needed: The Amendment requires the U.S. assess the need for updates to the General License D-2 so that Iranians may access to new technologies.

Studying Online Repression & Countering it: It requires the U.S. develop a strategy to study and counter online repression by the Iranian regime.
Preventing Iran from Obtaining Tools to Aid in Surveillance and Oppression: It mandates that the U.S. formulate a plan to prevent the Islamic Republic from obtaining or developing tools that could be used against activists, such as facial recognition software.
The Swalwell Amendment
In addition to the Porter Amendment, Representative Eric Swalwell (D-CA) introduced a separate Amendment to the NDAA which would require the State Department to update the Comprehensive Strategy to Promote Internet Freedom and Access to Information in Iran under Section 414 of the Iran Threat Reduction and Syria Human Rights Act of 2012 (22 7 U.S.C. 8754).
Access to the internet and telecommunication tools are of vital importance for civil society and for the pro-democracy protesters in Iran. Both measures are important steps in updating and helping prioritize U.S. policy in the promotion of internet freedom in Iran.
PAAIA's Advocacy
Internet freedom in Iran has been an important subject for PAAIA even prior to the Woman, Life, Freedom protests began. PAAIA worked with members of Congress to draft and pass a bipartisan amendment to last year's NDAA to help increase the Iranian people's access to the internet. Some of the language regarding hardware, software, setup boxes, satellites, and web developer tools used in that amendment is present in Porter's Amendment as well.
PAAIA's continued advocacy to strengthen the General License D-1 and provide exemptions to telecommunication tools eventually culminated in the introduction of a General License D-2 that did just that. This new license came about as massive protests emerged following the death of Mahsa Amini.
Since then, PAAIA has been working with Congressional allies to find other ways of expanding internet access in Iran. By emphasizing the significance of internet freedom and the detrimental impact of Iranian internet censorship on human rights and democratic values, PAAIA has successfully garnered some initial support for Representative Porter's Amendment and will continue to do so going forward.
The Islamic Republic's oppressive crackdown on internet access has severely restricted the Iranian people's ability to freely express themselves, access information, facilitate protests, and connect with the outside world. These Amendments will lay the groundwork for future measures the U.S. can take to enhance internet freedom in Iran and further empower the Iranian people.
July 3, 2023
---
About PAAIA
The Public Affairs Alliance of Iranian Americans (PAAIA) is a nonprofit, nonpartisan, nonsectarian organization that serves the interests of Iranian Americans and represents the community before U.S. policymakers and the American public at large.