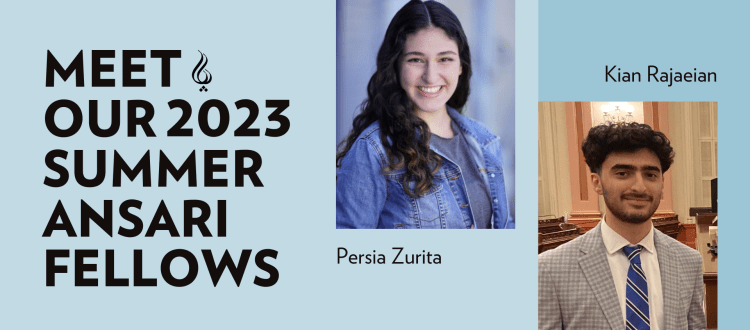 PAAIA Announces Summer 2023 Ansari Fellows
Washington, D.C. — PAAIA is excited to announce our summer 2023 Ansari Fellows: Kian Rajaeian and Persia Zurita.
The Ansari Fellowship, a Civic Leadership Program initiative generously funded by PAAIA member Bijan Ansari, was founded to encourage and empower young Iranian Americans to pursue careers in public service. The program provides exceptional students – both in graduate and undergraduate programs – with funding and access to a network of public policy experts during an unpaid summer internship.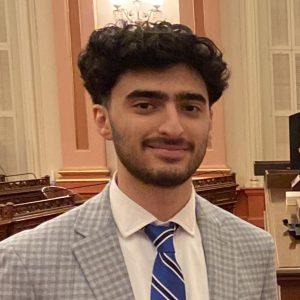 Kian Rajaeian
Rajaeian is a rising senior at Arizona State University majoring in Political Science with a minor in Philosophy. His passion for public service is evidenced by his many previous internships including with the Arizona Democratic Party Coordinated Campaign during the 2022 election cycle and with the office of Congressman Ruben Gallego (AZ-03). He also volunteered for PAAIA's Civic Leadership Program in 2022 registering new voters at the Persian New Year Festival in Scottsdale, AZ. This summer, with the help of the Ansari Fellowship Program, Rajaeian will be interning with State Senator Tom Umberg (District 34) at the California State Senate.
"I applied to this fellowship because I am very passionate about issues facing Iranian Americans, and as a young Iranian American that aspires to work in public service, I feel that this fellowship is a great opportunity for me to become more involved," Rajaeian explained. "During this internship, I look forward to learning more about the legislative process and becoming more involved in issues I am passionate about."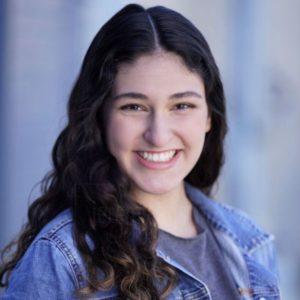 Persia Zurita
Zurita is a rising sophomore at George Washington University studying Political Science, Philosophy, and International Affairs with a concentration in Security Policy. This summer, she will be interning in the Dual Language Immersion Program at the Arlington Public Schools Office of English Learners.
Zurita grew up surrounded by the desire to solve international conflicts peacefully and serve her community as a first-generation American with both Iranian and Hispanic roots. Throughout her first year in college, Persia was Freshman Representative of the GW Iranian Student Association and a part of the Recruitment Committee for the Delta Phi Epsilon Professional Foreign Service Sorority. Zurita has been awarded the prestigious Wakefield High School Leadership Award, the Hispanic Recognition Award, the Presidential and Wilkerson Scholarships, and the Spanish Seal of Biliteracy from the Spanish Embassy. She hopes to become a representative figure in her career in public service, especially for her fellow Iranians and Iranian Americans.
"When I first heard about the Ansari Fellowship, I was delighted to know about an organization that would help me support my public service endeavors as an Iranian American," Zurita said. "Acquiring the proper mentorship and networks are key in this highly competitive field, and having a community that identifies with my struggles and ambition for change led me to apply." 
"During my internship at the World Languages Office in my home school district, I look forward to work on curriculum writing with the Dual Language Coordinator. I wish to continue advocating for similar educational programs in my county and state."
Learn more about our Ansari Fellowship Program and other opportunities for Iranian American youth at iacivicleaders.org