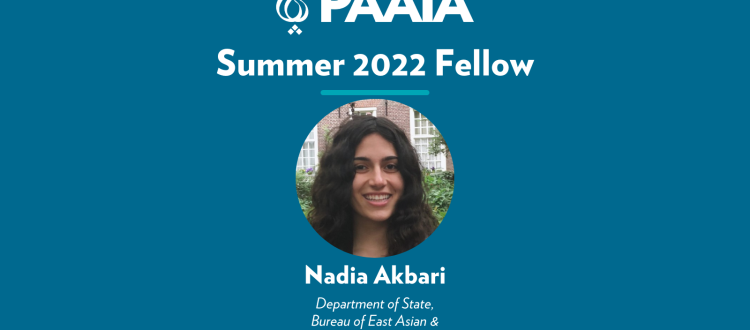 Nadia Akbari Shares Her Summer Experience with the State Department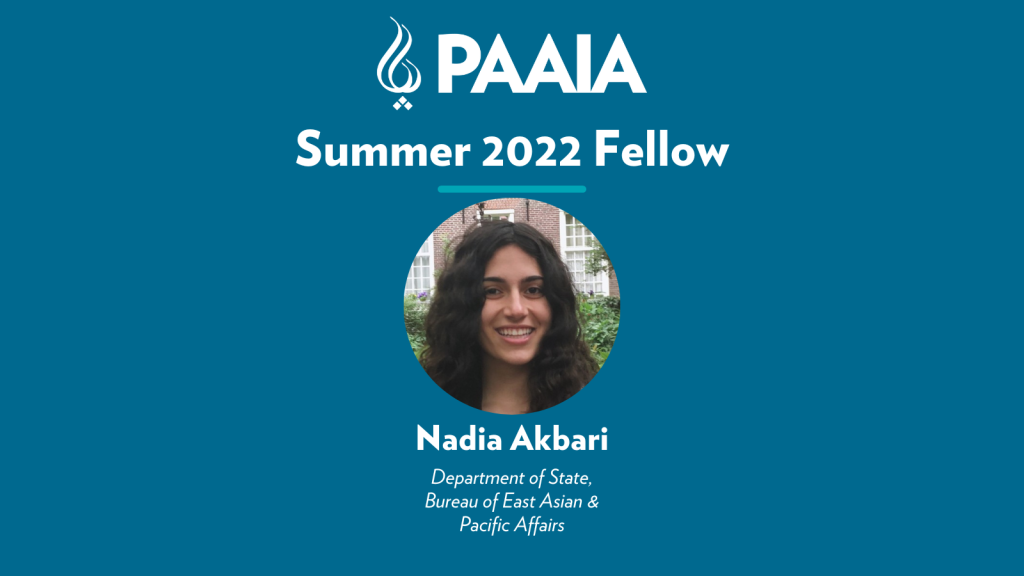 By Nadia Akbari
Nadia Akbari is a rising senior at UC Berkeley pursuing a degree in Political Science. This summer, she interned with the State Department's Bureau of East Asian & Pacific Affairs Australia, New Zealand, and Pacific Islands desk.
This summer I was fortunate enough to work as an intern for the United States Department of States. I was an intern for the Australia, New Zealand, and Pacific Islands (ANP) desk within the bureau of East Asian and Pacific Affairs. The work done throughout the State Department, but especially within ANP, is a crucial part of President Biden's Indo-Pacific Strategy that is dedicated to advancing a free, open, and prosperous Indo-Pacific.
I was very lucky to have joined ANP at a very exciting time for foreign policy in the Pacific. I served as a member of all the teams in the office, including our Pacific-Regional Team, Pacific-Bilateral Team, Australia Team, and New Zealand Team and was able to get first-hand experience with the inner workings of foreign policy. I drafted documents for high ranking officials to participate in new initiatives such as the Partners in the Blue Pacific that was established to achieve"more effective and efficient cooperation in support of Pacific Island priorities." I also drafted remarks for Vice President Kamala Harris to give at the Pacific Islands Forum, the region's premier political and economic policy organization, on July 12. Furthermore, I had the privilege of drafting National Day Messages on behalf of both President Biden and Secretary Blinken.
My arguably most important role this summer was working to plan the Deputy Secretary of State's trip to the Pacific in August. Secretary Sherman traveled to Samoa, Tonga, Solomon Islands, Australia, and New Zealand to engage with these Pacific nations and deepen our strong relationship with one another. I had the privilege of drafting and helping manage the hundreds of documents required for such a significant trip that was to be taken by one of the most important officials at the State Department. Not only did I sit in on weekly staff meetings within our office and other offices in the Bureau of East Asian and Pacific Affairs, but I also had the once-in-a-lifetime opportunity to sit in on a briefing with the Deputy Secretary of State and her senior staffers and see how all the hard work that was conducted by our office and other officers at our corresponding embassies was used to ensure that Secretary Sherman had a successful trip.
Without the amazing support of PAAIA's Ansari Fellowship, I wouldn't have been able to pursue the internship I had been dreaming of since I was in middle school. It was truly such a surreal experience to have achieved such a significant milestone in my professional career and I was fortunate to have been guided by amazing mentors throughout the entire process. This experience reaffirmed my passion for public service and foreign policy and provided me with the opportunity to grow immensely both professionally and personally.
As I begin my final year atUC Berkeley, I look forward to continuing to cultivate my passions for law, politics, and foreign policy and will proudly represent the Iranian-American community in this pursuit.