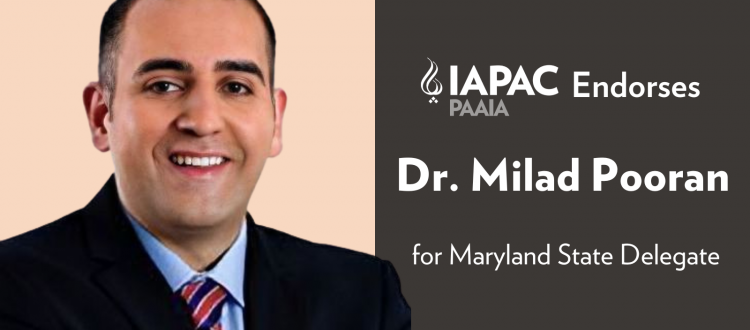 IAPAC Endorses Milad Pooran for Maryland State Delegate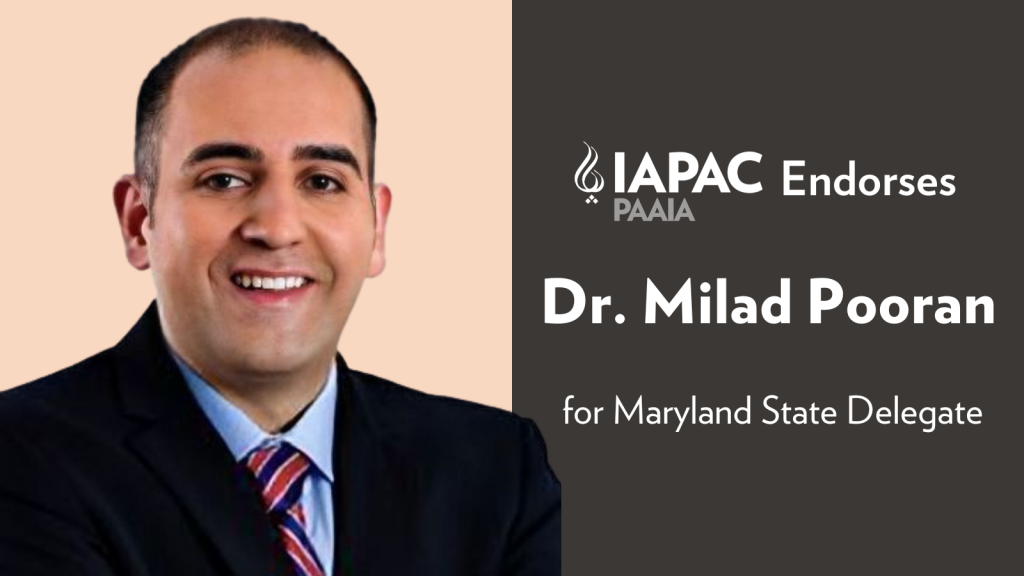 Washington, DC – The Iranian American Political Action Committee (IAPAC), the connected PAC of the Public Affairs Alliance of Iranian Americans (PAAIA), today announces its endorsement of Milad Pooran for Maryland State Delegate!
Milad Pooran is a physician, a veteran, and a small business owner who currently serves as the Chief Medical Officer for PHI Healthcare. A product of the Maryland public education system, he earned his undergraduate and medical degree from the University of Maryland. He has served his community and country as both a civilian doctor and as a veteran of the U.S. Air Force Medical Corps with 24 years of service including multiple deployments and combat support tours.
After completing his residency, Milad transitioned to the National Institutes of Health in Bethesda to complete his clinical fellowships in allergy, immunology, and critical care. He went on to work for the U.S. Secretary for Health and Human Services, tackling national biodefense issues as well as the H1N1 pandemic influenza. During the COVID-19 pandemic, Milad and his team led the Intensive Care Unit at the University of Maryland COVID Hospital.
Milad's extensive experience in service to the public through medicine has inspired him to take his journey to the next step and run for State Delegate:
"Witnessing firsthand the challenges my parents overcame and my personal struggles with being a young immigrant in United States truly engendered a love for my new home and a commitment to lifelong civic service." says Milad. "Having been involved on the periphery with politics, seeing some of the monumental issues that face our country especially at the local level including matters of healthcare access and poverty have inspired me to take on the mantle of this campaign."
If elected, Milad would become the first Iranian American to be elected in the state of Maryland! His primary focus as a State Delegate will be to ensure the public health, safety, and well-being of Marylanders. In his view, this means passing legislation that will increase access to affordable healthcare, eliminate what he sees as waste and abuse within the Medicaid budget, and tackle issues like the root causes of childhood poverty, protecting and preserving the rights of women in their health choices, and the pursuit of economic security.
Milad Pooran is running as the Democratic nominee for Maryland House of Delegates District 31, based in Anne Arundel County. This district is currently represented by Republicans, and Pooran is seeking to flip one of the three seats. His campaign has been endorsed by a number of local elected officials across the aisle, highlighting Milad's history of civic service and bringing people together.
IAPAC is the registered bipartisan connected political action committee of the Public Affairs Alliance of Iranian Americans (PAAIA). IAPAC supports and encourages Iranian Americans to actively participate in the U.S. democratic process and run for public office. Learn more at iranianamericanpac.org.