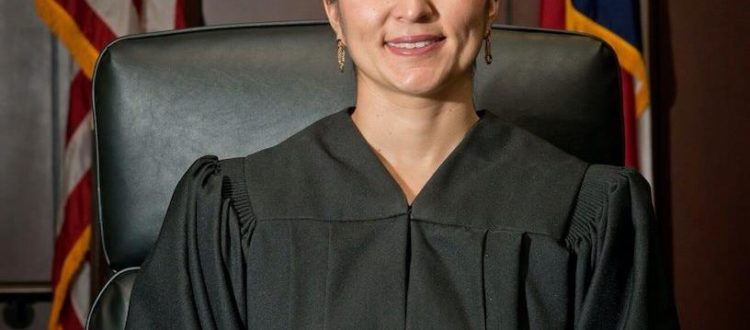 Meet Judge Sam Hamadani – Candidate for Wake County District Court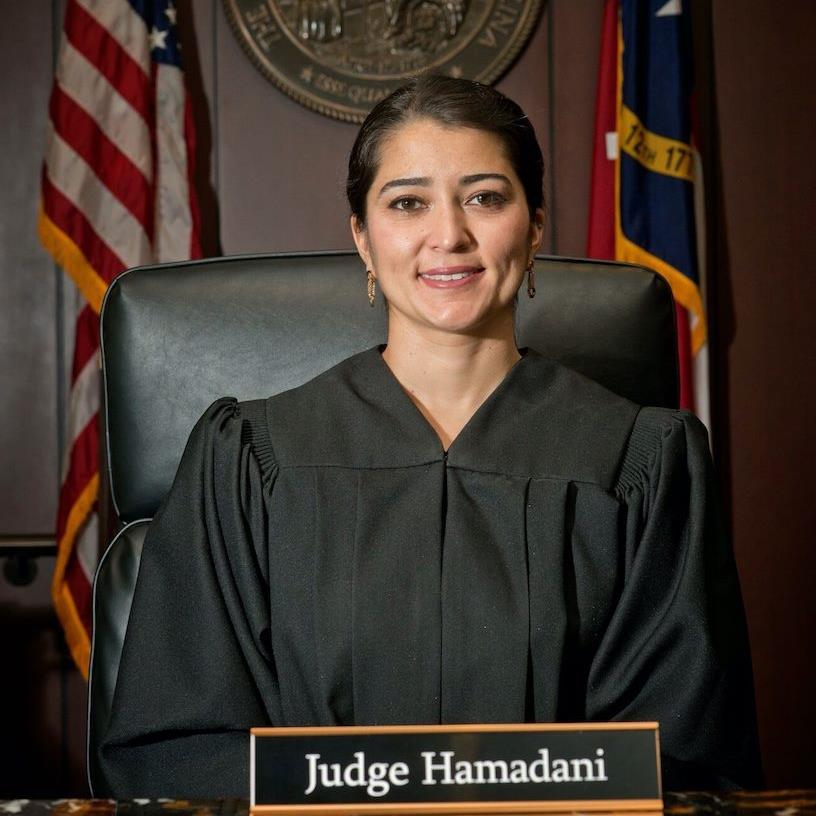 Raleigh, NC – Sam Hamadani, a Wake County District Court Judge appointed by North Carolina Governor Roy Cooper, is running to keep her seat on the bench in 2018. A graduate of The University of North Carolina School of Law, Sam is widely respected by lawyers and other judges, having received the highest number of votes among over twenty highly qualified candidates in a recent Wake County Bar election. Having worked in Senator Joe Biden's Office, the North Carolina Department of Justice, and as a Public Defender, Sam has a diverse and in-depth background in public service.
Born in Tehran, Iran, she immigrated to the United States with her family as an infant. Sam speaks Farsi fluently.  She grew up in Winston-Salem, NC and attended Forsyth Country Day School before moving to Chapel Hill to attend the University of North Carolina. After graduation, she dedicated her life to public service, and with the support of her colleagues, friends, and family, Sam believes she has achieved the American Dream.
Please click here for more information about Judge Hamadani's campaign.
---
Why are you running for judicial office?
I am running for judicial office to continue my commitment to public service and to ensure a safe, free, and prosperous community for us all. My goal as a judge is to strike a balance between protecting the community and respecting the rights of our citizens. To achieve this goal, I always work to respect the law and to respect the people. I made history as the first Iranian American judge in North Carolina, and quite possibly the Southeast. I hope to continue promoting diversity on the bench as one of the few Persian-Americans serving as a judge in America. I will make history again in 2018 when I win my election.
What are your qualifications for this job?
I have been a sitting Wake County District Court Judge for the past two months, and come November 2018, I will have been on the bench for one and a half years. I also have a thorough understanding of our state's criminal laws and our county's local rules and practices. I understand that each case has its own unique set of circumstances. As a judge, I will strive to resolve these underlying problems at their core and thereby reduce recidivism and promote peace and stability in our community.
While I have extensive criminal law experience, I also have the experience necessary to understand and to efficiently preside over civil matters. I was the President of the Domestic Violence Action Project in law school where I assisted plaintiffs in obtaining domestic violence protective orders. I also served as a Guardian ad Litem for several years where I advocated for a few of the more than 1,700 children who are abused or neglected in the State of North Carolina. Whether the cases are criminal or civil, I have the relevant experience to preside over the issues, and I understand the significant effects they have on vulnerable individuals and on our community at large.
What are some of the challenges you face in running for judicial office?
My biggest challenge is winning reelection in 2018. I am running a county-wide campaign with over one million constituents. To put that into perspective, consider that I have more constituents than a member of the United States House of Representatives. This challenge is even more significant given that it is my first election, and I will have held my position for less than two years. I cannot overcome these challenges alone, and I will need to obtain considerable financial support to remain on the bench. Additionally, we are faced with a changing political landscape in North Carolina. While District Court Judge elections in North Carolina are county-wide, the legislature has proposed legislation that would divide Wake County into smaller districts (House Bill 717). It is unclear whether that bill will pass in time to affect the 2018 elections, but this uncertainty is a huge challenge as we will have to effectively gear our campaign strategy to both possibilities.
Has your campaign received any endorsements from other public officials, political parties, organizations, and/or community leaders?
While seeking appointment by Governor Cooper as Wake County District Court Judge, the following organizations endorsed my appointment: National Association of Women Attorneys, Wake Women Attorneys, Persian Cultural Society, and the Keep Children in Schools Foundation. Additionally, of the over twenty candidates vying for this seat, I received the highest number of votes, by a significant margin, among my peers in the bar election leading up to my appointment as a Wake County District Court Judge.
What are the most critical issues facing your county/circuit?
There are two critical yet related issues facing Wake County. The first involves a changing political landscape and the second involves recent attacks on the independence of our judiciary.
This year, the North Carolina Legislature made judicial elections in the state partisan, and now judicial candidates must declare their party, and their affiliation will appear next to their name on the ballot. The General Assembly also is considering drawing districts in Wake County rather than allowing District Court Judges to run county-wide. As citizens and minorities, Iranian Americans especially should strive to support an independent and diverse judiciary, and I am hopeful that PAAIA will join me in this incredibly important endeavor.
What role do you think Iranian Americans can play in your campaign?
There are three major roles Iranian Americans can play in my campaign. First, they can contribute to my campaign. Running such a large campaign requires a lot of financial resources, and I can't do it on my own.  I need help from the Iranian American community.  Second, they can play a huge role in spreading the word about my campaign throughout the country to all Iranian Americans. Governor Cooper's decision to appoint me to the bench was a huge step toward promoting acceptance and tolerance among North Carolinians, and widespread support throughout the country would further those efforts. Lastly, Iranian Americans can volunteer for my campaign. Running such a large campaign takes a lot of work. Whether we are making calls, knocking on doors, or organizing campaign events, the time and effort of Iranian Americans will go a long way to keeping me on the bench.
What role can organizations like PAAIA play in assisting your campaign?
I hope PAAIA will play a crucial role in my campaign not only through financial support, but also by spreading the word to the Iranian American community. I have already made history by becoming the first Iranian American judge in North Carolina, but I want to continue making history by becoming the first Iranian American to win a judicial election in North Carolina. Promoting diversity on the bench benefits both residents of Wake County and Iranians nationwide because it demonstrates that we can excel as elected officials. I hope that PAAIA will contact its members on my behalf and help to obtain support from Iranians throughout the country.