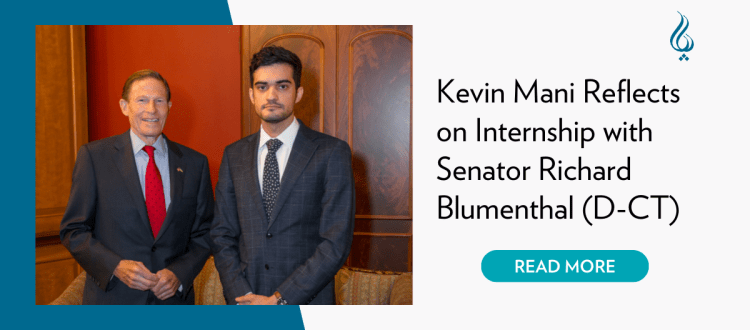 Kevin Mani Shares his Experience Interning with Senator Blumenthal
PAAIA's Pezeshkan Capitol Hill Internship Program (CHIP) Fellow Kevin Mani is a senior at Boston University's College of Communication majoring in Journalism and minoring in TV & Film Production. Below, he discusses his internship with Senator Richard Blumenthal (D-CT).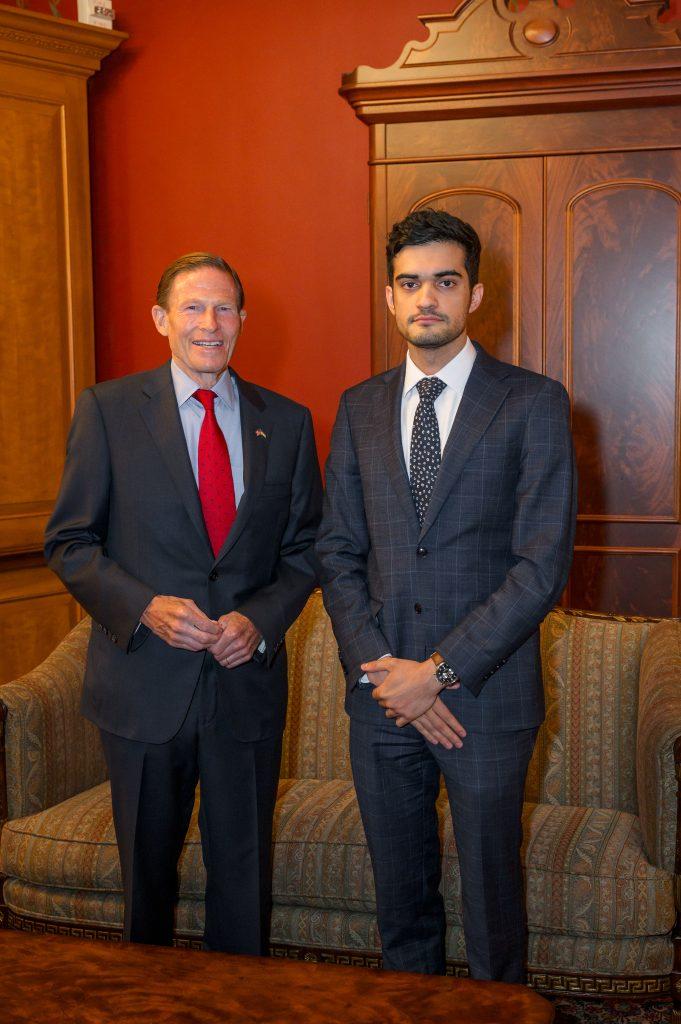 During the summer, I had the distinct privilege of interning on Capitol Hill with the office of Senator Richard Blumenthal of Connecticut. This opportunity provided me with a profound insight into the legislative process and the workings of our democracy.
It was a holistic experience. The work was both demanding and diverse, constantly pushing me to expand my horizons and adapt to the ever-evolving nature of governmental processes.
My responsibilities varied, from reaching out to constituents to diving deep into legislative research on issues close to my heart. One such issue was the Iran nuclear deal, where I found the chance to analyze the complex diplomatic dynamics deeply satisfying. In a serendipitous turn of events, my background allowed me to contribute a nuanced perspective, making my experience even more rewarding.
An undeniable highlight of my experience was observing Senator Blumenthal's commitment to the citizens of Connecticut. It was inspiring to witness the Senator's dedication to ensuring that the concerns of every constituent were addressed with care and urgency. This emphasized the importance of a responsive democratic system, and I was elated to be a part of it, even if momentarily.
Despite the professional growth, the interpersonal relationships I fostered were equally invaluable. I connected with staffers, fellow interns, and professionals across the spectrum. Their stories, experiences, and insights provided a rich tapestry of perspectives that significantly enriched my journey.
Furthermore, the presence of the PAAIA Pezeshkan CHIP Fellowship in the backdrop of my internship added another dimension to my experience. This platform allowed me to network with other Iranian Americans, share our unique narratives, and discuss our collective aspirations. It felt empowering to be surrounded by individuals who resonated with my heritage and shared my ambition to contribute positively to the U.S. political landscape.
Reflecting upon my time with Senator Blumenthal's office, it feels surreal to recognize the leaps I have taken both personally and professionally. From a student eager to explore the complexities of U.S. foreign policy to an intern contributing to the very discussions surrounding these policies, my journey has been transformative.
As I approach graduation and gear up for law school, my aspirations of becoming a legal correspondent feel even more tangible. The experiences and lessons from this internship will undoubtedly serve as a cornerstone in my forthcoming endeavors. It is a chapter I will cherish and draw inspiration from as I chart my path forward in the world of journalism and advocacy.
---
August 29, 2023