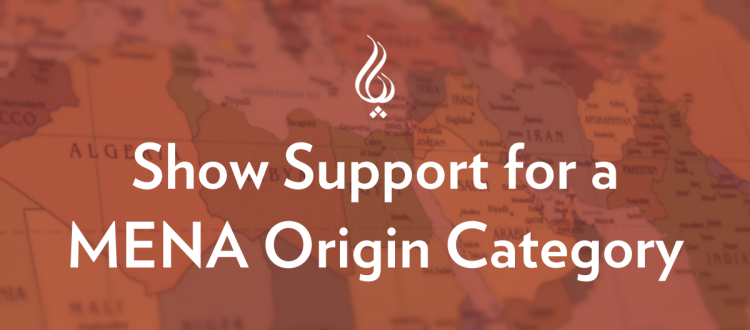 Iranian Americans May Have Opportunity to Be Counted in the Census
As Iranian Americans begin to wrap up Nowruz celebrations welcoming this new year and all the blessings it will bring, it's time our community turns our attention to the next pivotal date for Iranian Americans: *April 27, 2023.
This is the final deadline we have to submit a comment in support of the addition of a Middle East or North Africa (MENA) ethnic category on the census and other federal forms.
What It Is
If this category is added, Iranian Americans will be able to select a MENA checkbox and then identify their ethnicity and national origin. To be clear, we are not calling for the creation of a "MENA race," or to be identified as "MENA Americans." This simply ensures that Iranian Americans are counted in the data, protecting both our rights and representation.
After years of advocacy for Iranian American inclusion in federal data, the government's working group is formally recommending the addition of a MENA category! The Office of Management and Budget (OMB) also published a Federal Register Notice seeking public comments on their working group's initial proposal for updating the race & ethnicity reporting standards.
Why It Matters
The census provides critical data that lawmakers, business owners, teachers, and many others use to provide daily services, products, and support for their communities. Every year, billions of dollars in federal funding go to hospitals, fire departments, schools, roads, and other resources based on census data.
When Iranian Americans are accurately counted, communities are able to provide them with more resources like Persian-speaking nurses or community center funding. Research into their educational, economic, and health needs is more robust and accurate. Plus, the results of the census also determine the number of seats each state will have in the U.S. House of Representatives, and they are used to draw congressional and state legislative districts based on population.
By specifying our ethnicity underneath the MENA category umbrella, we'll be able to ensure that Iranian Americans are accurately counted and that our communities receive the services and resources they need.
What You Can Do
PAAIA has been working with OMB working groups on the inclusion of a MENA origin category for years. In both 2010 and 2020, we launched campaigns to encourage Iranian Americans to write in their ethnicity or origin. Now we have a chance to add a MENA category specifically allowing us to mark our ethnicity!
It's crucial that you submit a comment to the Office of Management and Budget by *April 27th, calling for the addition of a Middle East North Africa (MENA) category. We've put together a sample comment that you can copy and paste if you wish. 
You can also share this information on your social media with the hashtag #CountMENAIn
*A previous version of this article stated that the deadline was April 12th. The Office of Management and Budget recently extended this deadline to April 27th to allow more time for comment submissions.