Iranian Americans in Climate: Yassamin Ansari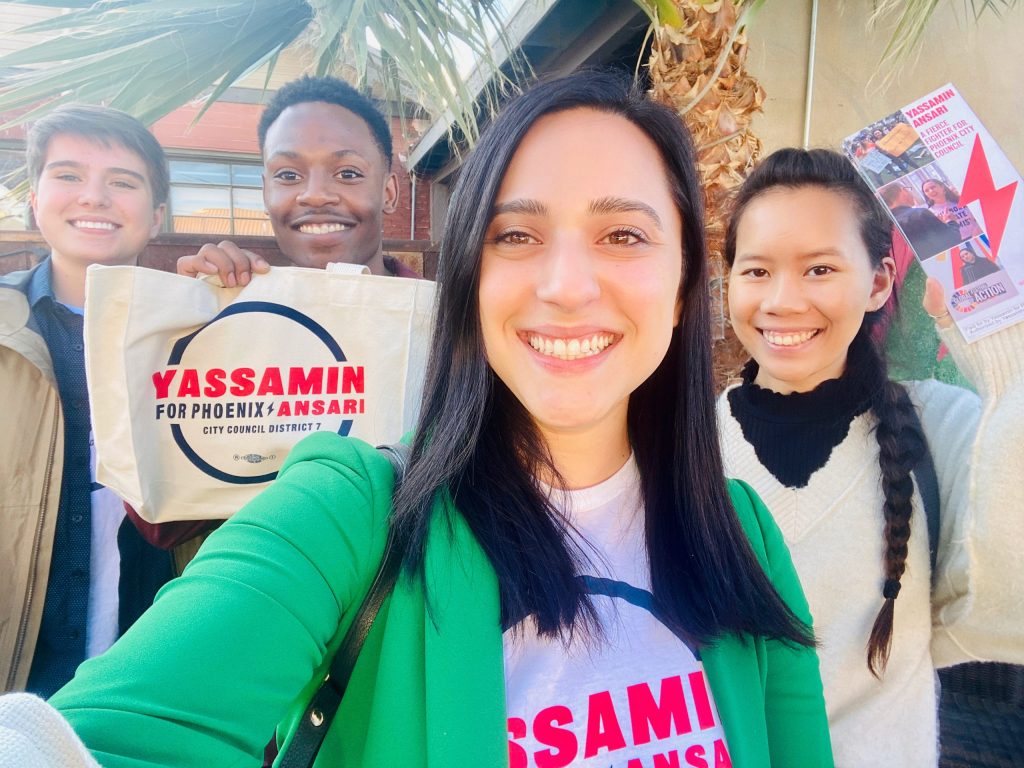 #IAClimate
In recognition of the 51st Earth Day on April 22nd, PAAIA is proud to celebrate this week as Climate Week. PAAIA's Climate Week will feature some of the brightest Iranian Americans working on the environment to learn more about their work and the importance of joining in the fight against climate change. Today, PAAIA is highlighting Yassamin Ansari, who was sworn in this week to the Phoenix City Council. Yassamin is the first Iranian American elected to public office anywhere in Arizona!
In 2014, Yassamin Ansari began her career as a John Gardner Fellow in the Executive Office of former UN Secretary-General Ban Ki-moon in 2014, where she served as the youngest member of the climate team that advised the Secretary-General and helped to deliver the historic Paris Agreement. Following this, she served as the Director of the Climate Action 2016 Summit in Washington D.C., and as the Deputy Director of Policy for Governor Jerry Brown's Global Climate Action Summit in San Francisco. In 2019, Yassamin returned to the UN as a Climate Advisor to UN Secretary-General Antonio Gutierres and brought together more than 1,000 young climate leaders from 140+ countries for the first-ever UN Youth Climate Summit.
After her time at the UN, Yassamin returned to her hometown of Phoenix, Arizona, where she announced her candidacy for Phoenix City Council District 7. She received support from PAAIA's IAPAC as well as many bold, change-making politicians in Arizona, including Phoenix's Mayor Kate Gallego, Congressman Greg Stanton, and more. She was also endorsed by the progressive climate justice organization Sunrise Movement's Phoenix chapter. On March 9th, 2021, Yassamin was successfully elected to the Phoenix City Council with 58% of the vote.
Now that Yassamin has been sworn into office, she plans to take immediate action on climate change. According to her campaign website, Yassamin will fight to "[crack] down on corporate polluters," transition Phoenix's Valley Metro bus system to 100% electric, plant thousands of trees in Council District 7 as part of the Phoenix's Tree and Master Shade Plan, increase city investments in renewable energies, and strengthen the city's recycling and compost programs.
For Yassamin Ansari, the issue of clean air and water is one that will form a critical component of the work that she intends to do with the city council. "The impact of this concentrated pollution in our district is devastating," she writes. "The hardest hit are our most vulnerable neighbors: children and senior citizens. With our community having some of the highest asthma rates in the Valley, the lives of our friends and loved ones are literally at stake."
Councilwoman Yassamin Ansari is a rising star in the Iranian American community and in the fight against climate change. PAAIA is excited to support her work. Stay tuned for more from PAAIA's #IAClimate Climate Week. If you are or know an Iranian American working in a field related to climate, energy, or the environment, please let us know by emailing aman@paaia.org with the subject line "Iranian Americans in Climate."