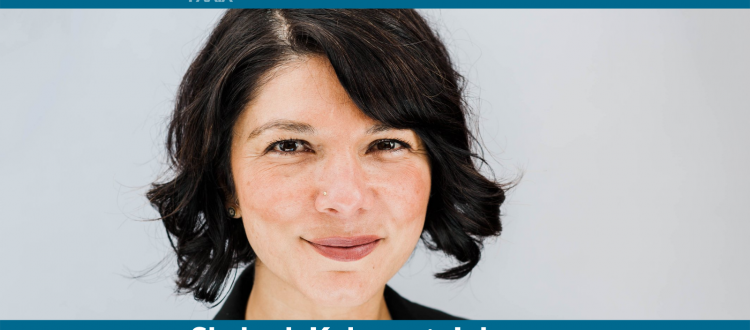 IAPAC Proudly Endorses Shebreh Kalantari-Johnson for Santa Cruz County Supervisor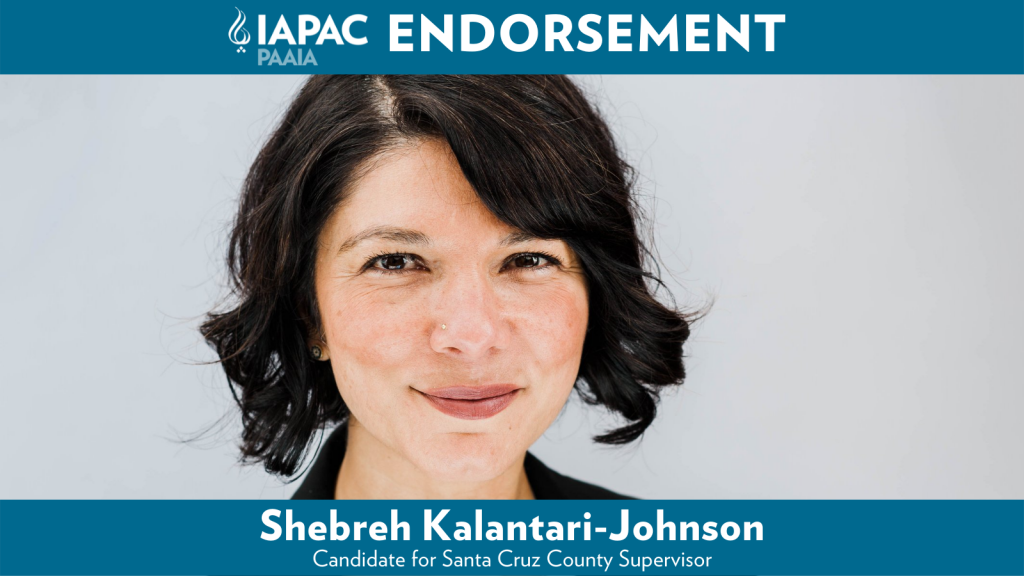 Washington, DC – The Iranian American Political Action Committee (IAPAC), the connected PAC of the Public Affairs Alliance of Iranian Americans (PAAIA), today proudly announces its endorsement of Shebreh Kalantari-Johnson for Santa Cruz, CA County Supervisor.
Shebreh Kalantari-Johnson is an incumbent Santa Cruz, CA City Councilmember. Born in Iran, she moved to the United States with her family as immigrants when she was eight years old. Shebreh has worked to build equitable communities through her social enterprise business Impact Launch and has served on multiple boards in Santa Cruz County that focus on health equity.
First elected to the Santa Cruz City Council in November 2020, Shebreh recognizes the significance of local elected office and the hands-on, impactful work that can be done at this level. There are currently over ten Iranian Americans elected to City Council nationwide, and Shebreh would become the first Iranian American woman elected to a County Board of Supervisors in California.
IAPAC's endorsement of Shebreh Kalantari-Johnson follows endorsements from Santa Cruz Mayor Sonja Brunner as well as over a dozen current and former mayors, school board members, and city councilmembers throughout Santa Cruz County.
PAAIA had the opportunity to interview Shebreh Kalantari-Johnson about her campaign. It has been lightly edited for conciseness and clarity. Read the interview below:
PAAIA: What inspired you to run for public office?
Shebreh Kalantari-Johnson: As a public health professional, I know first-hand how important it is for local governments to provide leadership and resources to address our most serious challenges. The work includes a focus on critical issues such as affordable housing for our workforce and seniors, housing for those experiencing homelessness, dismantling systems that perpetuate racial inequities, wildfire preparedness, fire recovery, economic recovery for small businesses and their employees, and much more.
Over the last two decades I have secured competitive grant funds and worked with our community to address public health and social issues that are relevant to the work of the Board of Supervisors. I am ready to take this opportunity that will enable me to make the most impact towards community well-being for the greatest number of people in Santa Cruz County.
PAAIA: Tell us a little about the office you are seeking?
Shebreh: I am seeking the Santa Cruz County 3rd District Supervisor seat. Santa Cruz County has five districts that encompass rural unincorporated areas as well as urban areas with four cities. The 3rd District includes the majority of the City of Santa Cruz (the County seat and where I currently serve as a City Councilmember), as well as the rural areas up the North Coast and into the mountains. These areas were highly impacted by the CZU Lightning Complex fires that took place in August 2020. The population of Santa Cruz County is approximately 270,861; the population of District three is 56,347 (before 2022 redistricting). The primary elections will be held in June 2022 and general elections in November 2022.
PAAIA: Why is it important for Iranian Americans to participate in the U.S. political process?
Shebreh: It is essential for Iranian Americans to serve in leadership roles at all levels of U.S. government. We have a unique voice and perspective given our history and what I experience as our cultural values of equity and strong communities. Iranian Americans can help bring this message to surface here in Santa Cruz County and the region. During my city council campaign, I had the opportunity to participate in interviews on Iranian radio and television shows. These platforms gave me the opportunity to garner support and hopefully inspire other Iranian Americans to be civically engaged.
Iranian Americans in the community can also lend their expertise. For example, I appointed an Iranian American woman with expertise in cyber bullying and violence to our City's Commission of Prevention of Violence Against Women. She has brought an important and unique approach to the commission's work that has been adopted.
PAAIA: Tell us a little about your top priorities you would work on as a County Supervisor.
Shebreh:
Addressing racial equity and using equity as a lens by which our policy decisions will be made.
Fire Recovery and Preparedness to support community members impacted by the CZU Lightning Complex fire and set up infrastructure to prepare for future events.
Environmental Stewardship to protect our natural environment, enhance ecosystem resilience and human well-being
Economic recovery and Workforce development in response to the COVID pandemic to support local businesses, community members, jobs, and public services.
Affordable Housing for our workforce, seniors, and vulnerable persons including those who are unhoused.
Behavioral Health response addresses the needs of those with most acute needs as well as implementing upstream preventative approaches.
IAPAC is the connected political action committee of the Public Affairs Alliance of Iranian Americans. Part of IAPAC's mission is to support qualified Iranian American candidates for public office, such as Shebreh Kalantari-Johnson. Our endorsement of Shebreh Kalantari-Johnson marks the sixth endorsement from us for an Iranian American candidate for the 2022 election cycle, and more are on the way. We wish Shebreh all the best in her campaign and thank her for taking the time to speak with us!