IAPAC Proudly Endorses New Slate of Iranian American Candidates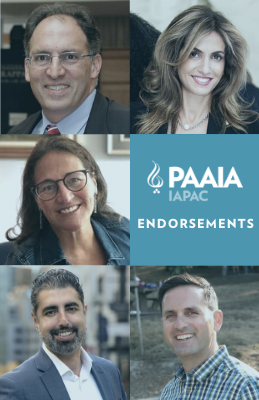 Washington, DC – Today, the Iranian American Political Action Committee (IAPAC) proudly announces its support for a new slate of Iranian American candidates running for federal, state, and local office. The latest list of endorsements includes Alan Khazei and Sima Ladjevardian for U.S. Congress, Kimi Abernathy for Tennessee State Senate, Ahsha Safai for the San Francisco Board of Supervisors and San Francisco Democratic County Central Committee (DCCC), and Nima Rahimi for San Francisco DCCC.
---
Alan Khazei  – Candidate for U.S. Congress (D-MA/4th)
Alan Khazei is a social entrepreneur who has pioneered ways to empower citizens to make a difference. Khazei is the Founder and CEO of Be The Change, Inc., which creates bi-partisan national issue-based campaigns to affect public policy and U.S. culture by organizing coalitions of nonprofits, social entrepreneurs, policymakers, private sector leaders, academics, and citizens. He is the Co-Founder and former CEO of City Year, an education-focused national service program that unites young adults, ages 17 to 24, from all backgrounds for an intensive year of full-time community service mentoring, tutoring, and educating children. City Year served as the model for President Clinton's AmeriCorps program and now operates in 25 cities in America, London, and Birmingham in the U.K. and Johannesburg, South Africa. Alan is an honors graduate of Harvard College and Harvard Law School. Learn more about Alan Khazei.
Sima Ladjevardian – Candidate for U.S. Congress (D-TX/2nd)
Sima Ladjevardian is a Houston-based attorney and mediator with over 20 years of experience in business law, family law, and consulting. For the past 10 years, she has been active in fostering intercultural relations in the political and nonprofit arenas. Ladjevardian has developed extensive experience in fundraising in non-profit, civic and political arenas. She worked as Senior Advisor and Finance Chair to Beto O'Rourke during his 2018 U.S. Senate race and subsequent presidential campaign.
Ladjevardian received her BA from UCLA and JD from UC Hastings College of Law. She is a mother of two and a breast cancer survivor.   Learn more about Sima Ladjevardian.
Kimi Abernathy – Candidate Tennessee State Senate (D-20th)
Kimi "Ordoubian" Abernathy grew up in Murfreesboro, Tennessee, where her parents were professors at Middle Tennessee State University (MTSU). She has spent 38 years as an educator and engaged in her community working with children and families. Abernathy has worked in public and private schools as a classroom teacher, a special education teacher, an administrator, and a counselor. Her volunteer work includes serving eight years on the quasi-judicial Foster Care Review Board and the Alignment Nashville Social-Emotional Learning team and providing pro-bono college counseling to first-generation college-bound students. Kimi is married to Bill Abernathy, a Nashville native, and retired Colonel U.S. Army.   Learn more about Kimi Abernathy.
Nima Rahimi – Candidate San Francisco Democratic County Central Committee (District 17)
Nima Rahimi is a Democratic party delegate, community organizer, and immigrant rights advocate. A first-generation Iranian American, Rahimi received his BA from the University of California, Berkeley and his JD from UC Davis.  He is a transportation policy attorney at the micro-mobility company SPIN. As a senior attorney, he has helped the company embrace strong labor values and support the role of labor unions as protectors of worker rights, wages, and benefits. Rahimi is currently serving as a Commissioner on the San Francisco Immigrant Rights Commission and is an elected member of the California Democratic Party. Learn more about Nima Rahimi.
Ahsha Safai – Member San Francisco Board of Supervisors (District 11) & Candidate for San Francisco DCCC (District 19)
Ahsha Safai serves as a member of the San Francisco Board of Supervisors, having represented district 11 since January of 2017.  Prior to his election, Safai worked under Mayors Willie Brown and Mayor Gavin Newsom with the San Francisco Housing Authority, the Mayor's Office of Community Development, and the Department of Public Works. He is a passionate advocate for children and working families and believes that change begins at the local level where people are most affected by government policies and programs. Learn more about Supervisor Ahsha Safai.
IAPAC is the registered bipartisan connected political action committee of the Public Affairs Alliance of Iranian Americans (PAAIA). IAPAC supports and encourages Iranian Americans to actively participate in the U.S. democratic process and run for public office.  
---
March 3, 2020