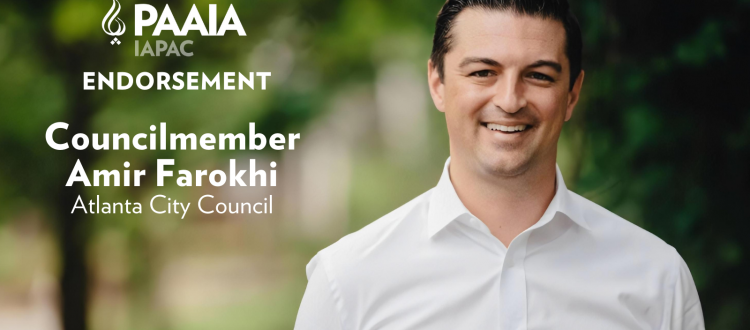 IAPAC Proudly Endorses Amir Farokhi for Re-Election to Atlanta City Council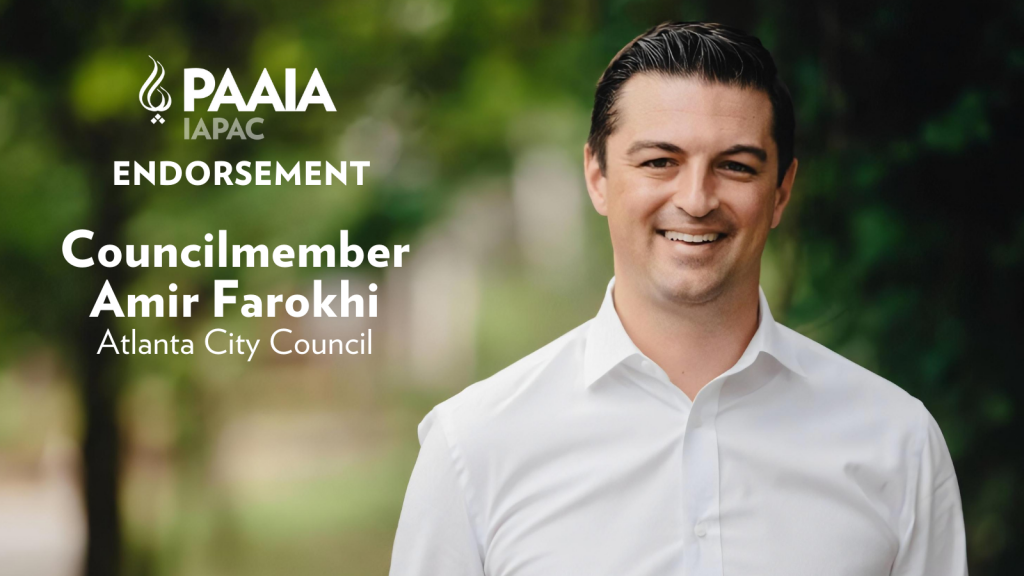 Washington, DC – The Iranian American Political Action Committee (IAPAC), the connected PAC of the Public Affairs Alliance of Iranian Americans (PAAIA), today proudly announces its endorsement of Amir Farokhi for re-election to the Atlanta City Council. Farokhi was first elected to represent the 2nd District in November 2017 and is up for election to a second term. When he won in 2017, he became the first Iranian American elected in the South. 
Amir Farokhi is a lifelong Atlantan who has spent his career solving problems. From leading local and national social enterprises to helping companies make an impact beyond profits, Farokhi has built a reputation as a thoughtful and pragmatic leader. Farokhi's campaign is rooted in plans to reform what he sees as an inefficient city government that lacks the resources to effectively respond to the concerns of Atlanta's residents and businesses. He is especially an advocate of affordable housing and protecting and empowering Atlanta's neighborhoods. 
A graduate of The Galloway School, Duke University, and Duke University School of Law, Farokhi is the director of Corporate Council at CARE, a humanitarian organization. A proponent of public service, Farokhi also serves on the Board of Directors for GeorgiaForward. In 2013, he was named as one of the "40 outstanding Georgians under the age of 40" by Georgia Trend Magazine. 
Farokhi has retained close ties to the Iranian American community. He is the host of an annual Nowruz reception in Atlanta's City Hall. In October 2019, Farokhi welcomed PAAIA at the Atlanta Civic Engagement Forum, where he presented a proclamation officially deeming October 19th as Iranian American Civic Engagement Day in Atlanta. Farokhi's father was among the first wave of Iranian immigrants in the 1970s and has long been active in building a cohesive and supportive Iranian American community in Atlanta. 
———
PAAIA had the opportunity to interview Amir Farokhi about his re-election campaign. Read our interview with Amir below.
PAAIA: Why are you running for re-election?
Amir Farokhi: It's been an honor to represent the heart of Atlanta for four years. But there's more work that I want to be a part of, including rewriting the zoning code, ensuring resources for transportation infrastructure, and improving basic city services.
PAAIA: Tell us about a few of the critical issues you have worked on during your first term.
Amir Farokhi: Among the critical issues that I worked on were: advocating for fully funding sidewalk repair and expansion; promoting economic stability through guaranteed income for low-income residents; building trust in government through transparent budgeting processes; and managing the city's growth through density and smart zoning policies.
You can view a list of my accomplishments here:  http://www.amirforatlanta.com/accomplishments
PAAIA: How has the COVID-19 pandemic affected your work on the City Council?
It has been a tough couple years for any elected official. Between the economic slowdown and trauma caused by the pandemic, to the difficult but important conversations around policing, to a spike in violent crime, COVID-19 set off a chain of policy challenges that have consumed City Council. One of the positive outcomes has been that civic engagement has increased since the pandemic started; made possible by remote meetings.
PAAIA: As you mention, one issue that has been dominating the conversation amongst City Councils nationwide is that of policing. In the past few years we have seen a number of incidents involving police officers in regions such as Atlanta, Minneapolis, New York City, and more around the country.  
What are your thoughts on the movement for accountability and transparency in policing? 
We need police in our cities. We also need policing to be just, equitable, and effective. They are not mutually exclusive. Cities can have robust, motivated police forces that are not feared by citizens they are hired to protect. Some of that will come from ensuring that police officers are well trained and compensated. But it also requires clear rules of engagement and allocating more resources to mental health and non-armed responses where traditional police are not needed and other responses are more effective. You see this in some cities for traffic stops already. Finally, technology will play an increasing role in bolstering public safety.
PAAIA: What are your top priorities for a second term?
Amir Farokhi: These are my top priorities for a second term:
Managing Atlanta's growth through more zoning changes
Ensuring basic infrastructure is funded and attended to
Restoring public safety and reducing violent crime
A full list of priorities can be found here: http://www.amirforatlanta.com/issues
———
To learn more about his campaign or to donate, click here. PAAIA thanks Amir Farokhi for his time speaking with us!