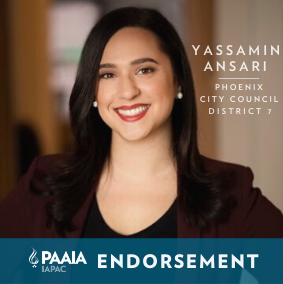 IAPAC Proud to Endorse Yassamin Ansari for Phoenix City Council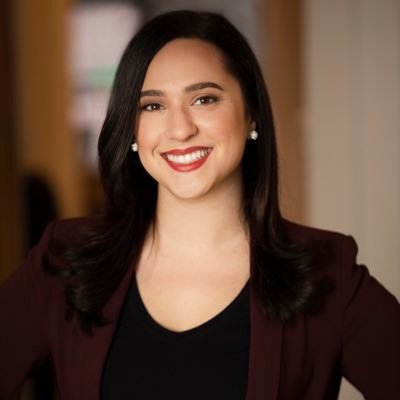 Washington, DC – The Iranian American Political Action Committee (IAPAC), the connected PAC of the Public Affairs Alliance of Iranian Americans (PAAIA), today proudly announces its endorsement of Yassamin Ansari for Phoenix City Council in District 7.
Since she was a kid, Yassamin has demonstrated a steadfast commitment to serving others through public service. Yassamin began her career as a John Gardner Public Service Fellow at the United Nations, where she served as the youngest member of the climate team that advised former Secretary-General Ban Ki-moon and helped to deliver the historic Paris Agreement. Later, she was appointed as the Director of the Climate Action 2016 Summit in Washington, DC, and worked with the Office of Governor Jerry Brown where she served as the Deputy Director of Policy for the Global Climate Action Summit.
Currently, Yassamin Ansari is an advisor working for United Nations Secretary-General Antonio Guterres on his climate action team. Most recently, she was on the team that planned and delivered the UN Climate Action Summit, spearheading its youth engagement and public mobilization efforts. Yassamin also serves as Principal Advisor to Mission 2020— a global campaign driving urgent climate action. For her work on climate change, Yassamin was recognized as a Grist 50 "Fixer"— "the people cooking up the boldest, most innovative solutions to fix the biggest challenges that face our globe."
Yassamin has also been key in encouraging other, young Iranian Americans to get engaged civically, serving as the Vice-Chair of Civic Engagement for PAAIA's Emerging Leaders Program and founding the Ansari Fellowship Program, an initiative designed to encourage and empower young Iranian Americans to pursue careers in public service. This past year, she was an important force behind PAAIA's new Civic Engagement Initiative, working as the Co-Chair of the inaugural Civic Engagement Forum in Washington, DC.
Yassamin holds a bachelor's degree in international relations with honors from Stanford University, and a master's degree from the University of Cambridge. She has received many awards and accolades for her work, including the Stanford Award of Excellence, the U.S. Department of State Critical Language Scholarship, and the DNC Hope Fellowship. Most recently, she was recognized by Forbes as 30 Under 30 nationwide in Law & Policy.
PAAIA had the opportunity to interview Yassamin about her campaign. The election, which will be held on November 3rd, 2020, marks the first time she will run for public office. If successful, she will be the first Iranian American elected to public office in Arizona. Read the interview below:
PAAIA: What inspired you to run for public office?
Yassamin: As a young, Iranian American woman, I was inspired to run for office because I fundamentally believe that we need more young people, especially young people from diverse backgrounds, in elected office at all levels. I'm also running because we need local leaders who understand the urgency of the climate crisis and are willing to take bold action.
I have dedicated my life's work to combating the global climate emergency, but what I have realized lately is that unless we have champions at every level of government, none of the ambitious international targets we set will matter.
Phoenix is the fifth-largest city in the United States and a place where I know I can make an important impact on the climate crisis. We are experiencing some of the worst air pollution in the country, deadly heatwaves, dangerous wildfires, and drought. By breathing dirty air, the lives of millions of Phoenix-area residents are at risk every day, simply by living in the city that we love. Given my years of work with cities across the country and the world, I know there are solutions that we can and should be implementing. With just eight members of the Phoenix City Council, the opportunity to make a difference is even greater.
PAAIA: Tell us a little about the office you are seeking and/or the district that you are running in?
Yassamin: I am running for Phoenix City Council in District 7, which is a very diverse district in the heart of the fifth-largest city in the United States. There are just eight City Councilmembers in Phoenix, and as such, I would be representing approximately 200,000 people if elected.
PAAIA: What are some of the challenges you believe your campaign committee must overcome to mount a successful campaign?
Yassamin: Winning this race will come down to who is able to raise the most money and knock the most doors. I am highly confident that I can do both, but it will not be without its challenges.
Firstly, I do think raising the necessary funds will be somewhat challenging given the amount of competition this cycle. My election will take place on November 3, 2020, which means that it is on the same day as the presidential election as well as a hotly contested senate race here in Arizona. This is why significant support from the national Iranian American community is so critical, and I am hoping it will be a unique asset for my campaign that my opponents will not have.
Secondly, and for similar reasons as above, it will be challenging to find top-notch campaign talent. Between all of the presidential candidates, senate and congressional candidates, and the plethora of folks running for office at all levels around the country, it will be difficult to find high-quality campaign staff who would be willing to work on a municipal election. To combat this, I am working tirelessly to recruit an army of volunteers, including ambitious and talented college students in the area, who will be excited to work for a young candidate running for local office. As such, I recently launched a campaign fellowship program, and already have more than 10 fellows who will be working on policy, communications, and field organizing.
PAAIA: What are the most critical issues facing your city/district today?
Yassamin: The most critical issues facing Phoenix today include air pollution, affordable housing, homelessness, and police brutality, among others. District 7, in particular, has more toxic waste sites on the EPA Superfund list than any other Phoenix Council district. We also have among the highest levels of air pollution, rates of childhood asthma, number of predatory lenders, crime rates, substance abuse clinics, and abandoned properties in Phoenix. At the same time, our teachers and public schools desperately need resources. And our district has fewer fire stations, hospitals, post offices, and even grocery stores where families can buy fresh, healthy produce.
PAAIA: How does your campaign plan on addressing some of those issues?
Yassamin: I am currently in the weeds of developing my platform, as I intend to run the most action-oriented, issues-based city council campaign in Phoenix history. As such, I am working with local climate activists and leaders to research and develop a plan specifically on addressing air pollution and climate-related issues in the City of Phoenix. Similarly, I am working with other local organizations to develop plans on the other top issues, including police brutality, public education, and creating high-quality jobs with dignity for all. My plan is to roll-out my full platform in February 2020.
You can learn more about Yassamin and donate to her campaign here.
---
About PAAIA
The Public Affairs Alliance of Iranian Americans (PAAIA) is a nonprofit, nonpartisan, nonsectarian organization that serves the interests of Iranian Americans and represents the community before U.S. policymakers and the American public at large.
December 20th, 2019